This weekend, I wanted to assimilate all of the information coming out of the underwater drilling industry in recent days. Two of the most interesting "data points" were last week's Transocean (NYSE:RIG) earnings and subsequent conference call and the prior week's blanket sector downgrade by Deutsche Bank.
My weekend "homework" confirmed (for me) my medium-to-long term sector optimism. Short term is really a news driven wild-card that I would not trade on. The results caused re-evaluation of RIG; I am negatively revising my opinion on RIG, relative to other underwater drillers.
RIG's Outlook
As previously reported, in Q2, RIG beat consensus estimates, with $1.61/share in earnings. Earnings are, by definition, backward looking, and (in this case) were not that interesting to me (aside from progress on cost controls). What was interesting, was RIG's short-term industry outlook . As RIG confirmed on its conference call, the Company is facing an environment with weak demand and new supply coming on line. In other words, sophisticated buyers can squeeze reductions on day rates (if a driller can find a home for its rig; a larger problem for older rigs). This means underwater drillers that have larger percentage of idle rigs or rigs whose contracts are expiring in the near-term are vulnerable to lower day rates and/or lower usage (efficiency). As the below chart shows, RIG has only 52% of its rigs contracted beyond Q2 2015.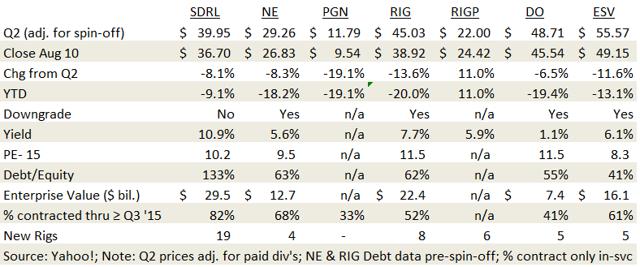 Click to enlarge
New Rigs: Who Benefits?
RIG does have the second largest number of (modern) rigs under construction (however, a lower percentage than many of its peers). However, it is an open issue whether the bulk of the benefits will accrue to RIG or to the newly-formed Transocean Partners (NYSE:RIGP). RIGP already has rights to the next six rigs (all pre-contracted), RIG is building. Interestingly, the market has decidedly favored RIGP whose stock has performed very well in the market since being publicly traded, while RIG has fallen sharply and now has a higher dividend (because RIG's price has fallen and RIGP's price has increased).
Valuation and Dividend
From a valuation perspective, RIG trades at a higher multiple than its peer group, while its future cash flows are more speculative (due to the need to re-contract a significant portion of its fleet). However, the PE ratios of all the drillers are "reasonable" and significantly below the market as a whole (supporting my medium-to-long term bullishness).
RIG's dividend of $3.00/share equates to 7.7%, certainly a rich dividend (but not the highest in this high-yielding sector). During the Q2 conference call, RIG management walked a fine line between showing commitment to both the business and the dividend. In other words, RIG really wants to maintain its dividend, but if the slowdown continues, the dividend may very well be at risk.
RIGP "Spin-off"
While creating RIGP provided some financial flexibility, as it is a vehicle that can support the financing of new rigs, it "cost" RIG 51% of the "distributions" from the six new rigs included as part of the transaction. As mentioned previously, the market has embraced the secure, low risk nature of RIGP, bidding it up significantly over its initial $22/unit price (and well over the $19-$21 range discussed in RIGP's S1/A), while RIG stock has tumbled this month.
Write-downs Ahead?
If the industry is subject to prolonged weakness, there is a not insignificant likelihood that RIG will have to take impairment changes on its older rigs, stack (cold or warm) rigs and even potentially scrap rigs. While these would be non-cash events, they would impact the Company's debt/equity ratio, debt costs and of course future earnings potential (if rigs were stacked or scrapped).
Summary Conclusion
RIG is a good, thoughtfully managed company. Unfortunately, it was slow to embrace the upgrade cycle and has, on a percentage basis, a relatively small number of new rigs coming on line (and many of those may be earmarked for RIGP). RIG also has a relatively high percentage of its rigs coming off contract leaving it (in the short-term) vulnerable to price competition and reduced efficiency. RIG also has reduced some of its upside with the RIGP transaction. On a valuation basis, its PE is on the high end of the industry but the low end of the market. RIG's 7.7% dividend is attractive, but not entirely secure (again, in the event of a prolonged slowdown).
I like RIG, but think there are other more attractive, on a risk-reward basis, companies in the underwater drilling sector.
This article reflects the author's opinions and is not meant to be the basis of an investors' buy or sell decisions. All investors should conduct their own due diligence and make investment decisions solely on their research.
Disclosure: The author is long RIG. The author wrote this article themselves, and it expresses their own opinions. The author is not receiving compensation for it (other than from Seeking Alpha). The author has no business relationship with any company whose stock is mentioned in this article.