The average S&P 500 stock is up 5.89% year-to-date, and 65.4% of the index is in the black for the year. Below is a list of the 40 best performing S&P 500 stocks so far this year.
As shown, there aren't any 100% gainers in the index through today, and we're going to need to see some big gains over the next three and a half months if the index is going to register any "doubles" this year. Newfield Exploration (NYSE:NFX) is currently the biggest winner in 2014 with a gain of 63.82%. Another Energy company -- Nabors (NYSE:NBR) -- ranks second with a gain of 58.09%. Under Armour (NYSE:UA), Electronic Arts (NASDAQ:EA) and Keurig Green Mountain (NASDAQ:GMCR) round out the top five, all with YTD gains of more than 50%.
Surprisingly, all ten S&P 500 sectors are represented on the list. The one Utilities name to make it is Pepco Holdings (NYSE:POM) with a nice gain of 40.46%. Technology is the most represented with ten names, followed by Energy with seven. A few of the notable names on the list include Facebook (NASDAQ:FB), Southwest (NYSE:LUV) and Delta (NYSE:DAL), Chipotle (NYSE:CMG), Intel (NASDAQ:INTC) and First Solar (NASDAQ:FSLR).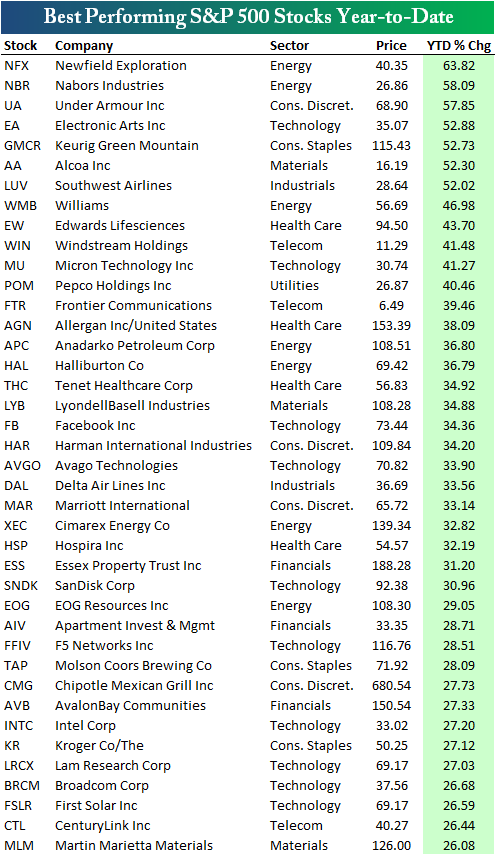 The list of 2014's biggest losers in the S&P 500 is dominated by consumer stocks. Coach (NYSE:COH) ranks dead last in the index with a decline of 35.54%, and Whole Foods (NASDAQ:WFM) isn't far behind with a loss of 33.84%. Four more brick-and-mortar retailers rank third through seventh worst, and maybe surprisingly to some, web-giant Amazon.com (NASDAQ:AMZN) ranks eighth worst in the S&P with a year-to-date decline of 20.18%. As you saw in the table of winners above, not all retailers are having a rough year (Chipotle and Kroger), but clearly the group as a whole has struggled. Of the 40 worst performing stocks in the S&P this year, 17 are in either the Consumer Discretionary or Consumer Staples sectors. Investors are definitely looking for back-to-school and the holiday season to help turn things around. Historically, the holiday season hasn't been a time to hold retailers, but given their performance so far this year, maybe we'll see a divergence from the normal seasonal stock trends.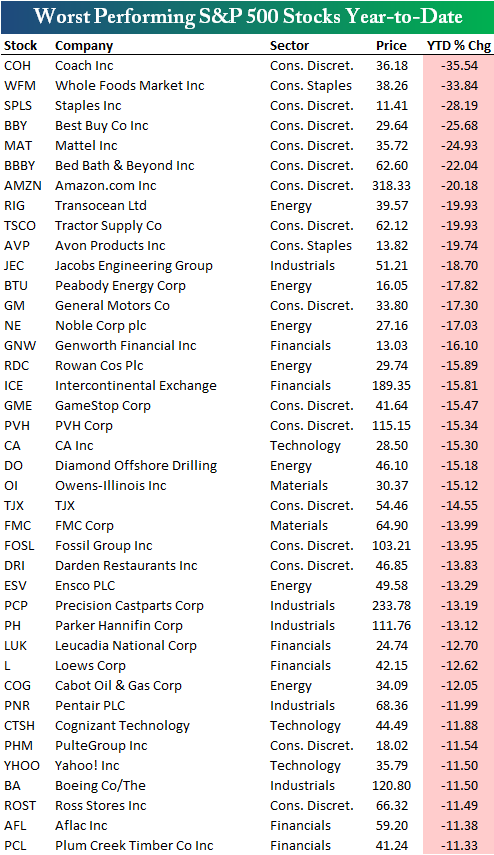 While no S&P 500 stocks have doubled this year, 19 names in the Russell 3000 are up more than 100%. As shown in the table below, RadNet (NASDAQ:RDNT) is currently in first place with a year-to-date gain of 316.17%. Pacific Ethanol (NASDAQ:PEIX) ranks second at +281.34%, and Plug Power (NASDAQ:PLUG) ranks third at +275.48%. Intercept Pharma (NASDAQ:ICPT) is up the fourth most in the index at +247.36%, but it's actually set to open Tuesday morning in first place after gaining 58% after-hours. InterMune (NASDAQ:ITMN) round out the top five at +203.53%.
The list of winners in the Russell 3000 is dominated by biotech names, with 14 of the 40 stocks coming from the Health Care sector. Biotech ran into big trouble back in March and April, and the group as a whole has yet to take out its highs from eariler this year. That being said, there are still plenty of names in biotech that are having banner years.
If you have time, browse through the charts and fundamentals of these big winners. You may not find any long opportunities from a list of names that are up so much, but you'll get a good sense of the trends that investors are playing these days.