Endeavour Silver (NYSE:EXK) just announced its second quarter earnings figures. The company broke even for the quarter as it did in the second quarter of last year. Revenues, however, fell significantly from $71 million to $55 million as silver equivalent ounces produced fell (silver ounces rose but gold ounces fell) and as silver prices were weak. On the plus side, the company's production costs fell from $27/oz. to $20/oz. which means that the company can essentially break even in the current market, however management notes in their press release that we should expect to see costs rise in the second half as it plans on spending more money on development and exploration.
In all this was a strong report. While I was hoping for more growth, which is what I based my August, 2013 investment case on, the company more than made up for this short-coming with its sharp decline in capital expenditures.
Endeavour Silver is by no means the cheapest silver miner out there, especially since it is breaking even in the current environment. However it has a long history of strong production growth led by CEO Bradford Cooke. This growth is illustrated on the following visual.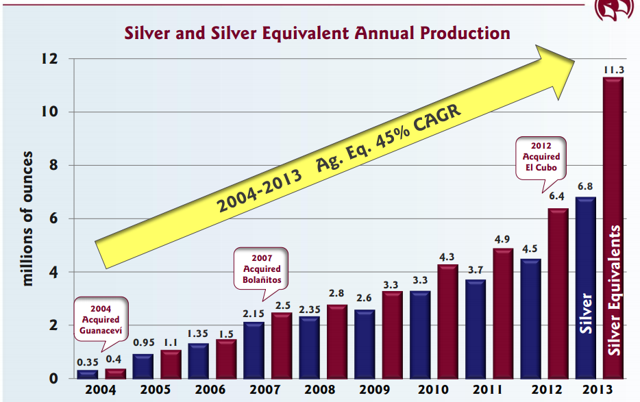 (Source: Endeavour Silver's Corporate Presentation)
Despite the fall-off in gold production in the second quarter, investors should expect this trend to continue, although admittedly the 45% CAGR is probably not sustainable.
With this in mind, Endeavour Silver is a stock that is worth buying on weakness.
Disclosure: The author is long EXK. The author wrote this article themselves, and it expresses their own opinions. The author is not receiving compensation for it (other than from Seeking Alpha). The author has no business relationship with any company whose stock is mentioned in this article.