Last year, BP PLC (NYSE:BP) announced plans to generate at least $10B from disposing of non-core assets. Normally, I would be more likely to consider Exxon Mobil (NYSE:XOM) or Chevron (NYSE:CVX) in the oil and gas industry as those companies have been stronger performers financially. Although the oil and gas industry is not my favorite industry because of the volatility of commodity prices as well as the lack of differentiated products that each company sells, the integrated oil companies remain strong cash cows that pay out staggering dividends and share repurchases to shareholders. BP's performance since oil prices spiked in 2001 has trailed Exxon Mobil and Chevron largely because of the aftermath of the 2010 Deepwater Horizon oil spill. BP yields 4.9% and increased its dividend by a 2.6% in May. This compares to 9.5% dividend growth for Exxon Mobil and 7% for Chevron. Although investors cannot ignore the issue of Russian sanctions, after reading the actual sanction, investors should conclude that this is a mountain being made out of a molehill.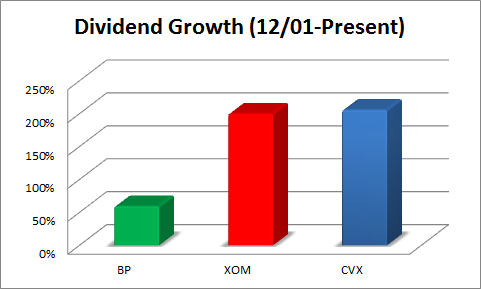 Source: Morningstar Direct
Dividends
BP's dividend yield of 4.9% is higher than Chevron (3.4%) and Exxon Mobil (2.76%). However, investors should not forget BP had to cut its dividend by 50% in the wake of the Deepwater Horizon oil spill that took place from April to July 2010. Although BP's dividend yield is higher than its two larger peers, its projected FY 2014 dividend payout ratio of 49% is higher than that of Exxon Mobil (34%) and Chevron (39%) respectively and investors should expect stronger dividend growth from Chevron and Exxon Mobil than BP as those companies have a better ability to increase their dividends relative to BP. In May, BP increased its dividend by 2.6%, versus 9.5% for Exxon Mobil and 7% for Chevron. However, it can note that BP had increased its dividend by 8.3% year-over-year in May 2014 versus May 2013 as it increased its dividend twice in the last twelve months (in August 2013 and May 2014).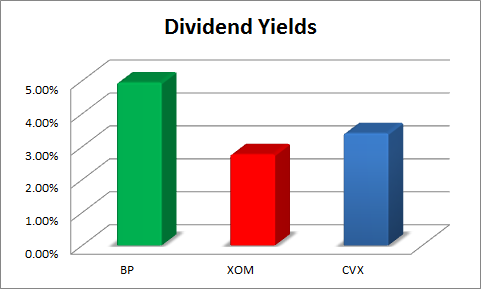 Source: Morningstar Direct
Valuation
BP has the lowest forward PE (9.16X) versus XOM (12.43X) and CVX (11.35X). BP's investors should be happy that the analyst communities increased its long-term growth rate from 3% to 5.5% in the last two months. Although it is lower than CVX's current projected long-term growth rate of 6.2%, CVX's long-term growth rate declined from 6.9% two months ago. BP's projected long-term growth rate exceeds the 3.7% of XOM. Although BP has a lower Forward PE than Chevron and although BP has 67% more revenue than Chevron, Chevron's adjusted profit was 48% higher than BP's. This probably explains why Chevron trades at a Price to Book Value of 1.6X while BP trades at a P/BV of 1.1X. CVX's Price to Sales (1.1X) is higher than BP's (0.4X) yet BP's Price to Cash Flows of 5.5X is slightly lower than Chevron's.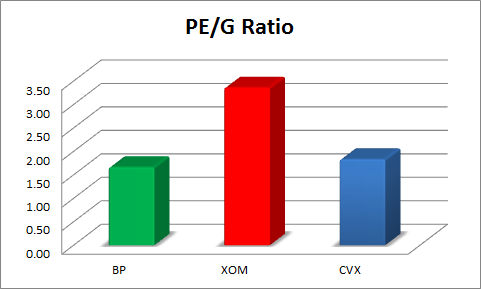 Source: Morningstar Direct
TTM Capital and Business Efficiency Ratios
Profit Margin: CVX (8.88%), XOM (7.37%) and BP (2.99%)
ROIC: CVX (11.8%), XOM (17.04%) and BP (7.45%)
Debt/Assets: CVX (8.95%), XOM (6.05%) and BP (17.16%)
Inventory Turnover: CVX (18.06X), XOM (16.31X) and BP (11.25X)
CapEx/Sales: CVX (17.13%), XOM (7.67%) and BP (6.3%)
Most Recent Quarter
BP Upstream: BP's underlying replacement cost operating income in Q2 2014 increased by 9.25% versus Q2 2013. BP's largest division is its BP Upstream division and its underlying pre-tax operating profits from its Upstream operations grew by 8.55% year-over-year ($4.3B in Q2 2013 to $4.7B in Q2 2014). BP Upstream's adjusted underlying pre-tax replacement higher production in higher-margin areas and higher liquids and gas realizations, partly offset by higher costs, primarily depreciation, depletion and amortization and wellwork, and the impact of divestments. In Q1 2014, three major projects started up: the Chirag Oil project (BP 35.8%) in Azerbaijan and the Na Kika Phase 3 (BP 50%) and Mars B (BP 28.5%) projects in the Gulf of Mexico, which helped contribute to BP Upstream's operating profit growth in Q2 2014.
BP Upstream announced a total of $3B in divestments as part of the group's objective to divest $10B of assets before the end of 2015. This includes the sale of a package of Alaskan assets to Hilcorp allowing BP to focus more specifically on maximizing production from Prudhoe Bay and progressing the Alaska LNG opportunity. Outside of Alaska, BP agreed to sell its interests in the Panhandle West and Texas Hugoton gas fields to Pantera Energy. In the Gulf of Mexico, BP farmed-down 17 deep-water exploration leases to Noble Energy and in the North Sea BP agreed to sell its partner-operated equity in the Erskine field to Serica Energy.
BP Downstream: BP Downstream's underlying replacement cost operating income was $733M and declined by 38.4% year-over-year in Q2 2014 due to weakness in its Fuels, Lubricants and Petrochemicals businesses.
BP Downstream Fuels' underlying replacement cost operating income declined by 39.5% year-over-year due to lower refining margins and reduced contributions from supply and trading. Partially offsetting this was the return to operations of the largest crude unit at the Whiting refinery, which had a planned outage in the same period of 2013 as part of the modernization project at the facility.
BP Downstream Lubricants' underlying replacement cost operating income declined by 15% year-over-year due to restructuring programs and foreign exchange effects. BP Downstream Lubricants seeks to boost performance from its premium brands and focus on high growth markets.
BP Downstream Petrochemicals' underlying replacement cost operating loss widened from $24M in Q2 2013 to $98M in Q2 2014 as excess supply in Asia and high xylene prices in the US created downward pressures on product margins in its aromatics business.
Rosneft (OTC:RNFTF): Last year, BP sold its 50% in TNK-BP to Rosneft, a Russian-integrated oil company that is majority-owned by the Russian government, in exchange for 20% of Rosneft. Rosneft's underlying replacement cost profit before interest and taxes nearly quintupled as of the result of favorable foreign exchange effects.
Russian Sanctions: BP has exposure to Russia through its 20% stake in Rosneft. When it announced its most recent quarterly results, it also disclosed that the U.S. Office for Foreign Assets Control recently imposed sanctions on certain Russian entities, including Rosneft. Although these sanctions have not had an impact on BP's results so far, investor fears have pushed BP's share price down by ~10% since July 16, when the sanctions were first announced. As Exxon Mobil recently announced that it would begin drilling in Russia's Artic in a joint venture with Rosneft despite the sanctions imposed on Rosneft, perhaps investors have overreacted to the news about the Russian sanctions.
BP was not the only major oil company that saw increases in its Q2 2014 results versus Q2 2013 due to non-recurring benefits. Chevron's profits increased by 5.6% year-over-year in Q2 2014 versus Q2 2013 due to asset sales, most notably the sale of interests in Chad and Cameroon, which was partially offset by negative foreign exchange effects. Exxon Mobil's profits increased by 28% during the same period primarily due to asset management impacts in Hong Kong.
Conclusion
In conclusion, BP has a strong 4.9% dividend yield; it recently increased its dividend; and is planning to sell $10B in non-core assets. Investors should keep their eye out for the impact from Russian sanctions, but also recognize that the recent weakness in BP's shares may present an opportunity for investors to accumulate shares in the company. It is understandable why Morningstar gave Exxon Mobil a Wide Economic Moat Rating versus a Narrow Economic Moat Rating for BP. Although BP has had a remarkable comeback over the last three years however it still has a way to go before it catches up to Chevron or Exxon Mobil. However, part of the potential opportunity in BP is if it can improve its margins relative to its two biggest peers.
Disclosure: The author has no positions in any stocks mentioned, and no plans to initiate any positions within the next 72 hours. The author wrote this article themselves, and it expresses their own opinions. The author is not receiving compensation for it (other than from Seeking Alpha). The author has no business relationship with any company whose stock is mentioned in this article.
Editor's Note: This article discusses one or more securities that do not trade on a major U.S. exchange. Please be aware of the risks associated with these stocks.