Facebook (NASDAQ:FB) has made it mandatory for users to access chat via the Facebook messenger application, and while many weren't thrilled about making the transition to the new application, many did it, and gave Facebook Messenger a one star rating.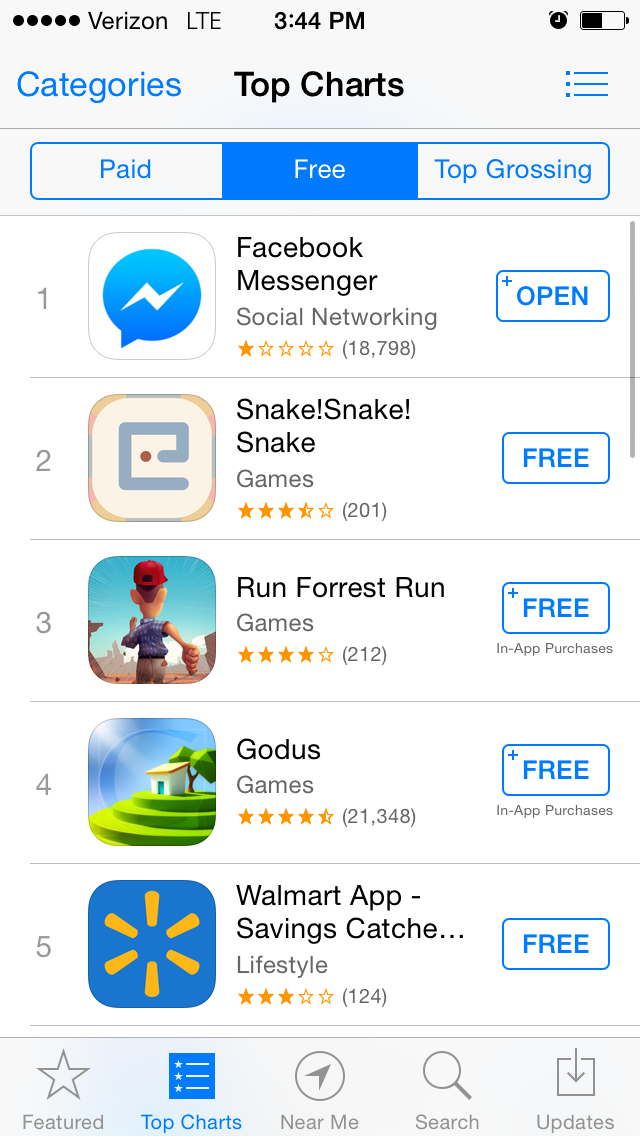 Currently, Facebook is the number one free app on the iOS store, and while the forceful migration may have negated the positive sentiment around the stock, I think users will eventually come to like the application.
Negative backlash
Forcing users to adopt a new application may have been a little harsh; this goes in-line with Facebook's history of doing things first, and asking questions later.
The negative reviews aren't going to prevent people from downloading the application, as people will need to communicate via messenger to access the same contacts that they've developed over the years on Facebook.
Furthermore, I think the familiarity that users already have with Facebook, won't prevent application adoption. Negative reviews only work when people aren't familiar with the application, experience, or product. The use of Facebook has gotten so ubiquitous; any rational human being would put up with the couple minutes it would take to input their Apple password and download the application. But to get even, we see plenty of young adolescents rating the application a one out of five stars, plus leave behind some scathing feedback, "I don't want to download another app." Well no duh, if everyone wanted to download more apps, Facebook wouldn't have forced everyone to download the separate messenger to read Facebook messages.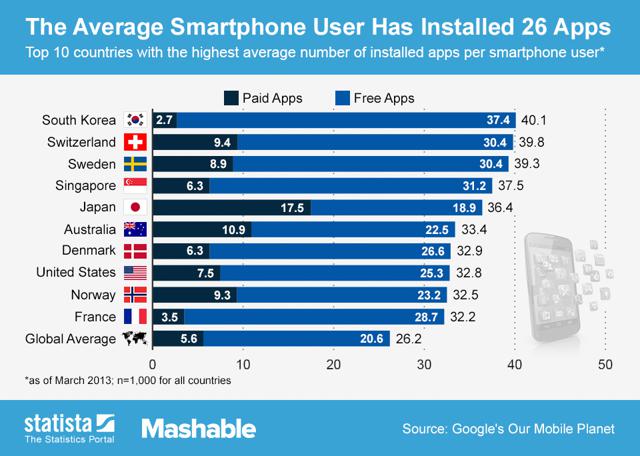 Source: Statista
The average person downloads a total of 26 free applications onto their smartphone. In other words, the average human downloads one application every 15 days. Of those new applications that people download, Facebook messenger wasn't going to be one of them. Migrating users through this method may have kept Facebook messenger from being just another application that exists.
Bottom line
Facebook messenger typically carries a much higher rating. On the Android Play Store Facebook messenger has a 4/5 rating. So from more of a functionality standpoint, or what people in general think of the application, it's a pretty solid application, and does what it's intended to do.
The sudden push to get users more familiar with Facebook messenger was in response to Apple's upcoming launch of the smartwatch. In all likelihood applications will have to become more contextual, and a contextual application can't be packaged together with a multi-purpose application. The lack of screen real estate at the smaller form factor would severely diminish the user experience of the original Facebook application. However, with the two applications split apart, I think users will be able to chat with their friend, and read status messages from the convenience of their wrist.
Disclosure: The author has no positions in any stocks mentioned, and no plans to initiate any positions within the next 72 hours. The author wrote this article themselves, and it expresses their own opinions. The author is not receiving compensation for it (other than from Seeking Alpha). The author has no business relationship with any company whose stock is mentioned in this article.