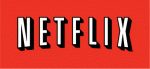 Streaming announcements aren't all that's new with Netflix (NASDAQ:NFLX) these days. The company announced a deal with Disney (NYSE:DIS)-ABC Domestic Television and the exit of CFO Barry McCarthy, who steps down this Friday. He will be replaced by Netflix's David Wells, who has served as vice president of financial planning and analysis.
Netflix's recent announcement that it would offer a streaming-only service at $7.99 a month has pushed it into a new category of competition, and analysts are eying both marketplace and product value as the decision plays out. McCarthy reportedly noted at a conference Thursday that Netflix's success isn't tied to a single piece of content, and that the company could stream internationally beyond Canada as soon as next year.
It's a more complicated move than it may at first appear, Trefis notes, evaluating prospects for the company alongside current streaming and pay-TV contenders Time Warner Cable (TWC), Comcast (NASDAQ:CMCSA), Dish Network (NASDAQ:DISH), and DirecTV (DTV).
As noted in our previous Prognosis, Netflix is looking richly valued after its runup over the last three months from $140 to briefly top $200. Thursday's closing price of $188.23 is still significantly higher than the median analyst target of $155 and the mean of $152.06.
Of 19 analysts tracked by Alacra Pulse, five have a positive rating on Netflix, 6 are negative and 8 are neutral.
Current 12-month price targets of selected sell-side and independent analysts. Click image to enlarge.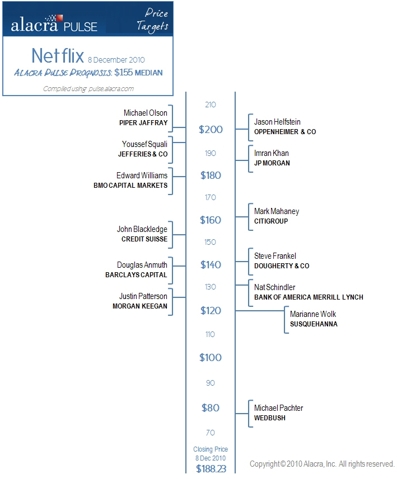 Click to enlarge
Most analysts are impressed with the company's performance, but believe this is already more than reflected in its price. Some are concerned that the escalating cost of acquiring content will more than outweigh the savings generated by streaming rather than mailing movies. And there is also the potentially damaging issue of the dispute between Comcast and Netflix streaming partner Level 3 (NASDAQ:LVLT).
Dougherty & Co.'s Steve Frankel points out that management has built an "amazing company." He has a $142 price target on the stock. "There is no denying that Netflix is on a roll, with accelerating subscriber growth coupled with declining cost of customer acquisition. We are hard pressed to find anything to complain about in the quarter or the forward guidance, leaving valuation as the only issue holding us back from a more positive stance on the stock."
Morgan Stanley's Scott Devitt recently raised 2011 and 2012 EPS estimates for Netflix. "We believe Netflix has a sustainable competitive advantage," his comments say, citing the company's competitive advantage in terms of device distribution, subscription-based digital content rights, technology and streaming video brand. Devitt has an Overweight rating but set no price target.

Piper Jaffray's Michael Olson upped the Netflix share price target to $202 from $180 days after the streaming announcement came out, with an "overweight" rating.
Stifel Nicolaus' George Askew told investors that "Netflix continues to maintain its position as the premier provider of paid subscription Internet streaming.". Askew has a "hold" rating on the stock, with no target.
The company's gamble, some say, is that the Internet is ready for a potentially rapidly expanding streaming business. Netflix Chief Executive Officer Reed Hastings told the Web 2.0 conference last month. "If there's anything you'd want to bet on…it's that technology will make bandwidth faster and cheaper."
Hudson Square Research's Daniel Ernst is among those asking about the kind of savings it will provide, and how much wiggle room the company's current valuation leaves. "While the absence of mail costs materially reduces [costs] for Netflix, we believe that rising content costs could supersede the mail cost saving," he wrote recently, noting that there's an expectation that Netflix's content costs will rise further. He has a "sell" rating on the stock.
"Studios will likely become much more aggressive in pushing for higher content fees," Barton Crockett, an analyst with Lazard Capital Markets who has a "hold" rating on the stock, said Thursday in a research note to investors.
Still, the excitement may be enough to get a potential buyer to throw a hat in the ring, some surmise. Mediatech Capital Partners' Porter Bibb told CNBC that its content and infrastructure would make it a valuable purchase, and called it "absolutely" a target.
As All Things Digital's John Paczkowski points out, Netflix recently inked a distribution deal with FilmDistrict that establishes its streaming rights on first-run films.
"With streaming rights to films from Paramount, Lionsgate, Sony (NYSE:SNE), Disney and MGM studios, and a new streaming-only service priced at $7.99 a month, the company is increasingly becoming more competitive with the cable incumbents," he writes.
Jefferies & Co analyst Youssef Squali Thursday owered his rating on the stock to Hold from Buy, while maintaining his $195 price target, writing that the shares have limited upside at a P/E of 46.4 times his fiscal 2011 estimates. CFO Barry McCarthy "leaves behind big shoes to fill, particularly at the current juncture," writes Squali, "Considering that virtually everybody is gunning for it [Netflix], from tech platforms like Googl (NASDAQ:GOOG), Amazon (NASDAQ:AMZN) and Apple (NASDAQ:AAPL), to content owners like Time Warner."
"Studios will likely become much more aggressive in pushing for higher content fees," Barton Crockett, an analyst with Lazard Capital Markets who has a "hold" rating on the stock, said Thursday in a research note to investors.
But in a sign of Netflix's growing muscle (or just a negotiating ploy?), CEO Hastings Thursday said he "can live without" renewing a deal for streaming rights from Starz, which delivers movies from Disney and Sony. And he didn't stop there, according to Paid Content. He suggested Starz CEO Chris Albrecht could find himself without the funding that would help him invest in original programming for the brand.
None of the recent changes caused Wedbush's Michael Pachter to change his bearish view on Netflix. He reiterated his Sell rating and lowly $78 target.
[Sources: Alacra Pulse, Bloomberg Businessweek, Trefis, MarketBeat, American Banking News, CNET, SFGate, The Globe and Mail, All Things Digital, Tech Trader Daily, Paid Content, Reuters.]