Priceline's (NASDAQ:PCLN) 2Q14 results reflect the company's robust growth profile amongst the listed OTAs. The company reported a +36% y/y increase in gross profit, with international operation accounting for $1.65b out of $1.9b total gross profit. Non-GAAP EPS of $12.51 was a +29% y/y increase from the prior year, and easily beat consensus of $12.06 EPS.
PCLN continues to be a top pick for any investors who want a tech component in their portfolio. In my view, PCLN stands out to become a comprehensive online booking service that will encompass not only the traditional areas such as hotels and air tickets, but also new growth areas such as restaurant, car rental, rail and long-distance buses. I see the company's scale and financial resources allows it to consolidate the emerging growth players that have the potential of becoming leaders of their niche verticals (ie. Kayak, OpenTable) to achieve a sustainable earnings growth. Reiterating my positive bias on the name.
Solid all-around execution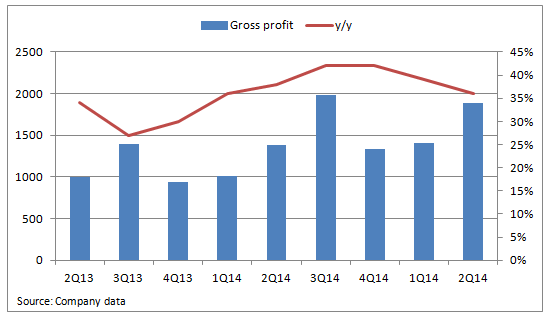 PCLN executed in all geographic and business segments. International revenue +36% y/y was stable q/q but the positive side was the +21% y/y growth in the domestic front, an acceleration from Q1.
Hotel room nights decelerated for the second consecutive quarters to 29% (vs. 32% in Q1) but the market should have been expecting such meaningful decline as management has been pointing this out for some time. As such, I do not expect this to be any surprise to the market. Air ticketing +22% once again showed stabilization from Q1 while rental car days decelerated to +14% y/y (vs. +25% y/y in Q1). Finally, vacation rental continue to show solid growth with LTM bookings at $4bn for the quarter from both Booking and Villas.com.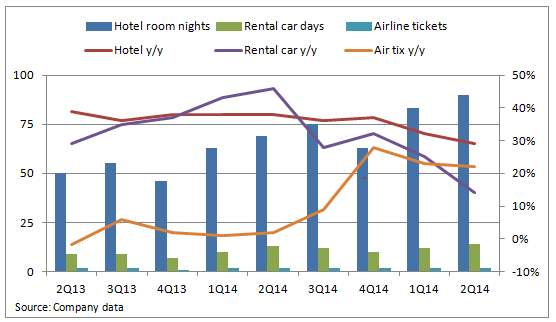 M&A and global to drive growth
The integration of OpenTable (NASDAQ:OPEN) is on track and management expects the unit to rollout mobile payment in approximately 20 additional cities by year end. OPEN announced a nationwide expansion of its pay with OpenTable feature starting with New York today. The pay with OpenTable allows customers to add a credit card in the mobile app, and pay their check right on their phone without having to download a separate app or scan a barcode. I see this having the potential of facilitating the checking process for the users and also creating a strong reservation ecosystem for PCLN. In the end I will not be surprised to see PCLN rolling out a single mobile payment platform in which the user can use on all of PCLN's product and services.
PCLN's purchase of a stake in Ctrip (NASDAQ:CTRP) highlights the growing importance of the travel market in Asia, particularly in China. While it is still too early to quantify the revenue impact from CTRP in the near-term, I see definitive material impact in the long-term as foreign travelers benefit from CTRP's air ticketing, hotels and ground transportation inventories. Going forward, I expect PCLN to engage in more strategic investments and M&As to broaden its geographical reach and product/service offerings.
In conclusion, PCLN once again executed amid a competitive environment. While margins are under pressure, PCLN nonetheless buckled the trend and continued to deliver on the top line and global growth. I continue to have a positive bias on the name. Reiterate an overweight position on the stock.
Disclosure: The author has no positions in any stocks mentioned, and no plans to initiate any positions within the next 72 hours. The author wrote this article themselves, and it expresses their own opinions. The author is not receiving compensation for it (other than from Seeking Alpha). The author has no business relationship with any company whose stock is mentioned in this article.