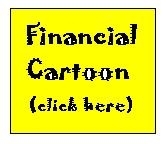 Outlook: The historical banking model used to be: "9", "6" and "3". That is, bankers would lend at "9%", pay "6%" for the deposits and go home at 3 PM. Of course the critical element to this business model is that you'd only lend to individuals or businesses that didn't need to borrow. (See "Financial Cartoon"for yield curve information.)
More Things Change the More They Remain the Same: While much has changed since those gentile days of banking, the net spread between investment yields and borrowing costs is still an important factor in determining a bank's profitability. That spread is guided by the yield curve which is the difference between US treasury long-term and short-term interest rates and is typically graphically depicted.
A Hopeful Yield Curve: The shape of the yield curve not only holds implications for banking margins and profits—typically with a one to two quarter delay—but it also is a better than average predictor of economic activity. A steep (positively sloped) yield curve of over 200 basis points (2%) has preceded a recession in two years only 5% of the time! Currently, the 10 year Treasury note spread is over 300 basis points versus the one year Treasury notes.
Go Banks: The Fed needs the banks to get healthy as a necessary condition for an economy to expand. By creating a positively sloping yield curve, the Fed is creating a profitable environment for banks to generate earnings by either buying long Treasuries whereby it helps finance the government induced recovery or inflates asset values on which banks can lend. QE2 is the second phase of the "Bankers' Relief Act".
Why Financials: While financials have gotten a running start in December, they still look attractive for the following reasons: 1) they're typically an earlier cycle mover in a stock market recovery. (While the financials are up on average 80.1% versus 54.5% for the S&P 500 from the cyclical trough of Mar '08, financials are still off from the previous cyclical peak 50% versus 20.4%, respectively); 2) the positive yield curve—with a lag—will create greater bank profitability and diminish the likelihood of a "double dip" recession; 3) securitized debt is slowly making its comeback with the current trickle of new issuance gaining strength over the next decade; 4) the federal government's willingness to return banks back into private hands as expediently as possible.
Stock Recommendations: I continue to favor the long-term prospects of J.P. Morgan Chase (NYSE:JPM), (see, "CEF Week of 11/12/10: It's About the Deficit") which is a commercial bank first and an investment bank second. (Citigroup (NYSE:C) may likely receive more investor attention due too its low price. Look for a reverse split in Citigroup sometime in the not to distant future).
Of course, there are the ETF's as a generic opportunity to participate in financials. The best known and liquid play is Select Sector Financial SPDR ETF (NYSEARCA:XLF). For CEF investors, there is the John Hancock Bank & Thrift Opportunity Fund (NYSE:BTO) (See "CEF Focus Stock(s) for the Week").
Money Flow: Mutual Funds: After two weeks of negative outflows for long-term mutual funds, outflow reversed for the week ending December 1st. Long-term mutual funds posted a $1.0 billion increase—mostly on the strength of $1.8 billion inflows to foreign equity funds. While bond mutual funds saw an increase of $0.5 billion, this was mostly a result of the cessation of municipal bond sector hemorrhaging funds. Taxable funds saw a further 50% drop in inflows with $0.5 billion added.
Caution: Investors should continue to keep their eyes glued on the funds flow for long-term bond funds for an indication of either a slow leak or an implosion of fixed-income prices.
Money Market: Money market funds surged by $25.3 billion to $2.84 trillion for the week ending Dec 8th. The biggest increase came in increases in institutions adding $22.6 billion while retail investors added only $2.6 billion. (Institutional balances are twice that of retail $1.9 vs. $0.9 trillion, respectively.) Over half the increase in retail inflows was attributed to increases to tax-exempt funds ($1.6 billion); institutions withdrew $1.5 billion from same.
DJIA Money Flow: Money flow was up 1.02% for the week as of Dec 9th and up 2.2% for the month. The Up/Down Ratio was 1.02 and 1.00, respectively. The biggest money flow was into financial, 2.5%; utilities saw an outflow 0.7% for the week.
CEF Weekly Review: The 13 closed-end fund (NYSEMKT:CEF) types registered on average a decline of 2.2% for the week ending 12/10/10. The high-low spread was +4.2% versus +5.5% the previous week on a decline of 2.2% versus a flat average price change, respectively. On an aggregate, unweighted basis, the weekly average price change for the 500 plus CEFs in the Eqcome database was down 2.8%.
The PowerShares CEF Income Composite (NYSEARCA:PCEF), an ETF that invests in taxable income CEFs, was down 2.0% for the week. The S&P 500 was up 1.3% for the week and up 11.2% YTD. The S&P 500's average daily share volume for the week was 4.8 billion, up 14% from the previous week of 4.4 billion shares.
(Click here for YTD CEF Performance. The table is based on a smaller CEF sample size as all the data fields are not available for the CEF universe.)
The Eqcome CEF Fear Index for the week increased as the more dominant fixed-income component of this market segment's share prices eased. The average price decrease was 2.8% while NAV was down 1.6%. Both national and state CEF funds suffered far greater price declines than respective NAVs.
The CBOE Volatility Index (VIX), which typically moves inversely with the stock market—but is mostly a measurement of volatility based on stock options' premiums—continued to slide an additional 2.9% after falling 18.9% the previous week. It settled in at 17.61. The VIX has been on a long slide since late May of this year where it peaked at 45.79. It is now within striking distance of its yearly low of 15.59 achieved in early April. At this level, the VIX becomes as contra indicator and deserves investors' attention.
CEF Weekly Fund Type Performance: Not a single fund type registered a pulse as all the fund types registered below the flat line. Again, this week saw fixed-income oriented CEFs bearing the brunt of investors' disenchantment.
click to enlarge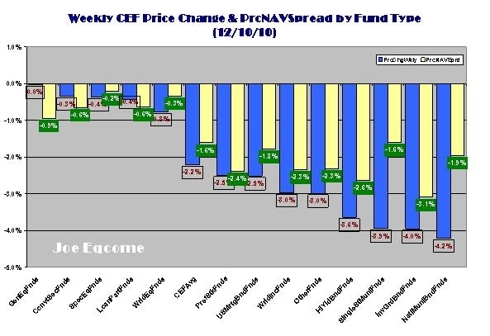 Click to enlarge
The CEF market segment on average will likely underperform the equity market averages over the next 6 to 12 months.
This would likely be a function of an increasing hostile environment for fixed-income investments which makes up a large portion of this market segment.
Weekly CEF Winners and Losers: One of the CEFs with the greatest positive spreads was BlackRock Floating Rate Income Fund (NYSE:BGT). BGT's price advanced 8.1% versus its NAV which declined 0.4%; this generated a positive PrcNAVSprd* of 7.7%.
BGT seems to have been a beneficiary of investors concerns over rising interest rates as it invests in floating rate notes that would adjust accordingly. Additionally, since the end of 2009, BGT has increased its distribution three times. Its current annualized monthly distribution is 5.6% and it is trading at a 10.3% premium. This group as a whole trade on average at a slight premium.
One of the CEFs that experienced the greatest negative PrcNAVSprd was Claymore/Guggenheim Strategic Opportunities Fund (NYSE:GOF). GOF's price declined 6.6% while its NAV advanced 0.1% generating a negative PrcNAVSprd of 6.7%.
GOF invests in fixed-income securities with over half its assets in asset backed bonds. Its annualized monthly distribution yield is 9.75% and it is trading at par. A managing director at the sponsor purchased some small positions in the fund during December. GOF experienced heavier trading near the end of this week—about twice its recent daily volume that weighed on its stock price.
Eqcome CEF Portfolio™: Joe maintains three separate CEF portfolios that have different investment objectives: CEFBig10™, CEFMuni10™ and CEFDisc10™ (see website).
The first is a balanced equity-income portfolio, the second a tax-exempt income portfolio and the third a portfolio whose objective is capital gains with a secondary objective of current income.
These portfolios will soon be available to retail investors at a nominal fee to maximize equity-income for retirees and retail investors. (See: Performance Data here.)
CEF Portfolio Allocation: With the recent run on bond funds and the Fed's QE2 initiative hitting a "headwind", it is recommended that investors seeking capital appreciation in this market segment reduce their overall exposure to CEFs—particularly, leveraged, debt oriented CEFs. It is likely such CEFs may struggle for price appreciation between here and year-end as CEF investors take their "winnings" off the table and the reasons for buying this group will be less compelling going into 2011.
Economic & Earnings Outlook: (Click here for next week's economic calendar; click here for earnings' announcements and estimates.)
ETFs: For a more detailed EFT performance by sectors, click here.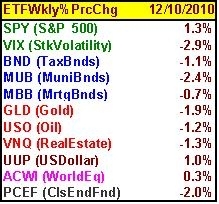 Insider Trading: Of the significant insider transactions, two are related to William H. Gross, co-founder to PIMCO, the largest fixed-income manager.
Mr. Gross indirectly added to his position in Pimco California Muni Income Fund II (NYSE:PCK) by acquiring an additional 19,056 shares at a price of $8.27 per share on behalf of several trusts for children. This brings his total share holdings up to 129,056 shares in this name.
In the case of Mr. Gross' 9,900 share purchase of Pimco California Muni Income Fund (NYSE:PCQ) at $ll.65 per share, the acquisition of shares was a direct purchase and increased his holdings to 138,600 shares of PCQ. Mr. Gross sold 35,778 shares of PCQ approximately the same time last year at $12.53 per share at what appeared to be purchased at higher prices.
(Click here for a hyperlink to the Joe Eqcome's CEF Weekly Insider Report.)
CEF Distribution Announcements This Week: The following is a link to a table of CEF distribution announcements this week as well as the previous week's with yet expired ex-dividend dates. The list is not intended to be inclusive. (Click here for Joe Eqcome's Weekly CEF Distribution Announcements)
Significant CEF Corporate Events: The Board of Directors of DWS High Income Opportunities Fund (NYSE:DHG) approved changes to its investment objective (seeking high current income with a secondary objective of total return); its investment strategy and related investment policies (include high yield bonds); it changed the Fund's name; and, it transitioned its portfolio management to Deutsche Investment Management Americas Inc.'s high yield group led by Gary Russell effective November 5, 2010.
The Board approved an enhancement to the current program for the fund to purchase its own shares on the open market, which will be in effect from December 1, 2010 until May 31, 2011. Under the enhanced program, during times when the fund's common shares are trading on the New York Stock Exchange at a discount to net asset value per share in excess of 5%, the fund will repurchase up to a maximum of 2% of its total outstanding common shares per month.
In connection with these changes, DHG's Board agreed to increase the regular monthly distribution payable by 12.5%. The Board has declared a monthly distribution of $0.09 per share payable on December 31, 2010. The ex-date will be December 14, 2010. The previous monthly distribution was $0.08 per share.
Aberdeen Australia Equity Fund (NYSEMKT:IAF) (the "Fund") announced pricing of a public offering of its shares of common stock. IAF agreed to sell a total of 2,500,000 shares of common stock (exclusive of 375,000 shares of common stock that the underwriters may purchase pursuant to a 45-day option to cover over-allotments) at a price of $12.50 per share. Net proceeds of the offering of approximately $30 million will be used to make additional portfolio investments that are consistent with the Fund's investment objectives and policies. The offering is scheduled to close on December 14, 2010.
The Gabelli Global Multimedia Trust (GGT) approved a transferable rights offering to its shareholders of one right per share and 3 rights for a subscription to purchase an additional share. Key aspects of the rights offering, including the timing and the pricing, have yet to be determined. The Board reserves the right to delay or cancel the offering.
CEF Focus Stock(s) for the Week: Staying with the financial theme in the "Outlook" section, there are three CEFs that specialize in financial securities.
In the Eqcome database they are: John Hancock Bank & Thrift Opportunity Fund (BTO), Diamond Hill Financial Trends Fund (NASDAQ:DHFT) and First Trust Specialty Finance & Financial Opportunities Fund (NYSE:FGB).
The one that seems most interesting of the group is BTO. It is the largest with $336 million in net assets, a quarterly annualized managed distribution of 4.9% (1.9% from net investment income), trading at a discount of approximately 10%, employing little leverage and a expense ratio that is inline with the CEF market segment.
BTO's Board recently amended its investment objective and related investment policies. The investment objective is now seeking a high level of total return consisting of long-term capital appreciation and current income. Its prior investment objective was focused solely on capital appreciation.
The principal tweaks to its investment policy includes a reduction to 20% from 25% of the normal investment ceiling for certain types of financial companies, the dropping of an investment focus of investing in companies with less than $30 billion in assets and the ability to investment in income generating securities.
Items of Note: The items that should be noted are that on an YTD basis, BTO it is already up over 15%, while the SPDR Sector Financial ETF (XLF) is up a more modest 7%. J.P. Morgan Chase is actually down 3% over the same time period. So, the question may be whether BTO has seen its best return over the near-term.
Caveats: The "CEF Focus Stock(s) for the Week" section includes CEF stocks of interest to me—and possibly other retail investors—and are subject to further analyses. Their inclusion in this section should not be viewed as recommendations based on the analysis provided here alone. Such stocks are basically a "heads-up" of something that might be of interest—or, not.

---
[*] All things being equal, price and NAV should move in tandem. A price movement greater than the NAV generates a positive PrcNAVSprd and may be interpreted as negative on a near-term basis and indicate that the stock is overvalued relative to its NAV which in theory is the stock's intrinsic value. The opposite would be true for a negative PrcNAVSprd.

Disclosure: Author owns a diversified portfolio of CEFs and ETFs and is long stocks in the CEFBig10™, CEFMuni10™ and CEFDisc10™ as well as JPM, XLF and BTO