By G C Mays
Oil-Dri Corporation (NYSE:ODC) reported strong first quarter earnings, increasing net sales by 5% to 56.3 million (see conference call transcript here). Net income increased by 17% to 2.5 million, or $0.35 per diluted share, compared with net income of 2.2 million, or $0.30 per share a year ago.
Oil-Dri Corporations President & CEO Dan Jaffee, clearly proud of the quarter, company, and perhaps feeling a little beside himself, decided to polish up his speech making skills a week before the annual meeting on the conference call listeners and participants. He talked about Oil-Dri corporations decision-making process having a long-term focus and wanting investors see the firm from that same perspective. He then used his Charles Schwab stock screener to illustrate that in terms of total return Oil-Dri corporations stock performance has been more than double that stock of Berkshire Hathaway (NYSE:BRK.A) and has outperformed Microsoft (NASDAQ:MSFT) stock by 14 times in the last five years. (Then his ego separated from this head, exploded and the call paused while someone brought some clay into the room to clean up the mess.)
GETTING DOWN TO BUSINESS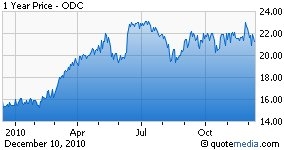 Net sales of the Business to Business Products Group increased by $2.27 million or 14% to $19.05 million dollars. Net sales of agricultural chemicals increased by 59% with 49% more tons sold. This is inline with the rising commodity prices of wheat, corn, soybeans etc. Net sales of fluid purification products increased 19% with 17% more tons sold. Offsetting these gains was a decline in sales of animal health products of 12% which was primarily due to the loss of a customer. Net sales of private label cat liter decreased by 1% due to an overall decline in aggregate demand.
The Retail and Wholesale Products Group had net sales which increased by $613,000 or 2% to $37.2 million dollars. Net sales of branded cat liter increased by 12% with 6% more tons sold. Wal-Mart (NYSE:WMT) has a lot to do with the resurgence the branded cat liter category. Sales at Wal-Mart are higher than last year but below the level they were at before Wal-Mart reduced the number of stores which sold the branded cat liter. Net sales of industrial absorbents increased 4% due to increased demand from industrial distributors.
Internationally, profits were not so easy to soak up. Net sales by foreign subsidiaries declined by a sizable 20%, dropping from 7% to 5% of overall sales. The subsidiaries are located in Canada and the United Kingdom. Net sales of the Canadian subsidiary were down by 15% and sales in the United Kingdom were down by 38%. The loss of a customer in the animal health and nutrition product group was a key reason for the sales decline in Canada while weakness in the industrial markets and the £:$ exchange rate were the culprit in the United Kingdom.
On the cost side of the ledger, freight costs increased by 23% due to higher diesel fuel costs and higher sales from exports. SG & A expenses were higher in both operating segments with an increase of 8% in the business to business group and 3% in the retail and wholesale group. The higher costs in business to business group were due to increased marketing costs used to promote their animal health and nutrition products, presumably to replace the customer that was lost. Any customer whose loss results in a double-digit decline in sales was important. The higher costs in the retail and wholesale group was primarily due to market research. Packaging costs increased in both the business and retail segments due to increases in paper and resin costs.
Overall this was a strong quarter for Oil-Dri Corporation. I expect agricultural chemicals, fluid purification and industrial absorbent products sales to stay strong as long as agricultural commodities stay at or near record highs, the automotive industry continues its rebound and the demand for jet fuel and petroleum based products remains stable. I also expect them to earn greater sales in the animal health and nutrition area when they introduce their next generation of clay based products. They may even win that lost customer back.
This very thinly traded stock closed at a recent price of $21.19, which is below the $21.98 it was trading at when I discussed the stock about one month ago. The stock is even more of a value at these levels. For now I am maintaining my price target at $26 per share. Lastly, Oil-Dri expects a review of their products by Wal-Mart in the March time frame. If they decide to return the cat's pride brand of cat liter to even more Wal-Mart stores Oil-Dri could soak up even more profits.
Disclosure: I am long ODC. Neither the author of this article or any family members own shares in Wal-Mart (WMT) as of this writing. For a complete disclosure of my policy on ownership of stocks written about or recommended, please see The Mays Report's about page.