Business Overview
International Speedway (NASDAQ:ISCA) operates 13 of the largest and most popular racetracks in the US, including Daytona International Speedway and Talladega Superspeedway. The company's tracks host all manner of motorsport events, however the vast majority of the business revolves around NASCAR. In 2009, the company's tracks hosted 21 NASCAR Sprint Cup events.
ISCA derives its revenue from three main sources: admissions, food concessions, and other motorsports related activities, such as merchandising. The company is 38% owned by the France Family Group, majority owners of NASCAR.
Investment Thesis
I have long been fascinated by the business of NASCAR, with its sheer marketing power and its ability to practically print money. Investors are not able to get a piece of the NASCAR action directly, as it is privately owned by members of the France family, NASCAR's founders. However, through companies such as ISCA, investors can benefit from the NASCAR machine.
So if I am so excited about NASCAR and by extension ISCA, then why is this stock supposedly undervalued? There seem to be three things weighing on the company. First, with the economy still on shaky ground and the unemployment rate at record levels, admissions at NASCAR events has fallen precipitously. While many of the generalizations about NASCAR fans are untrue, many of them do hail from poorer areas or lesser educated populations.
According to the BLS, the current unemployment rate for those without a high school diploma is 15%, well above the headline number of 9.5%. However, I believe that we are at or near a cyclical high in the unemployment rate, and while it may remain sticky for some time, it should begin to recover slowly. Meanwhile, consumer sentiment continues to improve. I would expect demand for NASCAR to recover with the unemployment rate and consumer sentiment.
The second, related reason for pessimism in the stock is the supposed decline of NASCAR. There is no doubt that TV viewership of NASCAR is down, and it appears that the sport's popularity is off its highs of 2006-2007. However, sports benefit from the network effect: people like what other people around them like. This effect makes it difficult for NASCAR to suffer a permanent loss of popularity.
Meanwhile, racing fans have considered the last few years to be less exciting, given the runaway victories of less popular drivers. This year's Sprint Cup came down to the final race, with at least three drivers in the running, giving hope that the excitement can return. Finally, while decreased viewership would certainly hurt television revenue, the last television deal was negotiated in 2007 and runs through 2014. The contract includes 3% annual revenue escalators, regardless of viewership. At the very worst, this puts off the pain for at least four more years.
The final factor weighing down the stock is the failure of Motorsports Authentic (MA). MA was a joint venture formed in 2005 by ISCA and TRK that sells licensed motorsports merchandise. The JV has been a complete disaster. It has made money in only one year of its existence and is basically bankrupt. The good news, though, is that ISCA is only on the hook for $5.5 million of MA's debt. Meanwhile, the investment has already been written down to $0 on the balance sheet, with the final $77 million write-off coming in 2009. A series of these write-downs in recent years have weighed on earnings and clouded the true earnings story.
This seems like a good time to discuss what I will refer to as the France factor. As I mentioned, ISCA is 38% owned by the France Family Group, who are the majority owners of NASCAR itself. The family holds many management positions at ISCA, including the CEO post. This would seemingly create numerous conflicts of interest, particularly in the negotiation of royalty rates with the family on both sides of the table.
However, I believe this actually gives the France family powerful incentives to give preferential treatment of ISCA, particularly with regards to the awarding of Sprint Cup races. After all, without the lucrative NASCAR races, the company would be nearly worthless. The France family certainly does not have a history of shortchanging ISCA shareholders for the benefit of NASCAR. In fact, numerous lawsuits have alleged the exact opposite, that NASCAR does indeed give preferential treatment to ISCA. Overall, I see France factor as a net positive for the company and for shareholders.
Overall, I believe the market is overweighting recent events and ignoring the company's significant operating leverage. Meanwhile, I firmly believe that, in the words of Mark Twain, reports of NASCAR's death are greatly exaggerated. Finally, the company has shown operating prowess, averaging 10% FCF/revenue over the past five years.
Valuation
Price target: $32 (28% upside plus 0.6% dividend yield)
I conducted a traditional discounted cash flow analysis to arrive at my target price (click to enlarge):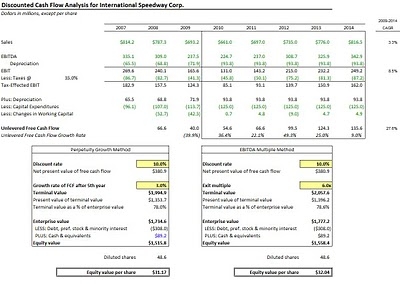 I assumed that revenue would grow slightly more than 3% per year over the next five years. This would put 2014 revenue right at the peak of 2007. I feel this is a reasonable assumption given a relatively slow recovery in the overall economy and a reversal in the declining popularity of the sport. I assumed that ISCA, like other motorsports operators must spend about $125 million per year to maintain and improve their facilities.
This yields free cash flow growth of about 25% per year, a testament to the amount of operating leverage in the business. Finally, I assumed 3% terminal growth in FCF and a 10% discount rate. After adjusting for debt, operating leases, and cash, I arrived at a per share value of $32. This represents 28% upside from current levels, plus a 0.6% dividend yield, for a total return of 28.6%.
As a check, I used the Ben Graham formula for valuing growth stocks. Using the last five years of earnings, I used a sum-of-years-digits calculation to arrive at a normalized EPS of $1.59. Assuming 10% annual growth in earnings, this formula yields a price of $39 per share.
Note: This post intended solely for educational purposes. The author does not hold a position in the stock at the time of posting. Invest at your own risk.
Disclosure: I have no positions in any stocks mentioned, and no plans to initiate any positions within the next 72 hours.