Business Overview
Vodafone Group (NASDAQ:VOD) provides mobile communications Europe, Africa, Asia Pacific, the Middle East, and the United States. The company offers handsets, voice and messaging services, data services (internet, email, music, games, and television), and fixed line services (voice and broadband). Vodafone is the largest global mobile operator by revenue. Vodafone also offers an array of value-added services lines, primarily to business customers. The company owns and manages approximately 2,100 stores, as well as operates 7,600 Vodafone branded stores through franchise and dealer agreements. Vodafone has approximately 341.1 million mobile customers. Vodafone Group Plc was incorporated in 1984 and is based in Newbury, United Kingdom.
The company's European operations dominate the group's financials. However, it also has a broad collection of assets beyond Europe, the largest of which is its 45% stake in Verizon Wireless (NYSE:VZ), with a growing contribution from emerging markets, including South Africa, Central and Eastern Europe, and India.
Vodafone recently announced a reorganization of their corporate structure. Going forward, the company will operate two main divisions:
Europe
Africa, the Middle East, and Asia-Pacific
A third division will oversee a set of minority equity stakes that Vodafone holds in foreign telecoms, with the purpose of selling these stakes at a price amenable to shareholders. These businesses include a 45% stake in Verizon Wireless, a 44% in SFR, a 24.4% stake in Polkomtel, and a 26% stake in Bharti Holdings.
Vodafone recently kicked off this initiative by selling its 3.3% stake in China Mobile (NYSE:CHL) for 4.3 million British pounds. This amounted to 6.2x trailing EBITDA.
Price Target: $37 (49% upside plus 7% dividend yield)
We use four methods to value the shares of VOD. First, we did a sum-of-the-parts analysis of the businesses that VOD is looking to offload.
click to enlarge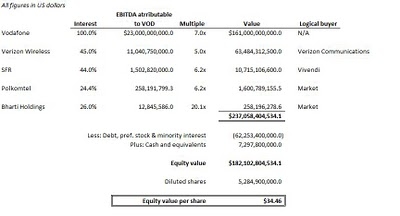 Using trailing EBITDA attributable to VOD, we assume that the SFR and Polkomtel stakes can be sold for the same 6.2 multiple as China Mobile. We also assume that Vivendi is the only logical buyer of SFR, as they already own the other 55%. We therefore applied a 15% ownership premium to the sales price of SFR. The stake in Bharti Holdings is mostly a tower infrastructure business. We therefore used a higher multiple, in line with other tower companies.
The stake in Verizon Wireless was treated a bit differently. Verizon Communications has voiced a desire to own all of the wireless business. However, given the recent acquisition of Alltel by Verizon Wireless and VZ's lagging fixed line business, it would be difficult for VZ to take on large amounts of debt. Meanwhile, given the recent adverse ruling in India, VOD is eager to avoid a large capital gains tax bill. We therefore assumed that a sale of Verizon Wireless would come at a lower multiple than might be fetched in the open market. We still applied a 15% ownership premium to the final sales price.
Finally, we applied a 7.0 multiple to VOD's trailing EBITDA to arrive at a value for the ongoing business. VOD currently trades at 8.0 times EBITDA, and we think that 7.0 is a reasonable multiple going forward for a streamlined leader in European telecommunications.
After subtracting out debt and accounting for cash on the balance sheet, we arrive at a sum-of-the-parts value of $35.
On a discounted cash flow basis, we value the shares at $35. This assumes 10% revenue growth over the next five years, 25% FCF growth, and 3% terminal FCF growth. We used a 10% discount rate.
Moving on to owner earnings, loosely defined as net income plus depreciation minus maintenance capex, we arrive at a value of $37. This assumes 5% growth in owner earnings over the next five years, 3% terminal growth, and a 10% discount rate. We apply a 15% discount to get from private equity to public equity value.
Lastly, we use a modified Ben Graham method for valuing growth stocks to arrive at a value of $42. This assumes 5% growth in earnings and normalized earnings of $3.14.
Taking a weighted average of these four approaches gives us a per share value of $37 for VOD, a 49% upside plus a 7% dividend, for a total return of 56%.
Note: This post intended solely for educational purposes. The author does not hold a stake in VOD at the time of posting. Invest at your own risk.
Disclosure: I have no positions in any stocks mentioned, and no plans to initiate any positions within the next 72 hours.