By Elyse Andrews
This week, I collected the responses from the survey found at the bottom of each issue of Cabot Wealth Advisory. Several readers asked the same questions, so this week, and for the next few weeks, I'll be going over those topics. Without further ado …
Question: What are some good Indian companies that are likely to do well in future?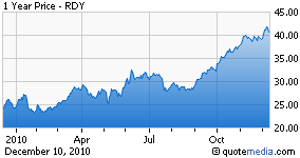 Answer: Cabot China & Emerging Markets Report, written by Editor Paul Goodwin, is where you'll find the top stocks from the BRIC (Brazil, Russia, China and India) countries. Paul recommended Indian company Dr. Reddy's Laboratories (NYSE:RDY) in November, writing this:
Dr. Reddy's still gets 69% of revenues from the sale of generic drugs. But the company is also a contract manufacturer of active pharmaceutical ingredients, finished dosing forms and biotechnology products for other pharmaceutical concerns. And a program of original research into potential treatments for cancer, diabetes, cardiovascular disease, inflammation and bacterial infection has produced a strong pipeline of drugs in clinical trials.

Dr. Reddy's Labs has over 40 families of products in distribution in the U.S., and 69 Abbreviated New Drug Applications (ANDAs, which are requests for approval of generic drugs) in submission to the U.S. Food and Drug Administration. Of these applications, 32 are "Paragraph 4″ filings (claims that products do not infringe on patents or that the patents are not enforceable) and 19 are "first-time filings." Outside India, the company also has strong generic drug market positions in Russia, the U.K and Germany.

While Dr. Reddy's gets only 2% of revenue from sales of its own proprietary products, the company has used both internal resources and outside acquisitions to increase its original research capability, as well as its generic manufacturing capacity. In 2005, the company bought Roche's (OTCQX:RHHBY) custom pharmaceutical services business for $62 million. And in March 2006, the company sealed its acquisition of Betapharm, the fourth-largest generic drug manufacturer in Germany, and with it Betapharm's portfolio of over 145 products. A partnership with Argenta Discovery is aimed at development and commercialization of a new treatment for chronic obstructive pulmonary disease.

The earnings line for Dr. Reddy's Labs has been improving rapidly with an estimate-beating 41% jump in Q3 earnings reported on October 23. This quarterly report also showed an 8% gain in revenues and a 15.3% after tax profit margin that was the highest in years. Estimates for the full fiscal 2011, which ends in March, are for $1.44 per share, up 251% from the prior year.

The long-term chart for RDY shows a stock that spent all of 2006 and 2007 and part of 2008 trading sideways in a tight range in the teens, which is appropriate for a steady state company. But after the big correction in 2008, the stock blasted off from its low of 7 and hasn't made a major correction since. The portfolio owned the stock earlier this year, but got shaken out last July. The move that began with the stock blasting off from its double bottom at 28 in August pushed RDY to 40 before a little weakness showed up. We think you can buy RDY right here. BUY.
And the stock is still recommended buy.
Disclosure: No position