The SPDR S&P 500 ETF (NYSE: SPY) saw a gap-open higher Monday but only closed up 0.3%. This came after a week marked by volatility and heavy buying Friday on the prospect of peace in Ukraine, or rather greed-driven hope for as much. Today's issues that could help drive the direction of the SPDR S&P 500 include economic and geopolitical factors. I suspect developments in Ukraine will dictate the day, and EU economic concerns could weigh as well. Before all is said and done, I see the SPY closing in the red on the day due to uncertainty about how Russia's purported aid effort for Ukraine goes.
In my week ahead article, I did not cover any of Tuesday's economic data points, with my focus instead aimed at the week's price measures, which will all be reported later this week. Today's data includes the NFIB Small Business Optimism Index, the Labor Department's Job Openings & Labor Turnover Survey (JOLTS Report), the monthly Treasury Budget and the weekly same-store sales data.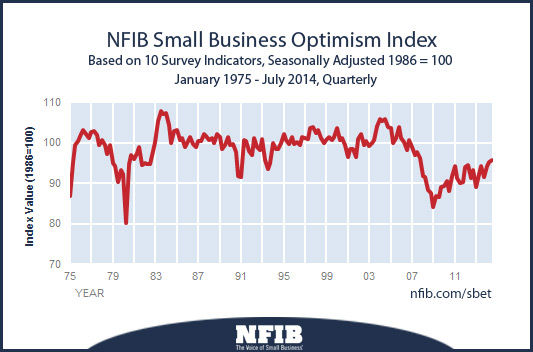 From the NFIB Report
July's Small Business Optimism Index was already reported this morning. NFIB's measure showed a slight improvement to a mark of 95.7, up from 95.0 in June. Economists were looking for an increase to 95.8 though, so the oft-pessimistic group missed the mark. I say often pessimistic, because sentiment has not been robust since before the financial crisis, as is evident in the chart above. Still, we can also see that sentiment among small businessmen has gradually improved toward past positive levels. It's a trend line that sort of matches the economic recovery; we've made gains but much remains on the wish list, like better labor marks for instance. I expect the market matching ETF should benefit from this data, as it gained in pre-market trading.
Regarding labor, the day brings Job Openings data. Here too, we've likewise seen an improving trend line. This month's report measures June, but economists expect deterioration this month to a mark of 4.588 million job openings, versus May's read of 4.635 million. If the data does come in short, for whatever reason, the focus will be on the decline and so we have a negative for the SPY ETF. But there's no guarantee, as economists' forecast range goes up to as high as 4.7 million openings. I wouldn't be surprised if we got a better number than the consensus estimate.
Monthly Treasury Budget data will be reported at 2:00 PM ET. July regularly shows a budget deficit, and economists are expecting it to measure -$96.0 billion this year, versus a historical deficit of -$93.7 billion over the last ten years. It was -$97.6 billion last year. Fiscal year-to-date, the deficit is much improved through June (9 months of data). It's down 28% due to increased tax receipts on an improved economy and due to lower defense spending. The SPY should find a positive factor in this data point, but only mildly so.
The weekly same-store sales data has been reported. For the week ending August 9, ICSC said sales fell 1.4% week-to-week and were only up 3.2% against the prior year period. Last week's yearly comparison showed a greater 4.5% gain. However, the ICSC says the week's weakness should be outweighed through a month that should have consumer spending gain due to lower gasoline prices. I'm not so sure yet, especially about how long gas prices will stay down, due to geopolitical issues. So far, geopolitics have helped lower gas prices (NYSE: UGA) due to the strengthening dollar, but given the closeness of the distraught regions to energy resources, I'm not so sure this holds. Nonetheless, the SPY should be unharmed by the bad news thanks to the ICSC's perspective.
Speaking of geopolitical issues, I suspect the geopolitical issue currently at play in Ukraine will dictate the day when all is said and done. Some 280 Russian trucks are reportedly heading to Ukraine, but the Red Cross says it has not seen what is in them, nor does it know where they are going. That's a problem, for Ukraine and for investors. Some reports out of Ukraine indicate that it plans to intercept the convoy. Imagine what happens if it finds anything suspect or if the Russians respond aggressively. It's a very sensitive situation, and so I see the SPDR S&P 500 giving some recently taken ground back as a result.
I don't see much market moving information coming from corporate earnings today. There is a report showing that the U.S. Postal Service posted a loss of $2 billion this past quarter ended June. It's mainly due to the government's requirement that it pay into a future retiree health care fund. The USPS is not on my A-list these days, as my Barron's business weekly has not found me two weeks in a row now. This has got to be good news for UPS (NYSE: UPS) and FedEx (NYSE: FDX), though, but I'm not expecting an impact to the SPY ETF.
In conclusion, keep your eye on Ukraine for the day's final say. But you're now ready for what's coming from the economic data flow as well. For more coverage of the market matching ETF, please do follow my column.
Disclosure: The author has no positions in any stocks mentioned, and no plans to initiate any positions within the next 72 hours. The author wrote this article themselves, and it expresses their own opinions. The author is not receiving compensation for it (other than from Seeking Alpha). The author has no business relationship with any company whose stock is mentioned in this article.