I last wrote about Advanced Micro Devices (NYSE:AMD) in January when the stock was at $4.50. In that article I suggested that AMD would report a sharp drop in short interest in its next update due to recent heavy short covering. I went on to argue that the upcoming reduction in short interest would serve to no longer prevent a precipitous decline in the stock price.
The stock price did fall for a time though it has bounced back before falling after its latest earnings report.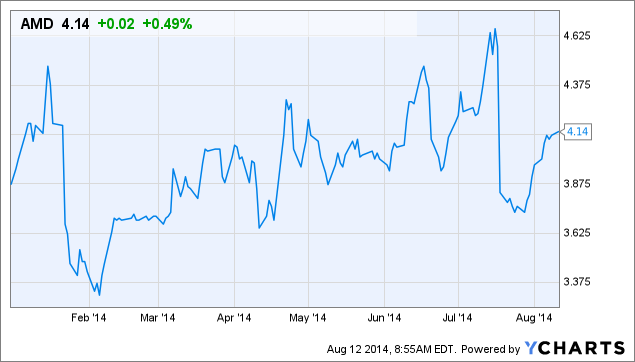 AMD data by YCharts
Today we got a update on AMD's most recent short interest figures and they are staggering!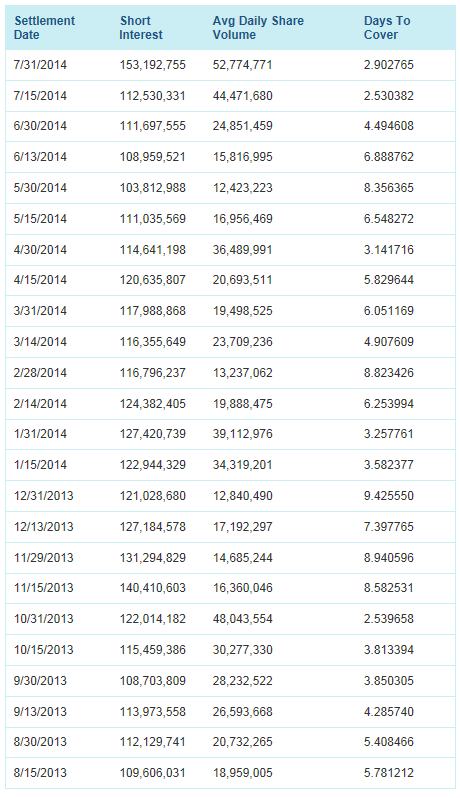 Shares short increased by over 40 million, by far the biggest increase in the last 12 months. This data is for the two week period up to the 31st July so AMD saw a increase in short interest after its most recent earnings report, which was on July 17th.
In previous articles on AMD I've argued that a high short interest would make for a good short squeeze candidate. This time though I'm bearish. Why?
Two main reasons:
1) AMD's short ratio isn't high, which makes it harder for shorts to be squeezed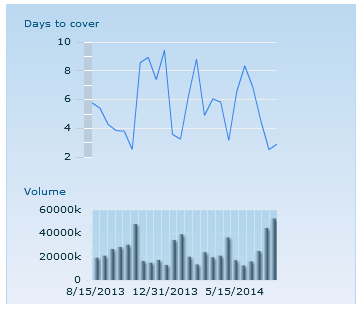 2) AMD's revenue growth looks like it will peak soon. The thing most responsible for AMD's recovery over the last year or so has been next generation console sales. These look like they will plateau sooner than previously expected, in Q3 of this year rather than sometime in next year. Add in the fact that AMD will no longer benefit to the same extent from graphics card sales dedicated to crypto currency mining and a weakening competitive position against Intel in PC's, and the fundamental outlook has never seemed so bleak.
Valuation
AMD at its current price looks significantly overvalued. Comparing AMD to NVidia (NASDAQ:NVDA) and Intel (NASDAQ:INTC) on forward earnings indicates that investors are giving a 100% premium to AMD.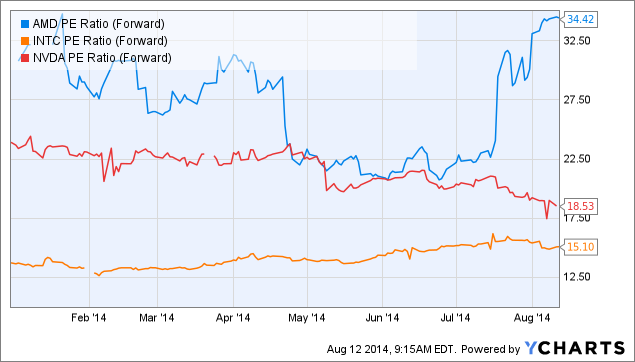 AMD PE Ratio (Forward) data by YCharts
A small premium is justified since 2014 earnings for AMD will include the weak first half of the year where console sales are still ramping, but I find it hard to justify more than a 25% premium, which implies a price target of $2.50.
Conclusion
Shorts are betting heavily against AMD and while taking a contrarian stand against them might seem to be a clever idea, this is one time I don't want to go against the crowd.
Disclosure: The author has no positions in any stocks mentioned, but may initiate a short position in AMD over the next 72 hours. The author wrote this article themselves, and it expresses their own opinions. The author is not receiving compensation for it (other than from Seeking Alpha). The author has no business relationship with any company whose stock is mentioned in this article.