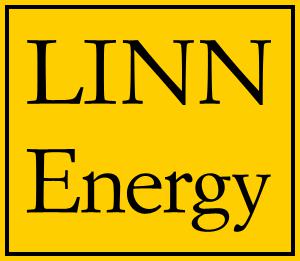 Unlike other upstream MLPs, Linn Energy (LINE) (LNCO) can no longer report distributable cash flow, or DCF. But if Linn could report DCF, investors would readily understand what a great quarter this was for Linn.
This quarter Linn posted an "excess of net cash provided by operating activities after distributions to unitholders and discretionary adjustments" of $32 million. That metric, which other upstream MLPs can still call DCF, would put the distribution coverage ratio for the quarter at a very nice 1.13 times. Perhaps even better, Linn updated its 'excess of net cash' full year guidance to the equivalent of 1.10 times distributions, a very meaningful increase from the 0.98 times just two quarters ago and 1.01 times guidance from last quarter.
Adding to this good news is news of another acquisition in the Hugoton Basin, this time from Pioneer Natural Resources. While new acquisitions and dispositions, which are designed to ultimately lower the company's decline rate, grab the attention of investors right now, the positively revised guidance is in no small part the result of a previous acquisition: That of Berry Petroleum.
Results from parts of the Berry Petroleum acquisition are coming in better than expected, and high-growth areas are beginning to add incremental cash flow to the bottom line. This quarter, it's obvious that in acquiring Berry Petroleum, Linn saw the true value in Berry's acreage, and set meaningful, but beatable benchmark goals. In other words, Linn 'under-promised,' and is now 'over-delivering.' This marks what I think is an important sea change for Linn.
How it got this way
First, a little history: In 2011 Linn made a gambit on the Hogshooter Formation of the Granite Wash play in the Texas and Oklahoma panhandle. Linn bought lots of acreage here on the idea that this multi-stacked shale play would be one of the premier shale basins in the country. Typically upstream MLPs acquire mature, low-decline assets, but here Linn went for a very new, high-decline horizontal drilling play with the idea that the play would develop into a major shale asset, and therefore benefit unitholders greatly.
Toward the later half of 2012, it became clear that the Hogshooter formation, while prolific, was not panning out to be another Eagle Ford or Bakken. High decline rates made the play a disproportionate consumer of maintenance capex; capex that could have gone to pay unitholders and bolster the distribution. The Granite Wash area became a laggard in distributable cash flow.
Earlier this year, Linn announced its desire to eventually sell all of its Granite Wash acreage from either a cash transaction or a swap for more mature, low-decline, cash flow positive acreage. In doing so, I believe the company made a big change in strategy: It decided to return focus definitively to high-margin, low decline assets. This refocus on assets more familiar to the company's management also probably allowed for more realistic, achievable targets to be set.
Second quarter results
Financial results were buoyed by a gradual decrease in the company's overall decline rate. Remember, a higher decline rate necessitates more maintenance capex to keep production stable. Maintenance capex is subtracted directly from distributable cash flow, and so it is important for an upstream MLP, such as Linn, to keep the overall decline rate low.
Expect the decline rate to continue dropping over the next few years, as Linn sells off its Granite Wash and Midland Basin horizontal assets and replaces those with lower-decline Hugoton Basin assets, as this seems to be management's strategy. The goal is to bring the overall decline rate down to 15% after the Granite Wash and Midland Basin assets are sold. If the past is any guidance, Linn could succeed in driving the decline rate a bit lower than that.
This quarter, Linn's better DCF results came from two other factors: Better-than-expected production results from the Hugoton Basin, where production grew by 5% year-over-year, and an even more impressive 9% production growth in California. Linn's star of California was the Diatomite, where production grew an amazing 30% year over year this quarter.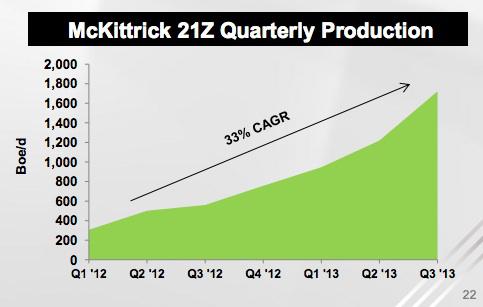 Linn Energy Investor Relations
The McKittrick portion south of the Diatomite play was the driver of growth in California. Before the Berry acquisition, and certainly after it, McKittrick was transitioning to steam flooding, an advanced method of enhanced oil recovery, or EOR. This has lead to a sort of renaissance for this field, and it is something that will drive production growth for at least the next couple years. The Diatomite exceeded Linn's original expectation for the area, when the company acquired the assets from Berry.
Berry acreage will drive Linn's results
While many are understandably focused on Linn's latest acquisitions in the Hugoton, I believe it's the properties from the Berry acquisition that will drive Linn's better results in the coming years. Recall that Linn had to increase its share offering to make the Berry deal work. At the time, many believed that this was overpaying, and that Linn would have difficulty maintaining its distribution with the increased share count. Now, through better than expected growth results in the Diatomite, we're seeing the potential that Linn's management probably saw in this acreage all along.
A major, underlying strategy of many oil companies is to buy drilling rights on oil fields based on initially expected reserves, and to then get far more out of those fields than originally expected, as technology advances over the years. For example, few in the 1930s ever imagined that the Permian Basin would still be productive past the 1980s, but thanks to improving technology and further shale discoveries, it's 2014 and the Permian is still going strong. As such, companies operating in the Permian Basin, and many similar oil fields, have been under-promising and over-delivering for decades.
In getting its hands on some of the best mature oilfields in the country through the Berry Acquisition, I believe that Linn has put itself firmly behind that very trend. By setting goals that are manageable, and then exceeding those goals, Linn is rewarding its shareholders. As a significant handful of upstream MLPs revise downward their DCF guidance this quarter, thanks to a myriad of different, unaccounted for factors, Linn set itself apart this quarter by actually exceeding its expectations. I believe that Linn's management will continue doing so in the future.
Disclosure: The author is long LINE, LNCO. The author wrote this article themselves, and it expresses their own opinions. The author is not receiving compensation for it (other than from Seeking Alpha). The author has no business relationship with any company whose stock is mentioned in this article.