Optimizing investment performance is as much about the stocks and sectors one avoids as it is about the equities one purchases for their investment portfolio. In today's column we will look at two stocks that have been in the news lately that only a day trader could love and regular investors should stay away from given they have high probabilities of significant declines and volatility ahead.
The Ebola outbreak in Africa has been in the headlines recently. The shares of Tekmira Pharmaceuticals (TKMR) has soared on the recent outbreak. The FDA recently verbally confirmed that it has modified its TKM-Ebola indication from full clinical hold to partial clinical hold. The status change could potentially enable the use of TKM-Ebola in infected people.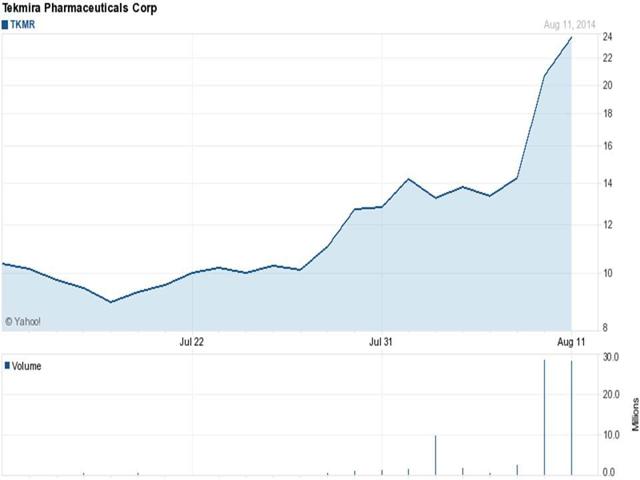 If an investor is fortunate enough to have this rocket prior to its exponential rise; I would be taking profits here. This momentum play should fade as soon as Ebola is no longer in the primary news cycle. In addition, Ebola is unlikely to be a lucrative business unless it migrates to developed countries that can afford higher prices to treat on a widespread basis.
The stock has quintupled over the past year, should post a ~$1.50 a share loss in 2014 on roughly $15 - $17 million in sales and Ebola is not even Tekmira's primary focus and it also faces competition in the space. The company now has a market capitalization north of $500 million. Finally, the last time the stock rocketed up like this, it fell some 60% in short order.
Our next day trader special is recent IPO El Pollo Loco (NASDAQ:LOCO). This chicken purveyor is going for roughly four times revenues, excessive given the small moat to this restaurant concept. A similar recent IPO, Chuy's Holdings (NASDAQ:CHUY) has had a similar trajectory for what I expect for El Pollo Loco over time. A big rise from IPO levels before a deep decline.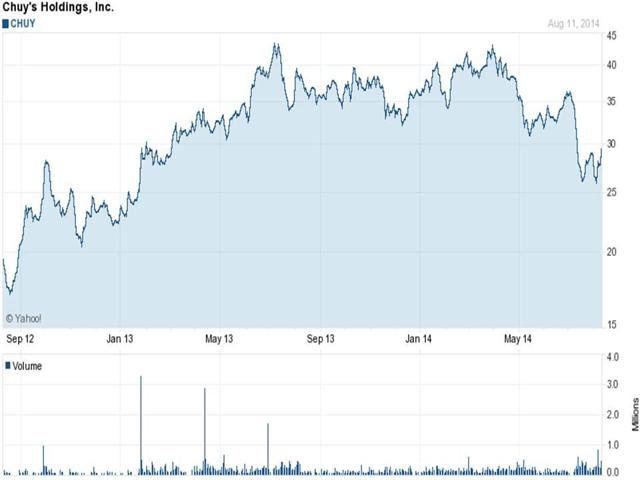 We have also seen this same pattern with recent restaurant IPOs (albeit ones with different concepts) like Potbelly (NASDAQ:PBPB) and Noodles (NASDAQ:NDLS). Remember over the coming months insiders will be able to increasingly sell their shares as lockups expires. This usually puts pressure on the stock price if one looks at these plays historically. Finally, even Jim Cramer is negative on the stock's prospects at these levels.
I have found a lot of pain can be avoided in investing by not chasing story stocks like Tekmira. In addition, unless you can get in at the IPO price these hot restaurant concepts tend to fade quickly after a big rise after coming public. If one wants to buy into these types of restaurant chains one is better off the vast majority of the time waiting for the "buzz" to die down and for IPO lockups to expire on insider shares. Usually that means one can invest at much lower entry points. It is important to remember "Avoidance" can be just as critical as "Action" over the long term for investment performance.
Disclosure: The author has no positions in any stocks mentioned, and no plans to initiate any positions within the next 72 hours. The author wrote this article themselves, and it expresses their own opinions. The author is not receiving compensation for it (other than from Seeking Alpha). The author has no business relationship with any company whose stock is mentioned in this article.