By Sumit Roy
All eyes were on Russia and the Middle East this week.
The majority of commodities rose this week, outpacing declining stock markets. Soybeans, wheat and natural gas led gainers, while copper and silver lagged. Stocks, as measured by the S&P 500, lost less than 1 percent in the week, bringing their year-to-date gain down to 3.4 percent.
Macroeconomic Highlights
Geopolitical concerns dominated this week's headlines. Of particular interest remains the Russia-Ukraine conflict and the Russia-U.S. trade war. On that front, this week Russia retaliated against the U.S. and its allies by banning poultry imports and placing various restrictions on agricultural imports in general. The big question remains whether Russia will ultimately invade Eastern Ukraine, an event that would likely lead to broad risk aversion in financial markets.
Meanwhile, on the economic front, U.S. data continued to come out strong. ISM reported that its U.S. non-manufacturing (services) index jumped from 56 to 58.7, above expectations, and the highest level since 2005. Separately, the Department of Labor reported that the number of people in the U.S. filing for unemployment benefits fell from 303K to 289K last week, better than expected.
Data from China was more mixed. The country reported that its official services (non-manufacturing) PMI fell from 55 to 54.2 in July, a six-month low but still above the 50 level that indicates expansion. At the same time, China reported that its exports grew by 14.5 percent year-over-year in July, while its imports fell by 1.6 percent in the month.
Finally, bond yields were big movers this week. U.S. and European yields fell to new lows amid safe-haven inflows. The U.S.10-year yield was last trading at 2.39 percent after falling as low as 2.35 percent, the lowest level in more than 13 months. At the same time, the German 10-year bond yield was last trading at 1.03 percent after reaching a record-low 1.02 percent earlier.
Commodity Wrap
| | | |
| --- | --- | --- |
| Commodity | Weekly Return | YTD Return |
| Soybeans | 4.69% | -3.12% |
| Wheat | 3.56% | -8.60% |
| Natural Gas | 3.42% | -7.09% |
| Gold | 1.42% | 8.80% |
| Platinum | 1.08% | 8.07% |
| Corn | 0.85% | -15.64% |
| Brent | 0.49% | -4.92% |
| Palladium | -0.17% | 20.45% |
| WTI | -0.31% | -0.85% |
| Copper | -0.93% | -6.47% |
| Silver | -1.77% | 2.57% |
Gold shrugged off an 11-month high in the U.S. dollar to rally as investors bought the yellow metal to hedge against geopolitical risks. The three current hot spots-Russia/Ukraine, Iraq and the Gaza Strip-have made for a particularly volatile geopolitical environment. At any moment, these crises could escalate, causing repercussions for economic growth and financial market stability.

In our view, the Russia/Ukraine situation is the most impactful of the three. If Russia were to invade Ukraine, the response from the West would likely be much harsher than it has so far been. The resulting sanctions would significantly dent trade in Europe, potentially pushing the continent into a recession.

That risk has pushed interest rates in the region, as well as the U.S., to multiyear or record lows. Such low yields have reduced the opportunity cost of holding gold, which is bullish for the metal.
GOLD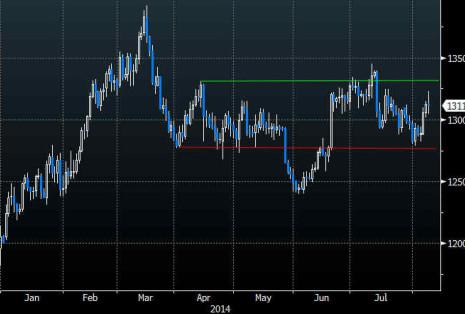 SILVER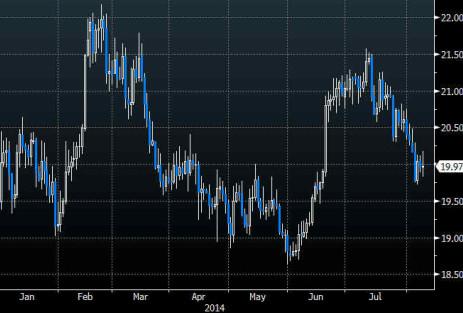 PLATINUM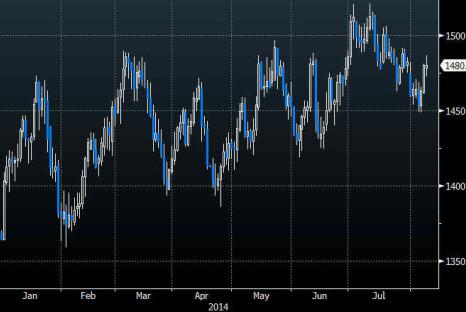 PALLADIUM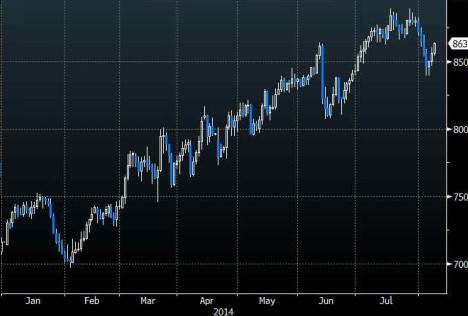 The U.S. began airstrikes against the ISIS militants in Iraq, ushering in a new phase to the latest conflict in the country. Yet oil prices barely budged this week and remain near multimonth lows. What gives?

In our view, oil's weak performance is a reflection of traders' views that Iraqi oil production is unlikely to be disrupted on a significant scale based on the situation as it currently stands. Barring an all-out civil war that extends to the south of the country-where most of the major oil fields lie-Iraq will continue to export its normal volumes of oil.

From a technical perspective, Brent continues to seesaw near the important technical support area between $104 and $106. It's always a bearish sign when prices are unable to rally in the face of "bullish" news; thus, we see elevated risk that prices may break down here. That would lead to a potential decline to $100 or lower in the coming weeks.
BRENT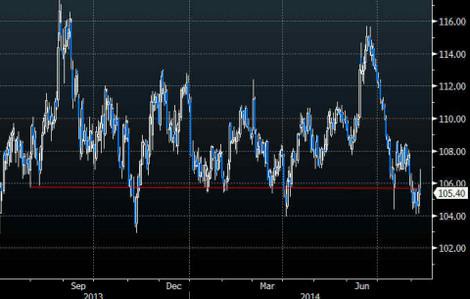 WTI

The grain complex rallied this week amid fears that supplies out of the Black Sea region could be disrupted due to the Russia/Ukraine conflict. Disruptions from war are an obvious wild card, but the coming record U.S. harvest is a decidedly bearish factor that may cap any rallies.
CORN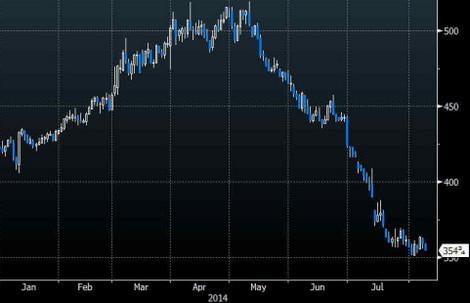 SOYBEANS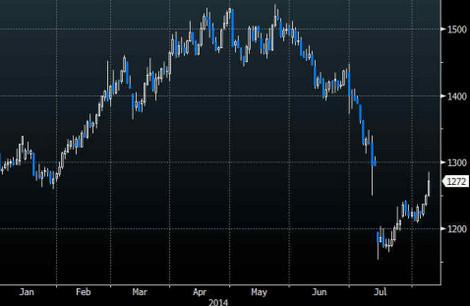 WHEAT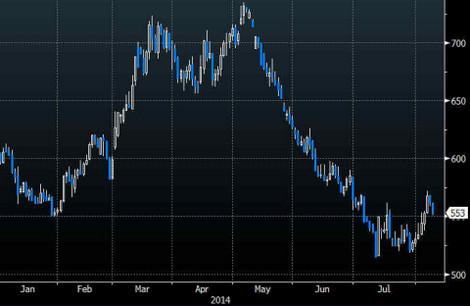 Copper edged lower this week as disappointing data on China's services sector sapped buying interest in the metal. The $3.25/lb level remains resistance from a technical perspective.
COPPER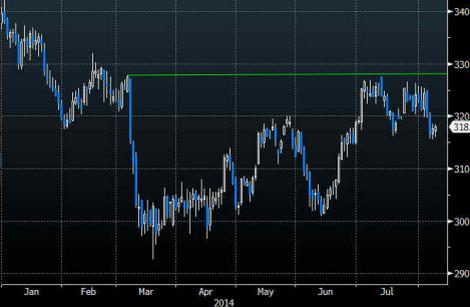 Natural gas rallied this week despite falling on Thursday, when the EIA reported an in-line inventory report. We are firmly bearish on prices and continue to see moves above $4/mmbtu as selling opportunities.
NATURAL GAS