This morning we have news on a biotech drug being developed, the US consumer and an update on the battle between two large American companies regarding content, prices and promotion. We are most interested with news concerning the US consumer, even though we are not interested in purchasing any exposure to the retailers right now. So why the interest? Simple, it is one of the key barometers on how the US economy is doing and when we finally see sales growth at a broad range of retailers and clothing brands, and not just those that are the premier names with good management teams, we will know that economic growth is set to trend higher.
Chart of the Day:
This chart is most definitely a tale of three handbag makers. There is one with great performance, one with decent performance and another with poor performance in the market over the last 52-weeks.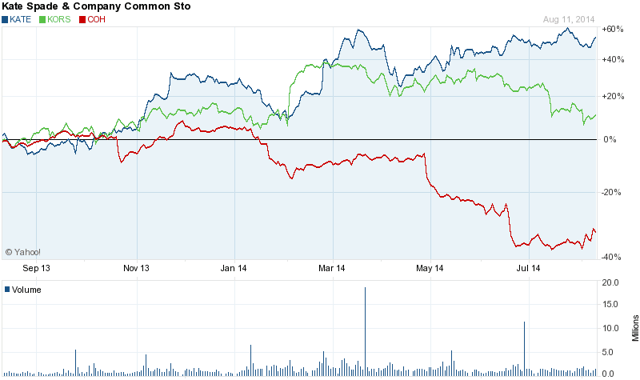 Source: Yahoo Finance
We have economic news today, and it is as follows:
JOLTS - Job Openings (10:00 a.m. EST): Est: N/A Act: 4.671 M
Treasury Budget (2:00 p.m. EST): Est: -$96.0 B
The Asian markets are higher today:
All Ordinaries -- CLOSED
Shanghai Composite -- down 0.14%
Nikkei 225 -- up 0.20%
NZSE 50 -- up 0.12%
Seoul Composite -- up 0.10%
In Europe, the markets are lower this morning:
CAC 40 -- down 0.58%
DAX -- down 0.82%
FTSE 100 -- down 0.02%
OSE -- down 0.39%
Biotech Stock Running Again
Rising strongly after reporting positive news last night, Intercept Pharmaceuticals (NASDAQ:ICPT) shares are up around 26% after having been up as much as 50% in premarket trading. Investors are pushing shares higher today after the company released more data regarding its experimental fatty liver drug that now shows the resulting side effects are not nearly as bad as previously thought. The market had cooled on the stock somewhat when the side effects, mainly the cholesterol issues, were first highlighted but this latest data release paves the way for the company to move forward with testing.
And move forward it shall. Intercept is planning to start late stage trials of the drug in the first half of 2015, which will be significant as there is no treatment yet for non-alcoholic fatty liver disease, which is why the FDA agreed to fast track the drug. Intercept is also testing the drug to treat an autoimmune disease known as primary biliary cirrhosis.
Shares of Intercept Pharmaceuticals are moving back into the $300/share range on the back of today's news.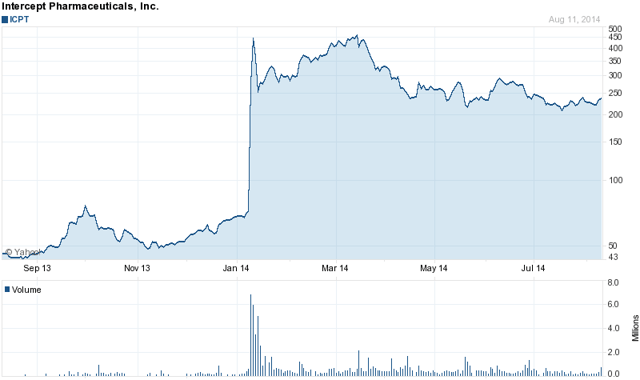 Source: Yahoo Finance
Content Wars
Amazon.com (NASDAQ:AMZN) is stepping up its battle with content providers as it now looks to take on The Walt Disney Company (NYSE:DIS), even as it continues to battle Hachette over books. Amazon's main concern is over pricing and how it is reimbursed when losing money on titles it sells due to price matching competitors. To flex its muscle, Amazon has blocked pre-orders of Disney's Marvel Studios' "Captain America: The Winter Soldier" and other titles from the company.
This mirrors the tactics used by Amazon when it went to battle with Time Warner's (NYSE:TWX) Warner Brothers. That battle lasted just over a month with Amazon removing the pre-order option for Warner Brothers titles, and based on the results and subsequent deployment it appears that Amazon will be utilizing this play in future standoffs as well.
Handbag Sales Rise
Kate Spade & Company (NYSE:KATE) reported strong growth in the quarter ended, possibly shedding light on why Coach (NYSE:COH) continued to see weakness in the North American market and Michael Kors (NYSE:KORS) was forced to discount more than it historically had. Kate Spade saw EPS come in at $0.05 when the market was expecting breakeven results. The bottom line was powered by top line growth, which came in above the $237 million estimate at $266 million.
The company is bullish moving forward and has raised its full year earnings guidance on the top end of the range from $125 million to $130 million. With sales growth strong across the board, Kate Spade might put further pressure upon Coach and the margins at Michael Kors; especially with growth in the US at 55%, above its 49% overall sales growth.
Disclosure: The author has no positions in any stocks mentioned, and no plans to initiate any positions within the next 72 hours. The author wrote this article themselves, and it expresses their own opinions. The author is not receiving compensation for it (other than from Seeking Alpha). The author has no business relationship with any company whose stock is mentioned in this article.