Recently, I have been trying to understand the logic behind the numbers of a widely known company which is listed on Nasdaq. I discovered SodaStream International (NASDAQ:SODA) because an individual investor required my opinion about this stock and I quickly checked some of the business' track record. At first glance, the Income Statement promises a great stock for the coming years and I think many investors have noticed the superficial kindness of this company. But if we investigate more profoundly, some worrying facts appear.
The evolution of the Income Statement is incredible, as the company reports strong increases in revenues and profits from 2010 to 2013. Looking at the numbers from just one point of view is a bad idea, so we should take a look at the Cash Flow Statement. The information these two documents provide is clearly different. So, we should now try to explain this divergence between profits and cash flows, so we get a very interesting puzzle.
The key numbers of the Income Statement are displayed below: revenues, operating profit and net profit.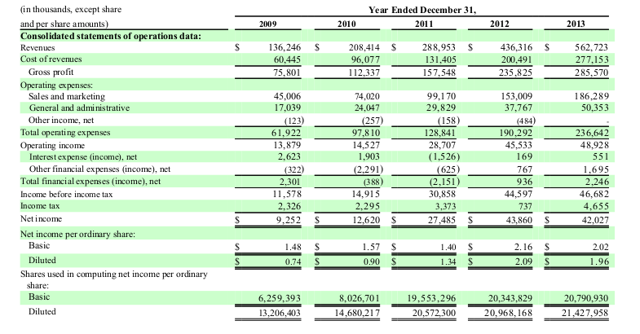 2013 SodaStream International Ltd. 20-F Annual Report (April 30, 2014)
Now it is the turn of the Cash Flow Statement. The first picture is the original table of the 2013 annual report and the second one is a selection of the numbers in which we are interested.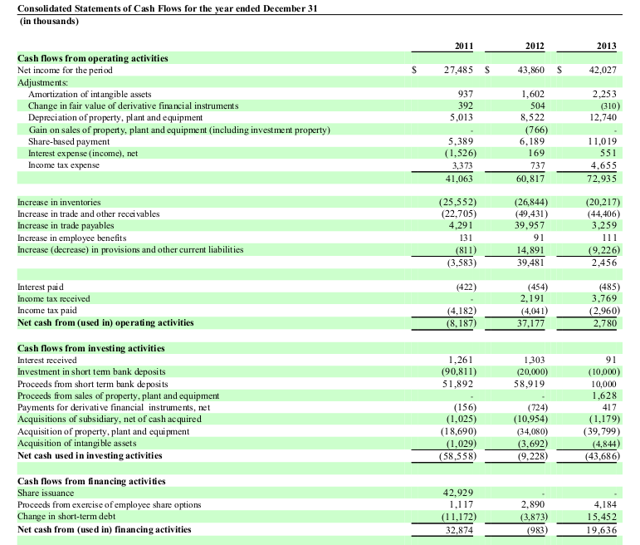 2013 SodaStream International Ltd. 20-F Annual Report (April 30, 2014)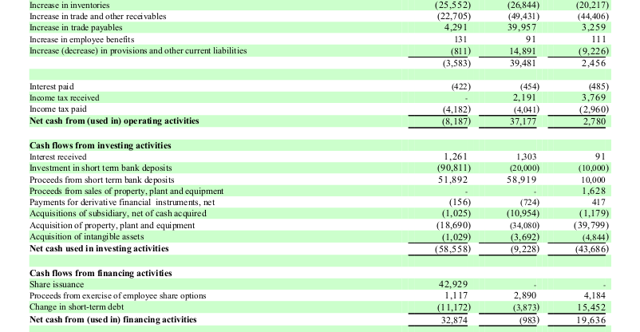 2013 SodaStream International Ltd. 20-F Annual Report (April 30, 2014)
The problem is not that profits do not match the cash flows, but the absurd divergence which casually starts from the first capital issuance in 2010. The reality is as follows: the company issues capital twice and the free cash flow is increasingly negative. Before the first issuance, free cash flows are positive in line with the Income Statement. At this point, investment in plant and equipment skyrockets and operating cash flows are weaker than one would expect looking at the Income Statement:

Data from SodaStream International Ltd.'s Annual Reports 2010-2013 (1)
According to the Income Statement, SodaStream has earned $126 million, but Cash Flow Statement shows a negative free cash flow of $101 million.
Operating cash flows are low or even negative and the correspondent items explain why: inventories and receivables grow strongly but payables do not. This trend is systematic, which is strange given that the clients are distributors or simple customers. And taking into account that they can widely increase inventories, which represent excess of capacity, it is difficult to understand such heavy investments on Capex.
Therefore, the objective is to find causes which help us to understand all these phenomena. Regarding the skyrocketing of investment cash flows, some partial explanations can be found. Any investor can read in the annual report the following lines: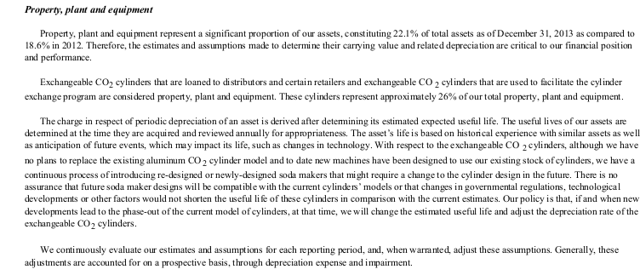 2013 SodaStream International Ltd. 20-F Annual Report (April 30, 2014)
"Exchangeable CO2 cylinders that are loaned to distributors and certain retailers and exchangeable CO2 cylinders that are used to facilitate the cylinder exchange program are considered property, plant and equipment. These cylinders represent approximately 26% of our total property, plant and equipment"
The exchangeable CO2 cylinder is one of the products that SodaStream sells to its clients. The same report explains what these cylinders consist of: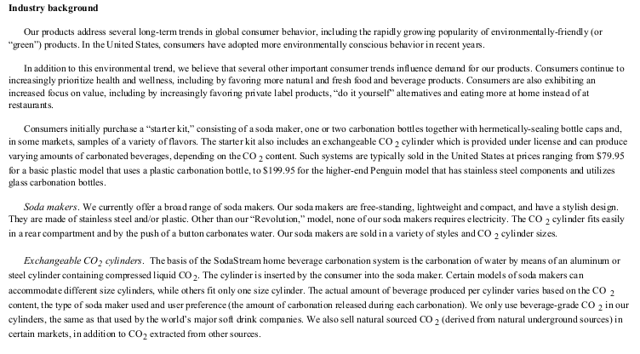 2013 SodaStream International Ltd. 20-F Annual Report (April 30, 2014)
Why is the company classifying the cost of production of these inventories as investment on Capex? But there are more worrying details: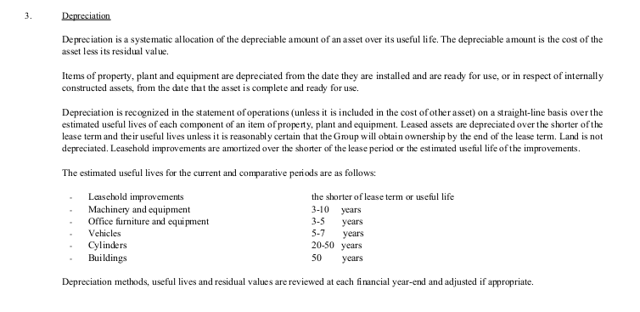 2013 SodaStream International Ltd. 20-F Annual Report (April 30, 2014)
The company states that the useful life of these cylinders is between 20-50 years. Do they think that a simple product with a short/medium life cycle can be amortized as a building? This is one of the signals that show what happens with cash flows. Although cylinders could be capitalized over a few years, 50 years is too much. To get an idea, gas cylinders are sometimes amortized over 5-15 years while SodaStream cylinders are more subject to competition and technological changes.
It is possible to go into detail about "Exchangeable CO2 cylinders". The key is that when SodaStream sells its principal product, the Soda Maker, they still retain the ownership of the included cylinders, according to the report: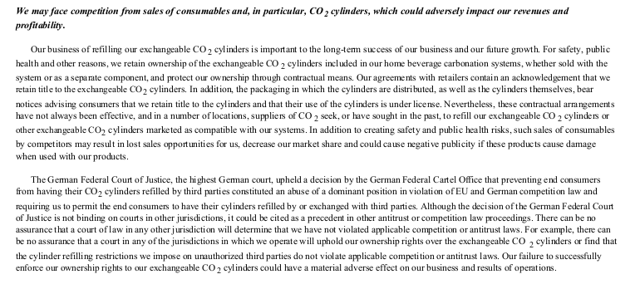 2013 SodaStream International Ltd. 20-F Annual Report (April 30, 2014)
The cylinder exchange program launched by SodaStream has the objective of saving resources through recycling cylinders. If they sell the Soda Maker to a consumer, and the CO2 of the correspondent cylinder runs out, why not reuse it? Besides, they have the technology to refill the cylinder, saving resources by not using another one. The key idea is that there is a base of cylinders in different channels supporting this process and the company classifies it as investment on fixed assets. At least that is how I understand all of this.

2013 SodaStream International Ltd. 20-F Annual Report (April 30, 2014)
And this paragraph also helps us to understand the idea:

2013 SodaStream International Ltd. 20-F Annual Report (April 30, 2014)
I am not going evaluate SodaStream's strategy for its consumers, but taking into account the rest of the numbers, the business structure which SodaStream is developing is very fragile.
What I also do not understand is why the company is expecting more heavy investment on new facilities. In the next paragraph it is said that there is enough capacity but also additional manufacturing capacity is anticipated.

2013 SodaStream International Ltd. 20-F Annual Report (April 30, 2014)
With the current capacity, it is able to rapidly expand inventories and revenues year over year. And cash flows do not promise a good future in financial terms. There are no positive free cash flows so the company should be expecting to slow down this supposed growth. There is an interesting statement in Q4 2013 Earnings Call (Seeking Alpha Transcript) from the CFO:

Earnings Call Q4 2013 SodaStream - Seeking Alpha
$70 million? Taking into account that the 2013 figures are lower than those the CFO is showing, this statement means increasing investment in plant and equipment for 2014. If operating cash flow does not improve dramatically, all of this does not make sense. Investment on Capex will increase more the gap between operating and investing cash flows.
To put all of this in a broader context, the business model of SodaStream before issuing stock in 2010 seems sustainable: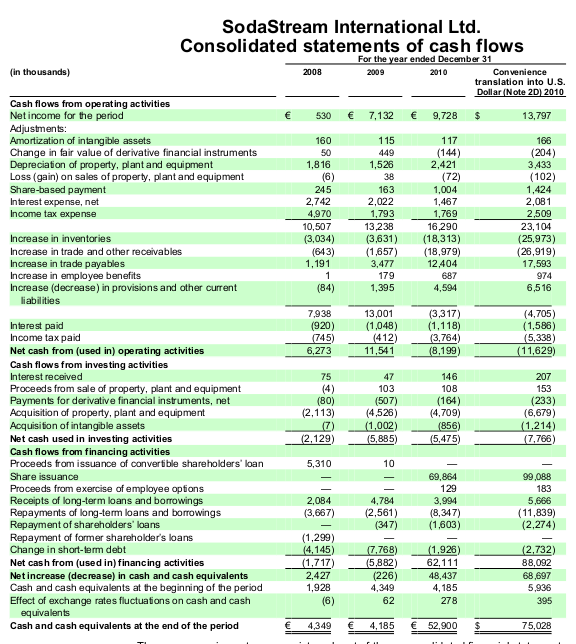 2010 SodaStream International Ltd. 20-F Annual Report (June 30, 2011)
Two years with positive free cash flows in a growing business show negative cash flows from financing activities which is what the fundamental investor wants to see. And since 2010, the financial aspect of the company has deteriorated continuously. In 2011, there is another stock issuance. Investors' money outflows by investing activities, plant and equipment specifically. Four years has gone by and numbers show the same trend.
I guess this story will end with deteriorating margins as depreciation expenses come flowing to the Income Statement. According to accounting, these expenses are huge and increasing but distributed over a long time horizon. Reality will appear slowly, in fact, it is already appearing:

Earnings Call Q4 2013 SodaStream - Seeking Alpha
The last report on Jul 30, 2014 confirms this hypothesis. Revenues are flat or increasing slowly but operating income collapses from $28.3 million to $13.6 million for the half year: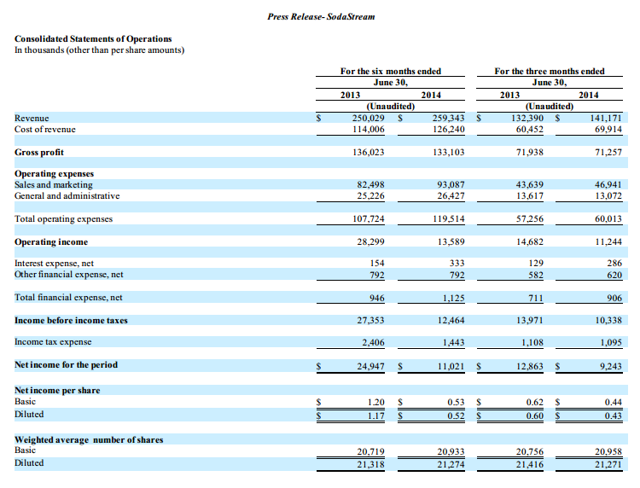 6-K SodaStream International Q2 Current Report (Jul 30, 2014)
And what about the Q1's cash flows?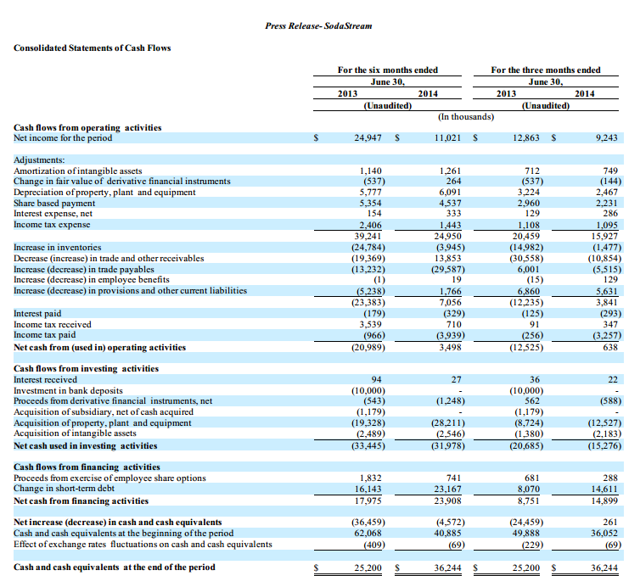 6-K SodaStream International Q2 Current Report (Jul 30, 2014)
We find another negative free cash flow (1) of $27.3 millions for the first six months. If we extrapolate from there, we will get an outflow of $54.5 million for the whole year.
My forecast: this deterioration of the Income Statement will continue systematically as depreciation costs increase permanently. All this investment in fixed assets has to be amortized.
So, what is the best course of action for the individual investor in this situation? In my opinion, there are two points to consider:
In the last four years there is no sign of value creation and the capitalization is now around $692M. If we are regarding long-term investing or value investing on individual companies, it is clear that the individual investor should avoid buying or maintaining this stock.

Some investors could think that this is a good opportunity to short this stock. Although this information hints at declines in SODA, timing is crucial for these operations as a short position cannot be maintained forever. The asymmetry between long and short positions force investors to consider other kind of analysis in the second case. Therefore, the investor who wants to short this stock also needs to consider the question: When will reality be recognized by the market? In the coming months or two years on? The only catalyst mentioned in this article is the inevitable deterioration of results.
(1) Free Cash Flow is calculated by: Net cash provided by operating activities - Acquisition of subsidiaries, net of cash acquired - Acquisition of property, plant and equipment - Acquisition of intangible assets + Proceeds from sale of property, plant and equipment
Disclosure: The author has no positions in any stocks mentioned, and no plans to initiate any positions within the next 72 hours. The author wrote this article themselves, and it expresses their own opinions. The author is not receiving compensation for it. The author has no business relationship with any company whose stock is mentioned in this article.