I have been following Western Asset Mortgage Capital Corporation (NYSE:WMC) since the firm's IPO in 2012, and have had mixed results. Early on, I had it right stating:
Bottom Line: Western Mortgage capital Corp has positioned the portfolio for rising rates and has turned in a strong initial performance with $0.38/ps dividend for 47 days (which, if annualized, equates to a dividend yield of over 13% at current levels). The outlook given by the firm and their positioning for their outlook is rational and their targets seem within reason. The only concern I have is that rates could still fall from here (Europe is not done yet) and NIM could get hit pretty hard. Other than that, the REIT is living up to their potential and warrants consideration by investors.
Since then (8/18/12), the stock's share price has returned -12% (annualized), while the return with reinvested dividends had been 5.6% (annualized). It has gotten crushed by the return of the S&P (NYSEARCA:SPY) (18% annualized total return), but has outperformed mREIT stalwarts Annaly Capital (NYSE:NLY) and American Capital Agency (NASDAQ:AGNC), which returned -8% and -4.5% annualized, respectively.
That is decent relative performance, but we must keep in mind it has been driven by the dividend. The best way to show the "dividend differential" is by comparing it with peers - I am using Annaly, AGNC, Javelin Mortgage (NYSE:JMI), Two Harbors (NYSE:TWO), Hatteras Financial (NYSE:HTS) and American Capital Mortgage Investment (NASDAQ:MTGE):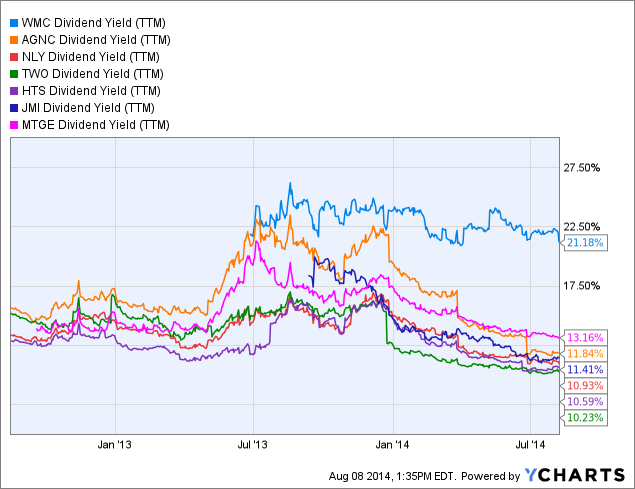 WMC Dividend Yield (TTM) data by YCharts
Obviously, given the importance of the dividend to the returns, an investor must concern themselves with dividend sustainability. It was this concern that led me to state in my last article on WMC:
Bottom Line: I believe that the dividend will have to be reduced again to accommodate the new share sale, and further if WMC wants it to be sustainable (covered). While gains have fueled results (and lead to the Q4 share dividend), core earnings have to cover the dividend at some point of the cycle of raising capital to pay existing holders has to be repeated. Book value erosion will continue given the dividend policy and share issuance. Ultimately, the dividend will be relied upon to create positive returns (after book value loss) and is, in my opinion, at risk. While the yield is attractive, one must realize the risk that affords it. My position in WMC is a smaller one, currently at/near 1-2% of income portfolios, and will become smaller as dividends are not reinvested.
Then came second-quarter earnings. The highlights of which include:
Generated an economic return of 12.6%
Generated core earnings and drop income of $1 per share ($0.75 and $0.25) vs. $0.56 in Q1 2014
Book value per share increased to $15.31, up from $14.19 (+8%) at the end of Q1 2014
Average net interest spread was 2.69%, up from 1.8% in Q1 2014
The leverage ratio was approximately 6.5x (adj. for TBA was 7.5x) vs. 7.4x (8.2x adj.) in Q1 2014
Impressive earnings. Does it change my opinion, though? Let's take a walk through the story. The following will contain charts (derived from company filings) that compare WMC to NLY, JMI, TWO and MTGE. The reason I have used NLY is because it is still the 800-lb gorilla. JMI, TWO and MTGE are used due to their "hybrid" nature (agency and non-agency securities).
The place to start is the origin of everything, the portfolio: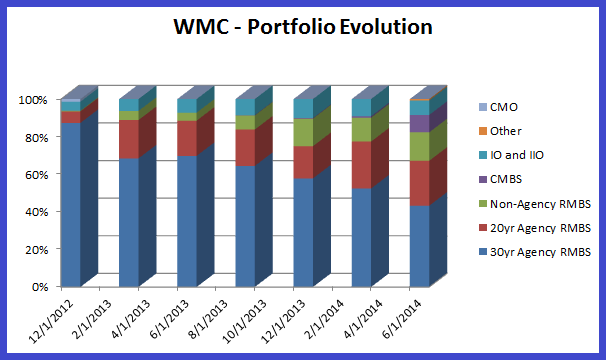 As is apparent in the chart above (and why it is titled the way it is), WMC has been shifting its portfolio to a hybrid portfolio. The rationale being that there are more opportunities available in non-agency securities (RMBS or CMBS). The RMBS portfolio has the further breakdown (Q2 '14 earnings presentation) of: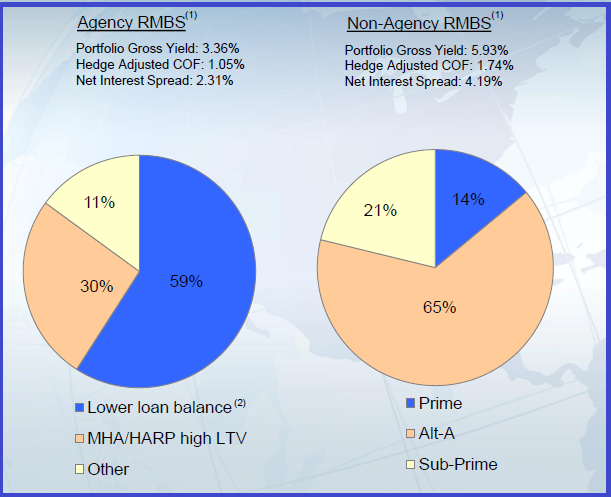 Alt-A dominates the non-agency portfolio, as it is a "safer" position within non-agency and has a decent amount of "spread" or "yield" available to it. Personally, I am a fan of the non-agency trade, as there are more opportunities, liquidity continues to improve and metrics have been stable-to-improving. The key takeaway from the above chart is the significant pick-up in net interest spread ("NIS") available in "credit" RMBS. WMC's historical NIS is the following: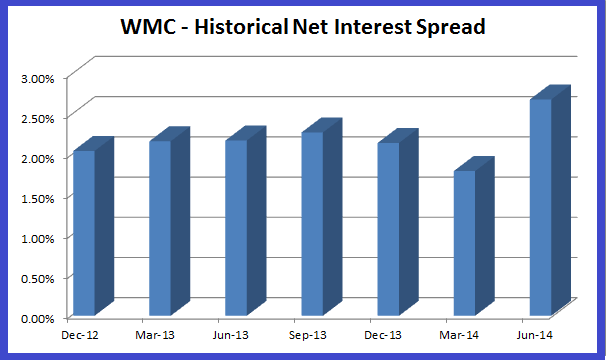 As the chart above shows, it had dipped down, but increased rather dramatically in the second quarter - due primarily to lower cost of funds (-60bps. Income increased due to a +29bps increase in portfolio yield). WMC compares to its peers (all Q2 2014) as follows: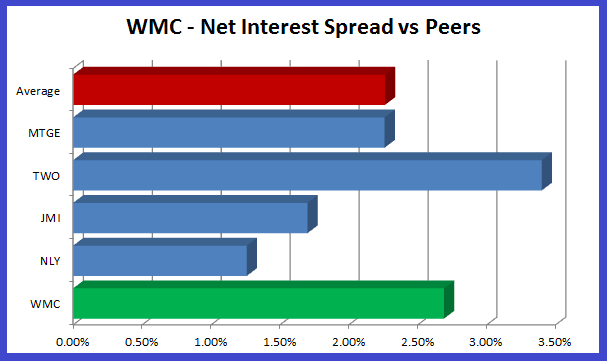 As the chart above shows, WMC is above average in its NIS, falling behind only Two Harbors.
Bottom Line on NIS: WMC increased NIS during the quarter due (in large part) to a lower cost of funds. Given my rate view of low short-end rates and flat-to-increasing longer rates, I do not believe that WMC's funding cost will continue to be accretive unless its swaps strategy changes (pay fixed swaps have an average maturity of 6.7 yrs. on notional $6.8B).
Next, the leverage that makes the NIS significant enough to pay the yield must be assessed. Recall that mREITs that take credit risk employ lower leverage than agency mREITs, as the NIS is greater, and it therefore takes less leverage to make the yield obtainable.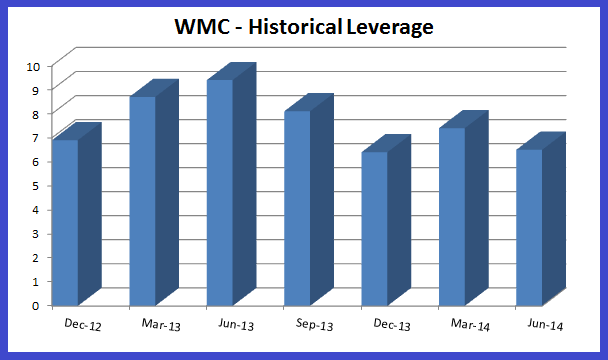 As the chart above shows, WMC's leverage has been decreasing, as it has added credit to the portfolio mix. This is as we would expect.
How does its leverage compare to peers? Let's take a look: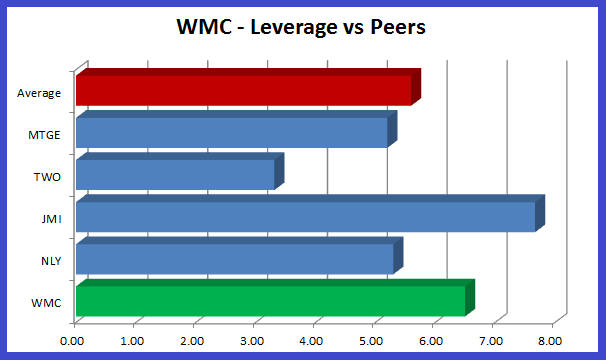 Honestly, it is in the ballpark, but at 6.5x, I still believe it is a touch high (6.5x does not include TBA) and would rather see it nearly a turn lower, which is more sustainable and more appropriate for a portfolio increasingly focused on credit.
Bottom line on leverage: Leverage is lower than the previous quarter as it should be given the increase in credit exposure, but I believe it will have to come down nearly a full turn (1x) to be in a comfort zone. Given its short duration currently (3 months w/ non-agency, -1.5 yrs. excluding non-agency), I am not overly nervous about its comfort in the 8x leverage (all in) range, but still uncomfortable.
Recall from my last article, I was concerned about the sustainability of the dividend (referenced earlier). My contention was that the dividend needs to be covered to create a sustainable dividend. Let's take a look: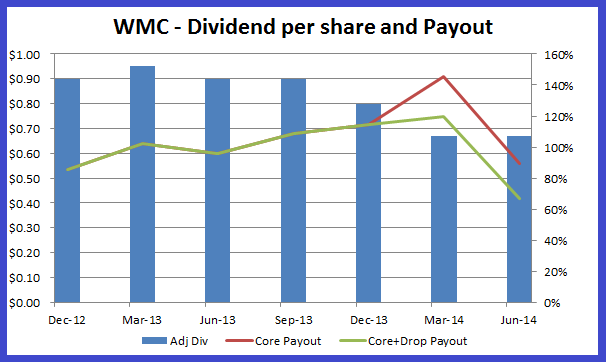 The dividend was covered, creating a "higher-quality" dividend. (Note that this chart includes "core" dividends and not year-end "compliance" dividends.) Is this sustainable? Here is my biggest concern:
NIS may not be sustainable at these levels, creating a 100%+ payout again. This could be caused by funding rates increasing faster than invested rates.
Should this occur, and I think it likely, the dividend will have to be cut.
Lastly, I include an equity chart of the peer group for the "market's" assessment: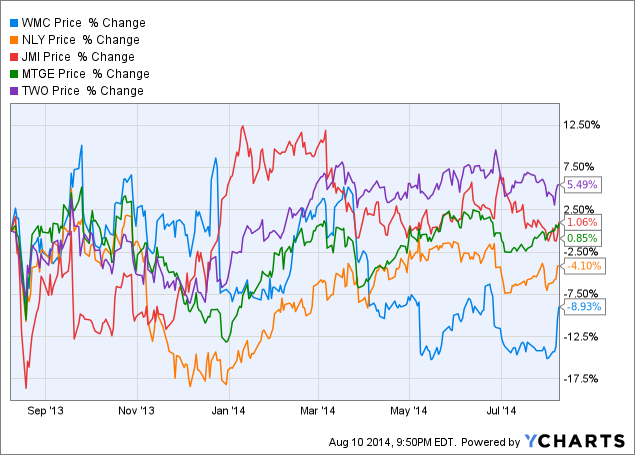 WMC continues to bring up the rear over the last few months.
Bottom Line: Many readers might get the impression I do not like Western Asset Mortgage Capital. This is, however, not the case - evidenced by my long position in the mREIT. It is hard to ignore an investment that throws off the kind of cash that WMC does. Given the forthcoming changes in the repo markets (capital charges especially for the banks) and the lower leverage that hybrid mREITs utilize, I believe leverage will also have to fall below 6x. As a result of lower leverage and potential NIS compression from current levels, I remain cautious on WMC and continue to expect the dividend to be reduced ($0.55 creates 15% at today's price - still a bargain, although I would expect a more rational cut to $0.60 or so). I like the increased credit exposure of the REIT (admittedly cautious on the addition of whole loans as they go down that road) in both RMBS and CMBS, and continue to believe the manager has the skills to invest and trade this sector (I have respect for WAMCO). I am holding off increasing my position in WMC until I can get more comfortable with the dividend quality. As a result, my 1.5%-2% portfolio position stands as is.
A summary of one of my sheets for those who care.
Disclosure: The author is long WMC, TWO, NLY, NRF. The author wrote this article themselves, and it expresses their own opinions. The author is not receiving compensation for it (other than from Seeking Alpha). The author has no business relationship with any company whose stock is mentioned in this article.
Additional disclosure: This article is for informational purposes only, it is not a recommendation to buy or sell any security and is strictly the opinion of Rubicon Associates LLC. Every investor is strongly encouraged to do their own research prior to investing.