Mondelez International Inc. (NASDAQ:MDLZ), the marker of Oreo cookies and Cadbury chocolate, fell 6.4% in the last few days. Mondelez is facing severe headwinds like other companies who are operating in the packaged food industry. Recently Kraft Foods (KRFT) released poor quarterly results and disappointed its investors. The snacks and packaged food industry is showing very slow growth since developed markets are saturated and competition is intense.
Worldwide, the snacks foods manufacturing industry is very large and generates $300 billion in annual revenues. Although the U.S. is one of the largest snack food markets, it is now very saturated with around 500 companies generating $30 billion in annual revenues. Also the U.S. industry is highly concentrated and the top 50 players generate around 90% of the industry's revenues. Mondelez expects its 2014 sales to grow at a slower rate than the overall snacks industry's growth rate. The smaller top-line growth figure will restrict per share earnings and this will ultimately impact the returns to investor in terms of less stock price and dividend growth.
Weaker Than Expected Results
Mondelez has been reporting volatile earnings results and its recently released second quarter results for 2014 were weaker than the last quarter's report. Although Mondelez was able to beat the earnings by a penny, it missed the revenues estimates. Mondelez continued to struggle with the sluggish demand and its net revenues in the latest quarter declined 1.8% year over year to $8.44 billion missing the consensus estimates of $8.71 billion due to weak volume. The adjusted per share earnings of $0.40 were above the consensus estimates of $0.39 primarily due to margin improvement and lower share count. Mondelez could not deliver top-line growth and it has been trying to improve its bottom line though cost cutting. However, cost cutting is not the only solution to justify the earnings growth because this is just a temporary way out.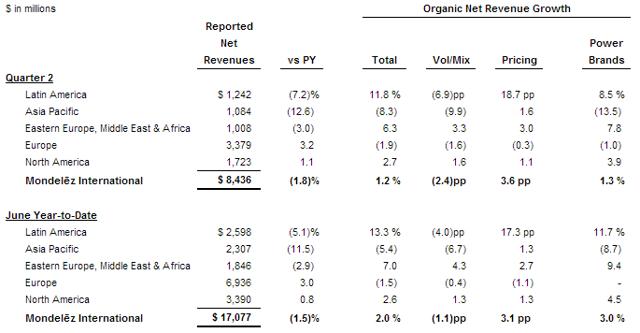 Source: Investor Relations
Mondelez beat analysts' earnings estimates by 13.04% after it reported per share earnings of 32 cents in the first quarter and revenues of $8.64 billion that were in line with Wall Street's projection. As a result, the stock has only gained 2.4% since the beginning of 2014 and underperformed the S&P 500. The company's per share earnings for the first quarter of 2014 were supported by its share repurchase program worth $500 million. Moreover, the company employed a cost reduction program which together with the increases in productivity boosted earnings.
However, the scenario was totally different after the company reported its second quarter results for 2014. The poor performance of the latest quarter and first half of 2014 urged the management to cut the estimates for full fiscal year 2014. As a result, Mondelez now expects its sales to grow below the overall industry this year. Previously, at the beginning of the year Mondelez expects it growth rate to be equal to or above the industry's pace. It now expects its key organic sales to grow between 2% and 2.5% this year which is a drop from the previous estimate of 3%. This is an even further slip from the forecast of about 4% growth it estimated back in February.
Cost Cuttings Might Not Be the Long-term Solution
Mondelez was previously able to deal with cost inflation in raw materials using higher prices and improvements in supply chain productivity resulting in better overall performance. However, Mondelez is experiencing a slowdown in global growth. The slowdown as well as the impact of lower coffee prices and weakness in the emerging markets is affecting the company's top and bottom-line growth. Mondelez already accelerated prices across its product portfolio and now any price increase will hurt its sales volume.
Mondelez made a deal with investment firm JAB Holding Co. to merge its coffee unit with D.E. Master Blenders 1753, creating the world's leading pure-play coffee company. This may be a good move to exploit the potential synergies that exist due to the compatibility of the coffee brands. However this may not fully cover the lagging growth because it has to face intense competition from the world's biggest coffee maker. Although this combination will create one big coffee player, Nestlé's strong presence all over the world will be a big challenge to contend with.
On the other hand, the foreign exchange tailwinds that the company expected in the previous quarters are also expected to continue in the future. The management expected headwinds from a slowdown in the global snacks industry, weak sales in biscuits, and lower coffee pricing to continue during the latest fiscal quarter. Oreo, its top cookie brand, is already facing headwinds in China and its recent collaboration in the coffee business is not the only solution.
Conclusion
Over the past five years, the company has traded at an average price to earnings multiple of 12.77 times and its forward price to earnings multiple of 18.07 times is higher than its historic average. Mondelez is currently trading at a trailing price to earnings multiple of 33.50 times compared to the industry's price of earnings multiple of 23.53 times and this makes Mondelez an expensive stock at this time.
The high dividend yielding stocks can compensate for the temporary poor price movement but Mondelez lacks this because it is not the stock for dividend seekers. Mondelez is currently paying a dividend of $0.56 per share with a 1.57% yield which is clearly not very attractive. Also Mondelez expects a smaller top-line growth figure which will restrict earnings growth. This factor will also restrict the dividend growth. Investors may sell this stock due to its downside potential and unattractive dividend yield and should seek another attractive opportunity.
Disclosure: The author has no positions in any stocks mentioned, and no plans to initiate any positions within the next 72 hours.
Business relationship disclosure: The article has been written by a Gemstone Equity Research research analyst. Gemstone Equity Research is not receiving compensation for it (other than from Seeking Alpha). Gemstone Equity Research has no business relationship with any company whose stock is mentioned in this article.