Sandridge Energy Inc's (NYSE:SD) stock tanked after its latest earnings release, but it still is no bargain. Management lowered its production forecast for the full year, which hit crude growth the hardest. Now Sandridge sees its 2014 crude production ranging from 10.7 MMBbls - 11.3 MMBbls, down from 12 MMBbls previously. NGLs production was lowered slightly to 3.5 MMBbls - 3.6 MMBbls from 3.7 MMBbls, and natural gas stayed the same at 82.6 Bcf - 84.6 Bcf compared to 83.6 Bcf previously.
Management chalked up the reduced guidance due to high water saturation in its Permian Basin operations, which took away 350 MBoe in production (95% liquids,) with power and weather related disruptions in its Mid-Continent cutting another 250 MBoe off of its output. One of the biggest problems with this justification is that Sandridge is still short an excuse for another 400 MBoe in production. So even if its first two reasons were completely legitimate, its core operations are still falling short of its own expectations.
Debt grows
One of the biggest issues is Sandridge's guidance cut is it further deteriorates its balance sheet. In the second quarter of 2013, Sandridge's leverage ratio stood at 2.4x, but that grew to 3.2x last quarter. This is a complete reversal of fortunes from when Sandridge was able to reduce its leverage ratio from 4.6x in Q2 2011 to 2.9x in Q2 2012 to 2.4x Q2 2013. In fact since the second quarter of 2013, Sandridge's leverage ratio has steadily risen, increasing worries that it may have to cut its capex budget, sell off assets, or dilute shareholders to pay down debt in the future.
During the first six months of 2014, Sandridge spent $700 million of its capex budget yet made only $323 million in adjusted operating cash flow. Sandridge has been perpetually spending more than its taking in, which is causing its debt to swell even after its asset sales.
On a positive note, Sandridge's debt doesn't start maturing until 2020, giving it time to fix its operations and "crack the code" of the Mid-Continent. Sandridge has been outspending its operating cash flow, which means it has to rely on its liquidity to keep going. While its liquidity is down $157 million versus the second quarter of last year, it still has $1.684 billion at its disposal, $775 million of that being an undrawn credit facility.
Mid-Continent
Sandridge's biggest operations lay in Oklahoma and Kansas in the Mid-Continent region. The 122 laterals Sandridge drilled in the Mid-Continent last quarter had an average 30-day IP rate of 365 BOE/d (69% oil), which is 30% above its previous type curve. To Sandridge's credit, it has been major operational improvements over the past few years. Well completion costs have gone down by $1 million since the first quarter of 2012 to $2.85 million, while production per well has trended upwards.
To try and salvage its oil production growth, Sandridge is testing out a new geologic model in the Woodford trend. The first well that came online using the new technique had a 30-day IP rate of 360 BOE/d (84% oil). The high oil cut looks promising, and if the second well using the same technique produces similar results when it comes online this quarter, Sandridge may be onto something.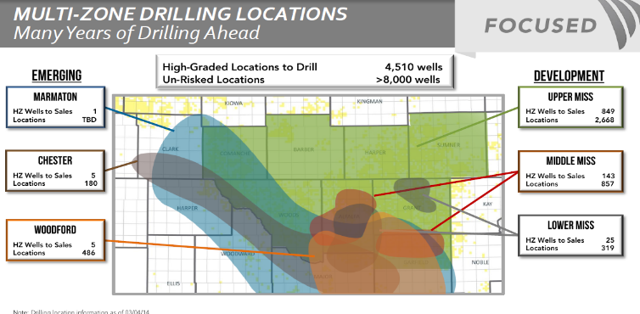 Source: Sandridge Presentation
Sandridge has a huge drilling inventory in the Mid-Continent and is currently running 31 horizontal rigs in the area. In the Woodford horizon, Sandridge has almost 500 locations to test out its new technique and attempt to bring more oily wells online. Continued drilling activity in the Marmaton horizon could open up new drilling locations for Sandridge and provide additional value for shareholders.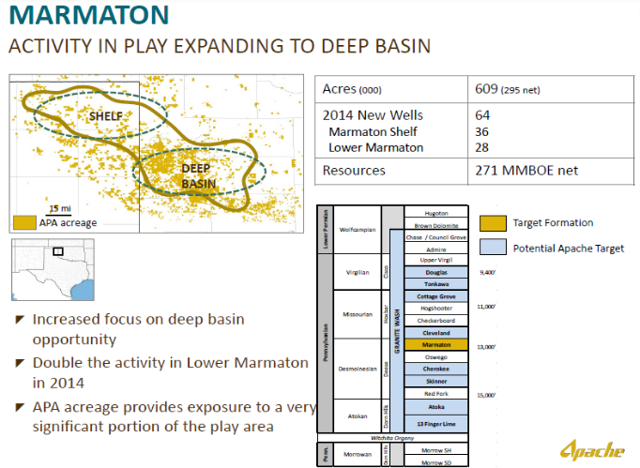 Source: Apache Investor Day Presentation
Apache Corporation (NYSE:APA) is another big player in the Mid-Continent, with 295,000 net acres capable of tapping into the Marmaton horizon. With 271 million BOE of resources in the area, Apache's success points towards Sandridge also being able to dig up a consider amount of hydrocarbons from the interval.
Final thoughts
The worrisome part of Sandridge's guidance reduction is that if the Mid-Continent holds so much potential, why isn't it translating into strong production growth. Sandridge's Mid-Continent production grew by 19% year-over-year, which isn't fast enough to compensate for Sandridge's massive outspend. Over the past year, Sandridge's liquidity and cash position has shrank while its $3.2 billion debt load is roughly the same, even after the $750 million sale of its Gulf of Mexico assets.
If Sandridge doesn't get its finances in order, it soon will run out of "non-core" assets to sell to fund its capex budget. While Sandridge will continue to improve its operations in the Mid-Continent, its higher margin crude production isn't growing fast enough, which will lead to a budget cut in the years ahead crimping growth. Due to its guidance cut, huge debt load, and low levels of growth versus its outspend I wouldn't be a buyer of Sandridge at this current time as this stock could fall further.
Disclosure: The author has no positions in any stocks mentioned, and no plans to initiate any positions within the next 72 hours. The author wrote this article themselves, and it expresses their own opinions. The author is not receiving compensation for it (other than from Seeking Alpha). The author has no business relationship with any company whose stock is mentioned in this article.