Introduction
Founded in 1998, Eagle Bancorp Inc. (NASDAQ:EGBN) is a commercial and consumer bank with total assets over $3.7 billion. The company is renowned for serving as a premier banking institution in the metropolitan Washington area, and has expanded over the years to a variety of other locations throughout the U.S., most recently opening its eighteenth branch in Old Town Alexandria, VA. With a market capitalization of $876m, the company is classified as one within the small-cap sector. Approaching its sixteenth year in business, few other banking institutions have been able to match Eagle Bancorp's growth in net income, earnings and free cash flow. In addition, the company has consistently made a big impact in the communities where it has a presence, with its nimble size allowing it to serve as the largest deposit provider in the Washington metropolitan area, rivaling even the big boys. Based on the company's business model and stellar financial performance, it is my opinion that this banking institution could prove to be a winner among small-cap stocks.
Financial Ratio Analysis
I compare Eagle Bancorp with three major competitors on a financial performance basis; Bank Of America (NYSE:BAC), Capital One Financial Corporation (NYSE:COF), SunTrust Banks (NYSE:STI). On a valuation basis, the P/E ratios of all four firms are trading at approximately fair value relative to the Financial Sector P/E of 19.6x. Relative to the S&P 500 P/E Ratio of 22.2x, I estimate that Eagle Bancorp has an upside of 22% from its current P/E ratio of 18.1:

Source: CNBC Website
Purely on a valuation basis, Capital One Financial Corporation has the most "upside" based on the current P/E ratio of 10.8x relative to the S&P 500. However, it is important to remember that valuations are not everything. A stock can be "undervalued" simply because nobody wants to buy it. In this regard, performance and valuation go hand in hand. If we look at the growth in annual earnings, we can see that Eagle Bancorp's earnings growth has been the most vibrant and consistent: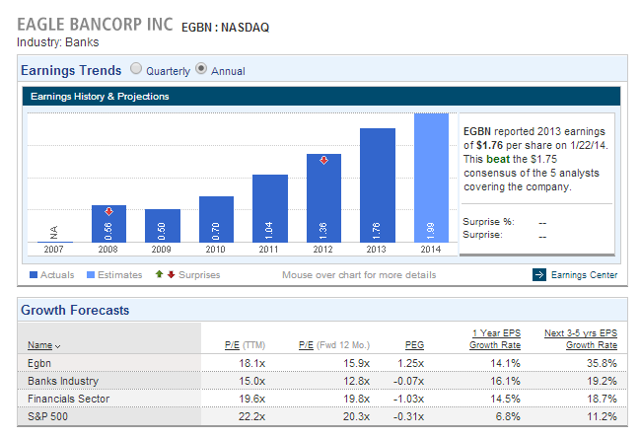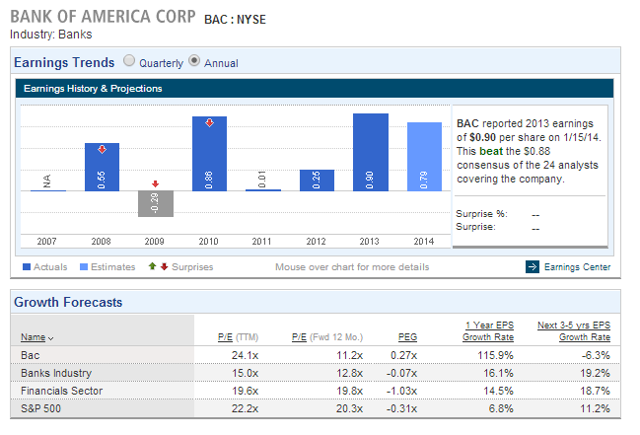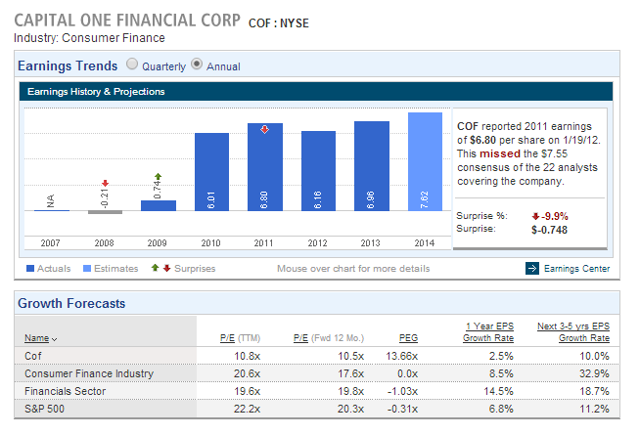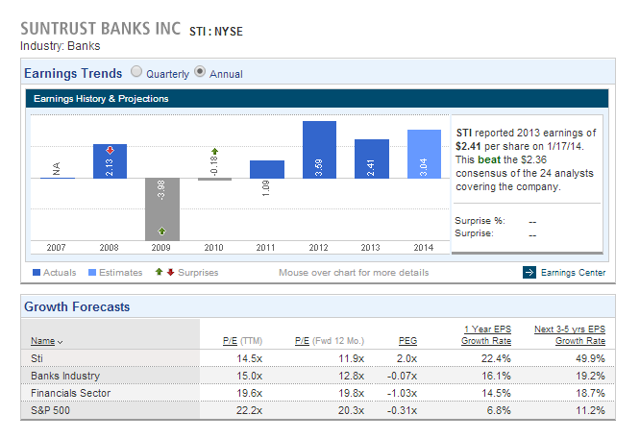 Sources: CNBC Website
In my opinion, Eagle Bancorp's earnings growth is impressive, especially when compared to that of larger companies in the industry. In addition, an analysis of key financial ratios of the four firms shows that Eagle Bancorp has shown the strongest performance in profit margins and return on equity. In addition, the company has shown by far the highest growth in free cash flow per share. Notably, we can see that while the company has a high degree of financial leverage, it also has virtually zero long-term debt. This may be an indication that the company is highly effective at managing its leverage. All banks use debt; few use them effectively. It is possible that Eagle Bancorp is indeed a rare example of a financial institution that can manage its debt facilities very efficiently. Indeed, over the past fifteen years, Eagle Bancorp has consistently managed to increase its loan and deposit facilities concurrently: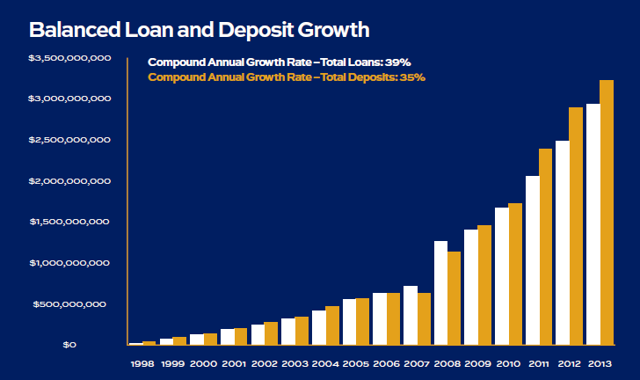 Source: 2013 Annual Report
Business Prospects
As a smaller company within the community banking sector, one of Eagle Bancorp's main advantages within the market has been its small size; it has proven flexible enough to adapt to a variety of customer needs. In particular, its most recent annual report highlights a variety of commendable achievements:
In 2013 alone, the institution managed to raise its deposits by 11% to $3.2 billion, and its loans increased by 18% to $2.9 billion.
With the company's net income reaching $47 million, the company managed to deliver 20 consecutive quarters of record earnings performance.
The company is sufficiently capitalized relative to its competitors in dealing with non-performing loan issues; Eagle Bancorp currently has a 166% ratio of Reserves to Non-Performing Loans.
The company succeeded in growing its deposit market share by $1.3 Billion over three years.
Eagle Bancorp was ranked among the Top-30 community banks in the U.S. for two consecutive years.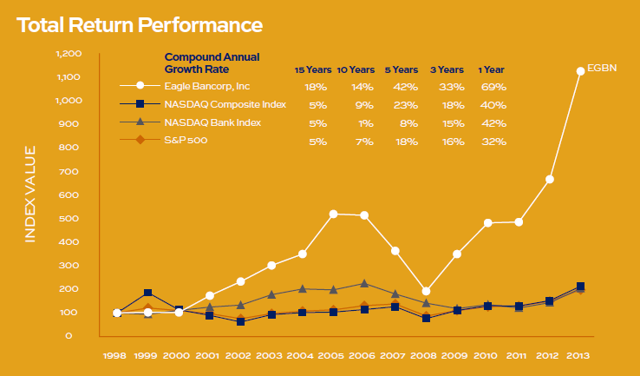 Source: 2013 Annual Report
Free Cash Flow Valuation
Eagle Bancorp's growth in free cash flow for the year 2013 has been truly stellar. The company managed to grow its free cash flow per share from $0.41 in 2012 to $9.61 in 2013.

Source: GuruFocus
In addition, as shown in the previous section, the company's growth in earnings per share has also been impressive, having grown EPS by an average of 37% over the last five years. I wish to be somewhat conservative in my analysis; based on past performance I do not think it is unreasonable to forecast a 20% year-on-year growth in both Free Cash Flow/Earnings per share. As the company does not pay dividends, I build a free cash flow discount model (in lieu of a traditional dividend discount model) to forecast Eagle Bancorp's free cash flow growth and growth in earnings on a Terminal P/E basis. Based on the below analysis, I forecast a 5-Year target price of $125.19, which provides over 200% upside from the current price of $33.70. I use a discount rate of 7% (as a traditionally accepted long-term rate of return on the S&P 500).

Sources: Marketwatch/Business Insider


Sources: Author's Calculations
Risks
With a market capitalization of $876 million, investors should be aware of the inherent risks associated with small-cap stocks. Such stocks can be significantly more volatile than the broader market, and may not be suitable for all investors.
While the bank has succeeded in growing free cash flow significantly over the past year, Eagle Bancorp has had periods such as 2010/11 where free cash flow per share has been negative. While I maintain a bullish long-term outlook, fluctuations in economic conditions may have short-term implications in terms of performance.
While I believe that Eagle Bancorp's size remains an inherent advantage, a rebound in business for larger banking firms such as Bank of America or Wells Fargo (NYSE:WFC) could have an impact on Eagle Bancorp's performance. During good economic conditions, bigger banks may have more scale to extend loans to customers or offer more attractive saving facilities on deposits and there is a risk Eagle Bancorp may not be able to compete in this regard.
Conclusion
In conclusion, despite the inherent risks associated with small market-capitalization stocks, Eagle Bancorp is in excellent financial shape and has a strong business model. For those investors looking to add small-cap stocks to their portfolio, Eagle Bancorp is certainly one to watch.
Author's notes:
This article covers a small-cap stock with a market capitalization of $876 million. Such stocks have a tendency to be significantly more volatile than those in the mid to large-cap sector, and may be unsuitable for investors wishing to minimize portfolio risk. Please note that this article does not constitute a recommendation to buy or sell. The information offered is on an "as is" basis only, and all investment decisions should be made in consultation with a qualified financial advisor. While the author has made every effort to ensure the accuracy of the facts contained in this article, investors are responsible for conducting their own due diligence.
Disclosure: The author is long WFC. The author wrote this article themselves, and it expresses their own opinions. The author is not receiving compensation for it (other than from Seeking Alpha). The author has no business relationship with any company whose stock is mentioned in this article.