On Friday, November 27,1010, the New York Times reported that Russia will need to import 3 million metric tons of feed grain due to the summer drought. During MY 2009/10 [marketing year 2009/10] Russia imported only 0.16 million metric tons of coarse grain and for MY 10/11 the USDA forecast Russian feed grain imports to be 1.9 million metric tons (as of November WASDE). Furthermore, any increase in Russian imports reduces all of Russian exports. To be sure, the market was not expecting the export ban on wheat to be lifted, but the new import figure should reduce world ending stocks. [Ending stocks are the amount of grain left over from last year's crops that is carried over into the next marketing year.] The November WASDE indicated a 20% drop in coarse grain ending stocks from MY 09/10 to MY 10/11.
The China/Russia Factor
On November 9, 2010 the USDA sharply revised downward estimates for ending stocks of all grains. The drop in total grain ending stocks was due to a combination of reduced supply (Russia) and increased demand (China).
Click on all charts below to enlarge: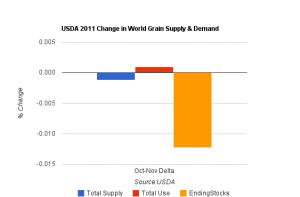 Since 2008 China has become a net importer of coarse grains, this is a marked contrast from the prior decade.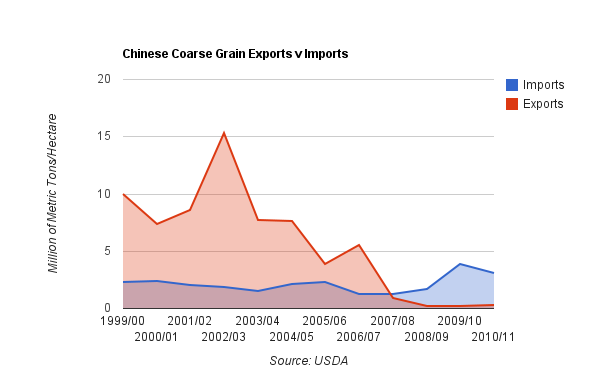 This trend of demand outstripping supply is not isolated to China.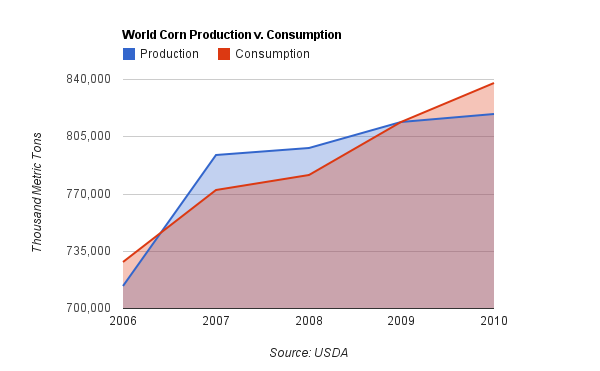 The USDA report painted a bullish picture for the global grain and agricultural trade and the markets appropriately moved higher. However, as the 'Irish Flu' ushered in a quick period of risk-off, almost all the initial gains were surrendered. In our view, this has presented a plethora of investment opportunities in the agricultural space.
Disclosure: Accounts Managed by Kanundrum Capital are Long Andersons (NASDAQ:ANDE), Monsanto (NYSE:MON) and Deere (NYSE:DE).