Today's release of the NFIB Small Business Optimism Index came in at a level of 95.7 in July, which was a modest increase from June's level of 95.0 and was slightly weaker than the consensus expectation of 96.0. While this month's reading was weaker than expected, it was still the second highest reading for the index since the last recession ended in 2009.
While the NFIB Small Business Optimism Index has seen a big rebound from levels it was at a few years ago, it is still depressed from a historical perspective. The chart below shows the historical levels of this index dating back to 2000. Over that period, the average reading for the index has been 96.0, which is 0.3 points above the current level. In the current recovery, there has only been one month (May 2014) where the NFIB Small Business Optimism Index has been above its average level since 2000. Keep in mind too that the current recovery makes up more than one-third of the entire period for which the average is being calculated! While we have seen improvement in sentiment for small business owners, there is still ways to go before getting back to more normal levels.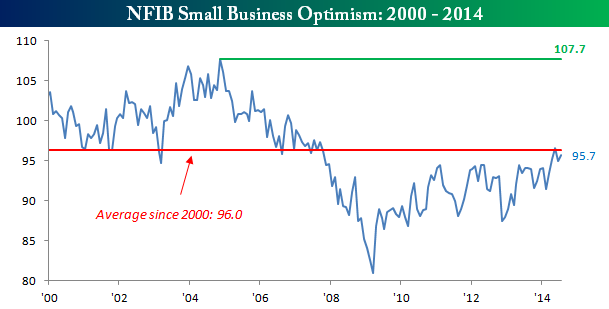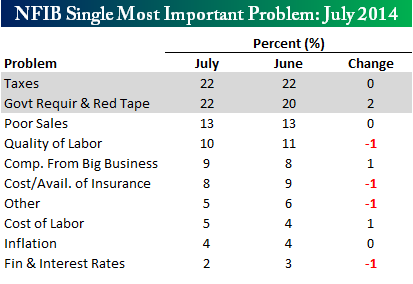 As we do each month, we also wanted to highlight what issues are causing small businesses the biggest "problems," according to the NFIB. The table to the right breaks down the range of responses among respondents to this month's survey. With 22% each this month, there was a tie between Taxes and Red Tape. Outside of those two "government" problems, the only other issues that received 10% or more of the vote were Poor Sales (13%) and Quality of Labor (10%). While fewer respondents cited Quality of Labor as a problem, Cost of Labor increased from 4% to 5%.
On a combined basis, 44% of respondents cited the government problems of Taxes and Red Tape as their number one problem. This was up from 42% last month, but still below the high of 47% we saw in May of 2013. At current levels, more than three times as many businesses cite government as their number one problem than they do poor sales.