In this article, I will be looking at a new ETF which I characterize as the "VIX" of high yield bonds, which I believe can and will be instrumental in reducing risk from holding high yield bonds. The recent launch of the ProShares CDS Short North American High Yield Credit ETF (BATS:WYDE) caught my attention for a couple of reasons. The first item that caught my attention was that WYDE gives investors a way to profit from rising credit risk & widening spreads in the high yield bond market, and unlike other inverse bond ETFs WYDE is expected to pay quarterly dividends.
Fund Information
Management: Actively Managed
Expense Ratio: 0.50% after fee waiver
Assets: $4 Million
Dividend Policy: Expected to pay Quarterly Dividends
The reason I consider WYDE the VIX (NYSEARCA:VXX) of the high yield bond market, is the VIX is touted as an indicator of fear for the stock market. WYDE I believe could be the go to ETF for bond ETF investors to hedge, because it profits from fear in the high yield bond market, as credit risk rises.
The popularity of the VIX as a hedge against a market decline has led to VIX related products becoming extremely popular. Ever since the financial crisis many investors, have a hedge allocation in their portfolio to protect against a large decline in the market. Creating a hedge for stocks or stock ETFs is simple through owning an inverse stock ETF, a VIX ETF, or creating an options overlay for the stock/ETF. For bonds, the choice is not as simple, because bond ETFs have low volatility it makes it difficult to generate premiums from an option overlay, and inverse bond ETFs have their problems like daily rebalancing. An example of how existing bond ETF hedges work can be seen by comparing the iShares iBoxx $ High Yield Corporate Bond ETF (NYSEARCA:HYG) to the ProShares Short High Yield ETF (NYSEARCA:SJB). Both HYG and SJB track the same index however, as the chart below shows HYG is nearly flat since inception for SJB, while SJB is down over 25%.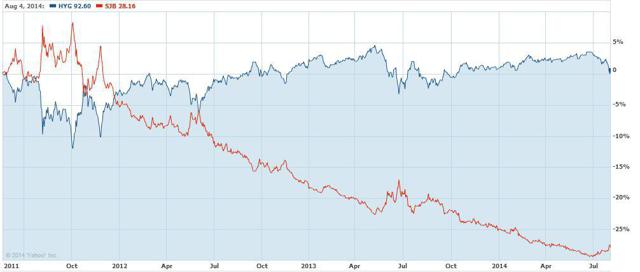 The reason for this is the compounding of daily returns, which is why inverse ETFs should only be used as trading vehicles, and which is where WYDE is different. WYDE is different because it is actively managed and does not compound daily, but rather periodically. According to the prospectus for WYDE: "ProShares Advisors will need to periodically adjust the Fund's holdings in order to maintain investment exposure approximately equivalent to the Fund's assets. This process entails obtaining additional inverse exposure as the Fund experiences gains, and reducing inverse exposure as the Fund experiences losses."
I believe WYDE could be a real success in an environment where high yield spreads are widening which denotes higher credit risk. When credit risk increases that is when WYDE increases because the likelihood of defaults increases. The following chart from the St. Louis Federal Reserve shows that in the last month and a half spreads have widened significantly.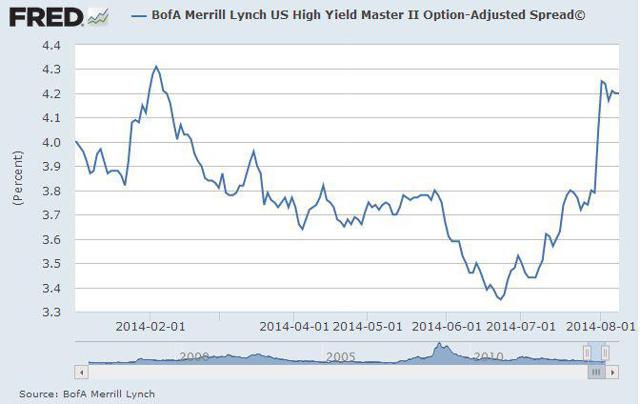 In closing, I believe investors should add WYDE to their watch list because WYDE is designed to profit when credit risk is rising, and with the added kicker of a quarterly dividend, WYDE could be a good addition to a portfolio to hedge a high yield bond position. Since WYDE just started trading last week, it has very thin volume and minimal assets, therefore I would wait and see if trading volumes pick up, and see what the first quarterly dividend payment will be to assess the yield of the fund.
Disclosure: The author has no positions in any stocks mentioned, and no plans to initiate any positions within the next 72 hours. The author wrote this article themselves, and it expresses their own opinions. The author is not receiving compensation for it (other than from Seeking Alpha). The author has no business relationship with any company whose stock is mentioned in this article.