by Mike McDermott
As we sit down at the trading desk for another week of action, I'm struck with a sense of urgency…
No, the urgency isn't really centered around our own trading approach. We take each trading day with a certain sense of "importance" but also an air or "reserved detachment."
Instead, there are a number of issues that make this an important week for traders, and an urgent week for the larger less-nimble players.
These guys are bumping up against year-end deadlines, and key positioning decisions that will affect both 2010 reporting and the beginning of 2011 performance. I'm talking both about the institutional desks on Manhattan, as well as the policy makers (and Congregational voters) in Washington.
Consider the following:
It's the last

true

full week of trading before anemic holiday volume.
The US tax deal is coming down to the wire with a key vote likely.
We've got a number of key econ. reports including an FOMC decision.
These are the days when it's great to be a nimble trader with the ability to manage from both a bullish and bearish perspective. We can turn our exposure on a dime – taking advantage of market rip currents that continue to shift. Large institutional desks don't have that luxury, and at this time of year it's very difficult for them to make strategic decisions without significantly moving prices.
With a number of key variables up in the air (think European debt, China inflation, and US policy) there will certainly be a lot of material for us to trade around in the next week – and further down the road as well…
Momentum, Baby!
As the end of the year approaches, widely owned momentum stocks (we like to call them "cult stocks" because of their loyal fan base) are looking particularly vulnerable. At this point, any number of negative catalysts could set off a selling storm, leading to some excellent trading opportunities.
Typically these momentum names are originally bid higher by optimistic investors who see clear skies ahead and very little business risk for the company. Once the stocks establish a positive trend, momentum traders jump on the bandwagon. These traders don't really care about valuation – they just trade the price patterns and continue to buy as long as the positive trends are intact.
But when a shock hits the system, these momentum stocks are left completely vulnerable. Once the positive trend is broken, momentum players are no longer loyal, and the equities are priced way too high for any self-respecting GARP or value investor to get involved.
As Mercenary Traders, we enjoy trading these situations because the "pot odds" are so good. Typically, we can set up a short trade when a cult stock begins to break – risking a potential 25 to 50 bips if the play doesn't pan out. The cost (risk) to set up this trade is relatively low – but the payoff can be tremendous!
When cult stocks die – they typically go out in a blaze of glory. That means dropping by 10%, 20% or even 50% in a short period of time. This week, there are a number of these momentum darlings that look particularly vulnerable as managers adjust their positioning into year end.
Last week we took an initial short position in Netflix, Inc. (NASDAQ:NFLX). The stock had broken through the psychologically important $200 level, but failed to hold its strength for more than one full session. While there is nothing magical about a large round number, often traders can set targets around these areas and it can be telling to see how a heavily traded stock reacts at such a level.
Of course, not everything always goes according to plan, and we were thrown a curveball late in the week when NFLX was added to the S&P 500. In post market trading, it looked like we might get stopped out as passive index funds picked up shares and drove the price higher.
But NFLX never touched our stop point in open trading – and now appears just as vulnerable as it was previously. The stock is NOT above the $200 level, investors are STILL paying nearly 70 times earnings, and the company STILL faces significant competition and growing pains.
A break of last week's low could set up a key inflection point for us – allowing us to add to the position while tightening our risk point. Click to enlarge.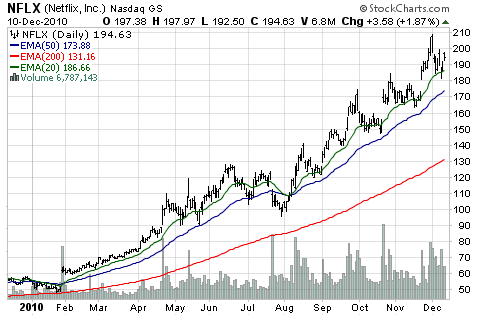 The consumer confidence report last week indicated unexpected optimism. While this is pretty important news for retail stocks, the retailing giant Amazon.com, Inc. (NASDAQ:AMZN) didn't really see that much strength following the report.
It could be that investors are more focused on the company's expanding business ventures (getting into technology offerings to diversify their retail exposure) or it could be the fact that there are simply no willing buyers left. After all, the stock is currently trading at more than 70 times 2010 earnings.
For whatever reason, AMZN is stalling out and looking vulnerable. The pot odds are favorable, based on valuation as well as the price patterns, and we're stalking this situation with an eye towards risking a few bips, and potentially landing a monster hand (click on chart to enlarge)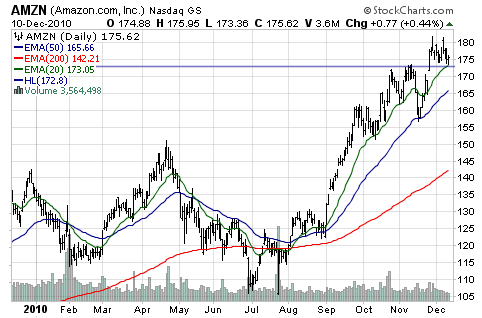 With China intent upon applying the brakes to its white-hot economy, Chinese momentum stocks are particularly risky. The country is dealing with widespread inflation for key items like food and housing. But policy changes to combat the inflation are likely to crimp growth in unrelated areas – leading to disappointment for businesses, investors, and bullish traders.
Baidu, Inc. (NASDAQ:BIDU) is yet another "cult stock" trading at more than 70 times 2010 expected earnings. The bulls, of course point to a robust growth rate and emerging online population as justification for this premium stock price. And honestly, they could be right…
But in a pot-odds situation, sometimes a 50/50 trade is worth taking because of the asymmetric return characteristics. If BIDU falters, it could easily lose a third of its market value and still command a robust growth multiple.
In this case our bearish trade would offer the chance to add a few hundred bips (several percentage points) of total profit to our book. If our timing is off, then our standard 25 or 50 bips of risk will be taken out and the majority of our capital will still be intact to pursue other opportunities.
We're watching the current range carefully (BIDU has been relatively flat for about 6 weeks now) and will likely get involved if the lower end of this range is broken (click to enlarge).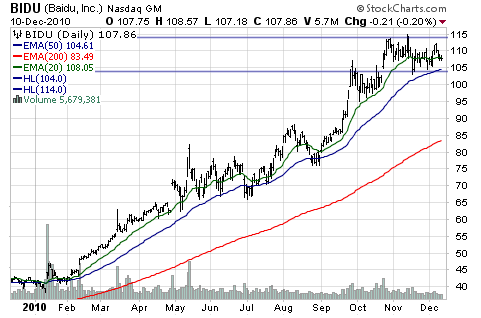 All Natural (Gas)
Two weeks ago, the natural gas ETF First Trust Reserve Nat Gas (NYSEARCA:FCG) gave us an excellent entry point, breaking out of a descending wedge (see chart, click to enlarge). Strategic Intelligence Report #11 covers our overview of the industry – along with three trading opportunities worth following.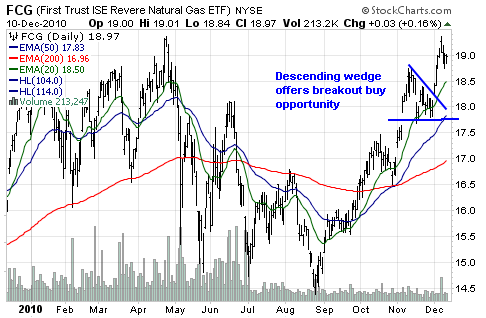 PetroHawk Energy (NYSE:HK) looks particularly interesting this week after an initial breakout last week and then a pullback into its previous range. If the stock is able to rebound and hit a new recovery high, it could quickly begin to gather momentum based on the industry trends as well as the company fundamentals.
The company recently restructured its debt to push principal payments farther out – and at the same time has been actively building its natural gas reserves. The future looks bright and if HK can confirm its breakout this week, it will make for a very attractive trading opportunity.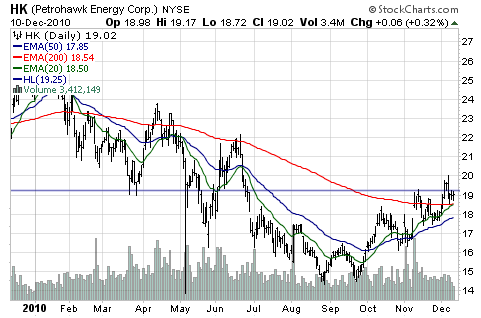 Emerging Markets – The Good and the Bad
As the emerging market story continues to evolve, we're seeing potential for some key winners as well as a handful of sensational losers. Many of the winners will benefit from significant growth in the "online community" in countries like China, India, Argentina, and a host of other developing nations.
But at the same time, there are a number of growth companies that are priced to perfection – and vulnerable to tighter policy decisions. If China is determined to fight inflation – and other emerging markets follow suit – we could see a broad divergence in performance between EM companies that are still experiencing benefits from the population growth – and those who are sensitive to broad economic turbulence.
Corning Inc. (NYSE:GLW) was featured positively in a Barron's article this week – largely due to strong potential for a glass covering that should allow AAPL's iPad to be both scratch resistant while still sensitive to the touch. Investors have largely abandoned the stock based on soft LCD TV sales.
But with a strong product pipeline, GLW could turn out to have a lot more growth potential that it is currently given credit for. Considering handheld tablets like the iPad have yet to take off in emerging markets, the potential for blockbuster revenue growth is certainly there.
The stock has run into resistance several times near the $19.25 area (click on chart to enlarge). A breakout above this level would be intriguing, and with the stock trading at roughly 10 times forward earnings, there is potential for a significant move – if investors can be convinced that the growth story should be taken seriously.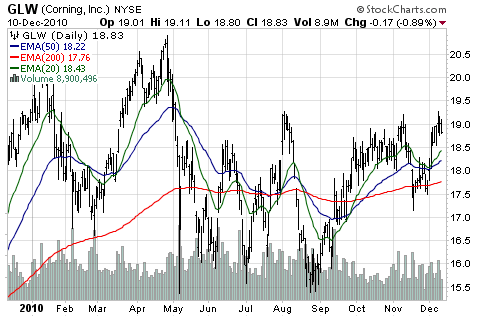 Neutral Tandem (NASDAQ:TNDM) is another relatively cheap play on emerging market technology. The stock was featured in our Telecom Strategic Intelligence Report alongside a bearish perspective for AT&T (NYSE:T).
With zero debt and a new acquisition giving them exposure to emerging market growth, TNDM appears to be poised to generate healthy profits in 2011. The chart (click to enlarge) has completed its basing process and has been trending higher. We've taken an initial position but may have the opportunity to pyramid our exposure and tighten our risk point if overhead resistance is cleared.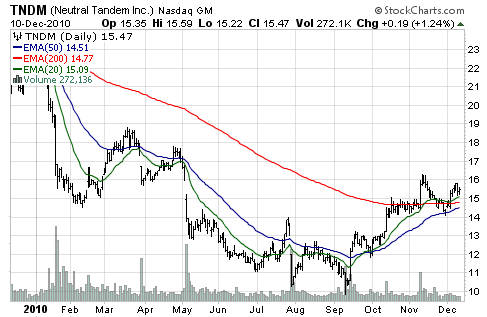 On the bearish side of the book, we're short Focus Media Holdings Ltd. (NASDAQ:FMCN) as the Chinese advertising company is certainly vulnerable t tighter policy decisions. If discretionary spending softens, it will become tougher for the company to sell ad space on its network of flat screen displays.
Analysts already have a poor view of the company's growth prospects – and any downgrade could further erode investor confidence. We took our initial short position as the stock broke below support near $23, and unless FMCN gapps significantly lower at the open, it could be actionable based on Friday's confirmation of the breakdown.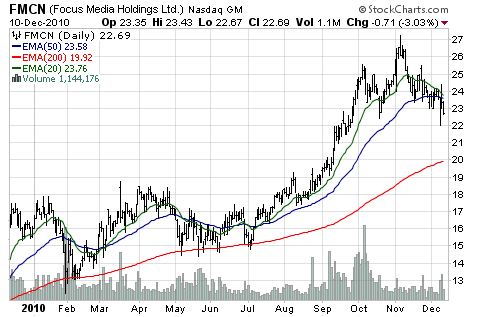 Finally, I'm carefully watching the action in Vanceinfo Technologies (NYSE:VIT) – a Chinese company that provides outsourced software research. The stock has had a positive trend for some time, but now looks a bit "toppy," (see chart below, click to enlarge). China will likely face strong competition for the outsourced work, and there are a number of economic and/or political factors which could severely challenge its ability to handle the competition.
It's also very interesting to note that the company recently issued 2.2 million ADRs at a price of $35.50. Last week the stock briefly broke below this level on both Thursday and Friday – but it appears to have been supported when it fell back to the deal price. (I can't tell if it was by Citi or just due to market strength).
If this $35.50 level is breached, there could be a number of unhappy buyers trapped – which could accelerate a decline and offer a great bearish trade.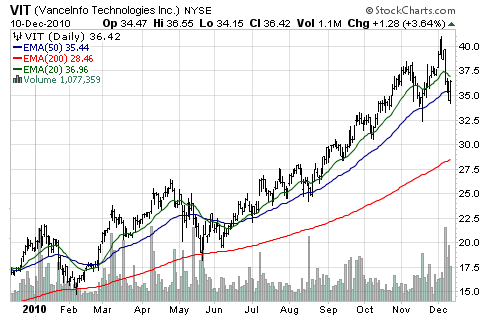 We're continuing to approach this market from a balanced perspective, although our overall positioning has begun to lean more bearish. While we respect bullish traders' ability to push stocks higher from this level, the majority of risks and catalysts just appear to favor the bear camp.
Disclosure: As active traders, authors may have positions long or short in any securities mentioned. Full disclaimer can be found here.