I will admit that Pengrowth Energy (NYSE:PGH) has been a disappointing investment as of late. The stock is down about $1 per share, or 15%, from its recent highs, with weak natural gas prices the most likely culprit. However, in terms of its operations, Pengrowth is doing well with Lindbergh related production growth slated for Q1 2015.
Q2 2014 Overview
On August 7, Pengrowth reported Q2 2014 results. Below are some of the key stats for the quarter:
Production: 73,823 BOE/D

FFO: $121.4 million

FFO per share: $0.23

Oil and gas sales: $407.1 million

Oil and gas sales per BOE: $60.60

Operating Expenses: $114.5 million

Operating expenses per BOE: $17.05

Operating netbacks per BOE: $23.86
Pengrowth had a fairly good quarter overall. The company did see production dip slightly, down 2% Q/Q, mostly a result of planned maintenance. However, most of this work is now complete, which should add back around 1,500 BOE/D of production for Q3.
Pengrowth has been shifting capex more towards light oil production in the Cardium and away from natural gas. As a result, production numbers should continue to decline throughout 2014.
In terms of profitability, Pengrowth saw its funds flow from operations, or simply FFO, come in at $121.4 million, or $0.23 per share, down 14% from $139 million, or $0.27 per share last quarter. The company cited much weaker natural gas prices and higher operating expenses related to the planned turnaround activity as the primary cause.
Lindbergh update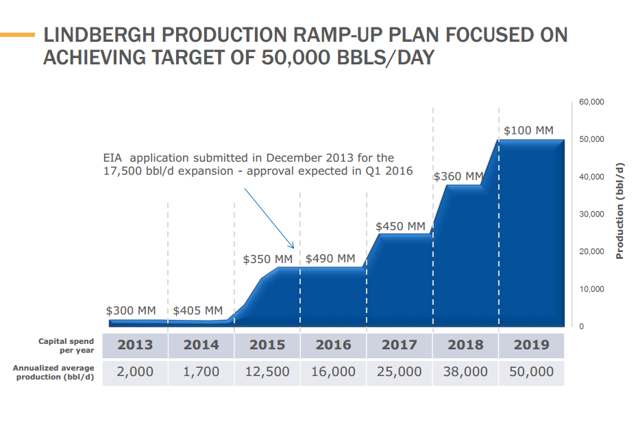 Click to enlarge
source: Pengrowth investor presentation
By far, Pengrowth's most important upside catalyst remains its Lindbergh thermal project.
The two Lindbergh pilot wells produced an average of 1,640 BBLs/D, with an ISOR of 2.4. In total, the Lindbergh pilot has produce 1.3 million BBLs of bitumen at a CSOR of 2.0, exceeding expectations.
During 2014, Pengrowth has been building out the Lindbergh Phase 1, which is slated to eventually add 12,500 BBLs/D of production in 2015. Over 90% of the budgeted capital has been deployed, with and all of the major equipment in place, well-pad facility assemble ongoing, and central processing structures nearly complete. Furthermore, Pengrowth has completed its 2014 drilling program at Lindbergh.
As a result of the anticipated added production coming from Lindbergh, Pengrowth has entered into a 10-year take or pay transportation agreement with Husky Energy (OTCPK:HUSKF) for access to its Alberta Gathering System. Pengrowth plans to build a 15 km pipeline and meter station coming from the main Lindbergh facilities which completion expected for Q2 2015. This agreement should allow the company to get better pricing for its Lindbergh production, at or near WCS.
After Phase 1, Lindbergh capex will be mostly self funded via internally generated cash flow and debt, with no asset dispositions anticipated. Via Lindbergh, Pengrowth is set to add around 50,000 BBLs/D of bitumen production over 5 years. This production will offer strong margins, low decline rates, and require very little sustaining capital.
Making sense of the recent share price weakness
Shares of Pengrowth are down roughly 15% over the past few weeks, erasing most of the YTD gains.
Most of this decline seems to be related to natural gas. Prices for the commodity are sharply down, hurting most E&Ps. Furthermore, the Canadian dollar "CAD" has been showing strength versus the US dollar "USD". This hurts Pengrowth as most of its production is sold via USD and converted back into CAD.
However, another concern impacting the stock has to do with its sector peer Penn West Petroleum (NYSE:PWE). As I noted in a recent article, PWE is dealing with a major accounting scandal going back up to 4 years. Shares of PWE have plunged nearly 20% as a result. Basically, PWE may have been overstating capex and understating operating expenses, resulting in inflated profits, FFO, and other metrics.
While not related directly to Pengrowth, some investors may be avoiding the Canadian E&P space altogether.
Conclusion: Pengrowth Energy remains a good pick for the long-term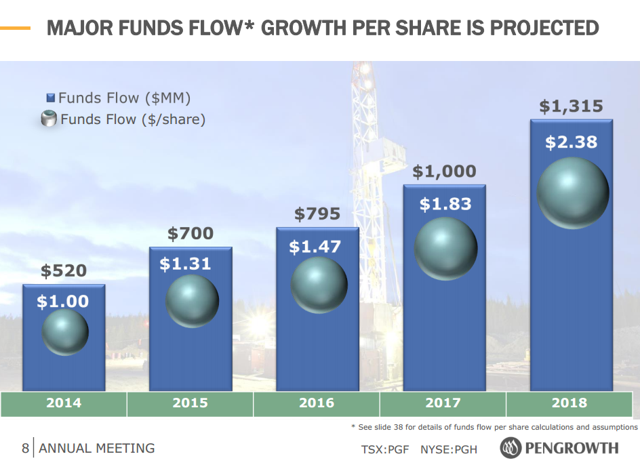 Click to enlarge
With its over 7% yield, Pengrowth is paying you to wait. Lindbergh is slated to greatly increase FFO by as much as 30%. Furthermore, the stock is fairly cheap, trading at a little under 5x 2015 FFO of $1.31 per share. I have been adding to my position while the stock trades under $7.00 per share.
Disclaimer: The opinions in this article are for informational purposes only and should not be construed as a recommendation to buy or sell the stocks mentioned. Please do your own due diligence before making any investment decision.
Disclosure: The author is long PGH. The author wrote this article themselves, and it expresses their own opinions. The author is not receiving compensation for it (other than from Seeking Alpha). The author has no business relationship with any company whose stock is mentioned in this article.
Editor's Note: This article discusses one or more securities that do not trade on a major U.S. exchange. Please be aware of the risks associated with these stocks.