The mainstream retail model seems in many ways a losing proposition. The market leaders are paying top dollar for prime real estate while trying to sell products to customers cheaper than their competitors. With Internet retailers forever putting downward pressure on prices, it is a recipe for shrinking margins.
Yet there is another retail model that his consistently shown revenue growth and profitability going the opposite way. These companies open up low-cost retail outlets in dingy strip malls in the bad part of town and successfully charge well over-market prices for their merchandise.
That's the rent-to-own model and companies like Rent-a-Center (NASDAQ:RCII) and Aaron's Inc (NYSE:AAN) have been making it work for years, selling merchandise to people without the money to buy it outright and without the credit ratings to access traditional credit channels.
An overview
Together, Rent-a-Center and Aaron's command more than 50% of the rent-to-own retail sector. Both see the largest portion of their sales coming out of the furniture department, with consumer electronics and appliances close behind and computers adding a small but meaningful amount to the bottom line.
The business models are very similar but there are some key differences. 83% of Rent-a-Center's revenues come from week-to-week rental plans, while Aaron's sees 95% of its own sales paid on a month-to-month basis. Though the month-to-month model attracts a somewhat higher class of clientele, people who can afford to pay a whole month at a time, the week-to-week model remains the industry standard.
With the rent-to-own market pretty well saturated in the United States, both Aaron's and Rent-a-Center have tried to find new streams of revenue and both are looking at acquisitions. Rent-a-Center in particular has predicted the market to be entering a period of significant consolidation and these two market leaders will likely grab larger share by taking out their much smaller competitors.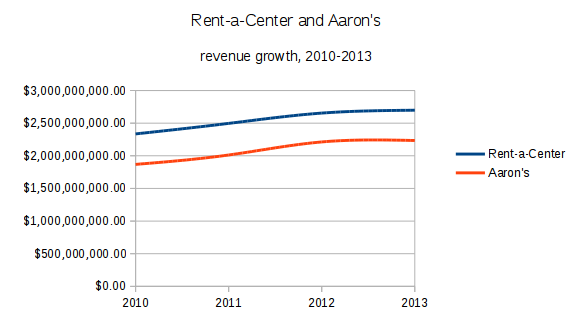 Both companies have shown slow but steady revenue growth and are dependably profitable. Yet each has fallen out of favor for investors and here we're going to take a look at what happened and whether we should be worried.
Aaron's and the Attorney General
Aaron's revenue continued to grow but its operating and net incomes fell in FY2013, mostly on one-time charges related to separation costs and a big loss-contingency related to the California Attorney General's investigation of the company's marketing and privacy practices.
The investigation is mostly related to a similar FTC probe of the computer rent-to-own segment and allegations that Aaron's franchisees were installing software meant to track the computers and which was also allegedly used to spy on the customers who rented those computers.
Those charges hurt the bottom line and a tough economic environment also slowed the rate of revenue growth for both them and Rent-a-Center. Yet both are estimated to rebound quite nicely in the coming years and every indication is that the issue is a bump in the road and not a fundamental problem with a consistently effective business model.
Rent-a-Center and "on-hold" merchandise
The economic problems Aaron's saw were the same at Rent-a-Center, only more so, as the latter's weekly payment model left them more exposed to people struggling to make payments and their narrower overall margins meant a bigger impact on the bottom line.
The easiest way to see what happened with Rent-a-Center is on their balance sheet, comparing the merchandise on-rent to the merchandise "on-hold," that is to say, inventory pending rental or returned and pending re-rental.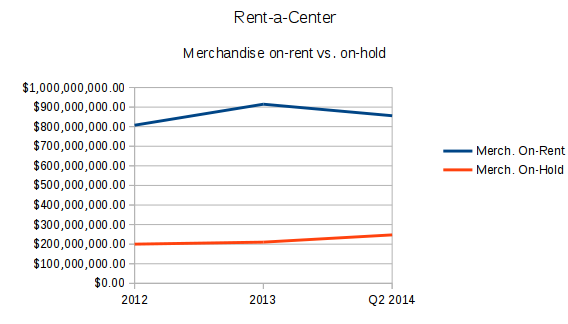 Economic problems in the first half of 2014 for Rent-a-Center customers meant a return of a lot of on-rent merchandise, decreasing the amount out and making money and increasing the amount sitting in storage or on the showroom floor. The problem is effecting everyone in the rent-to-own market but Rent-a-Center is feeling it a bit harder than most. Still, earnings remained solid, if a bit depressed and Rent-a-Center even upped their quarterly dividend to $0.23 per share in Q2 of 2014, a huge vote of confidence that brings their yield to about 3.2%.
Acceptance Now: The hidden value in Rent-a-Center
On the Rent-a-Center earnings report, one can't help but notice the extreme growth of the Acceptance Now segment. Instead of the traditional Rent-a-Center model of having a stand-alone store, Acceptance Now sets up shop inside other retail stores, servicing customers in those stores that the retailer couldn't offer credit to.
Acceptance Now is a big winner, with the number of such locations surging and same-store sales also up 30.5% year-over-year in FY2013. The operating margins are also nice too, 13.26% compared to the 7.86% the overall business enjoyed.
It's still a model in the making and Acceptance Now's charge-offs for unreturned merchandise are around 5.5%, roughly double what the retail Rent-a-Center stores see. Still, that margin is a good proof-of-concept and will only improve as they find ways to get the charge-offs more in line with the rest of the business.
Furniture and HomeSmart: Aaron's tries different models
In contrast to the run-away success of Acceptance Now, Aaron's smaller segments aren't nearly so grandiose yet. That doesn't mean they don't show a lot of promise, however.
HomeSmart is Aaron's experiment with the traditional weekly rental model. So far, they've struggled with it and on an operational basis, they've lost money. Still, the revenue stream is there and once the bugs are worked out this will allow them to more easily transition their stores back and forth between the weekly and monthly models, depending on which is more appropriate for the location.
Aaron's other big idea is Woodhaven Furniture, a wholly-owned subsidiary that makes some of the furniture Aaron's offers for rental. Woodhaven is not presently a meaningful part of the bottom line but the idea is noble on two fronts. First, it allows the company to profit from both manufacture and sale of the furniture but more importantly it also gives them an "exclusive" line that competitors won't be able to offer. If and when Woodhaven becomes a brand of choice for rent-to-own customers, that could be a big plus.
Conclusion
Both Aaron's and Rent-a-Center have fallen to 52-week lows in recent days, pushed down by investors who simply don't understand the value proposition the rent-to-own model offers. These companies are proven winners and even if their segment is a niche, it's a big niche that isn't going anywhere.
Both companies are intriguing contrarian plays as the twin market leaders in the rent-to-own retail segment and both offer appealing sales and earnings growth at a price that's tough to beat.
If I had to pick one, I'd choose Rent-a-Center over Aaron's, as it gives you exposure to the Acceptance Now segment and also pays a much higher dividend, 3.2% compared to Aaron's 0.2%.
Disclosure: The author has no positions in any stocks mentioned and no plans to initiate any positions within the next 72 hours. The author wrote this article themselves and it expresses their own opinions. The author is not receiving compensation for it (other than from Seeking Alpha). The author has no business relationship with any company whose stock is mentioned in this article.