The stream of weak economic data coming out of Germany, the eurozone's economic locomotive, lends considerable support to the view that the European Central Bank is now seriously behind the policy curve. For those data confirm that geopolitical uncertainties emanating from both Ukraine and the Middle East are now exacting a very much bigger toll on the German economy than was officially anticipated. Compounding matters is the fact that the marked slowing in the German economy is coinciding with France and Italy appearing to have slipped back into recession as well, with increased signs that the European economic periphery is now experiencing outright price deflation.
Following strong economic growth of 0.8% in the first quarter of the year, the Germany economy is widely estimated to have stagnated in the second quarter. More troubling yet are indications from high frequency data that this slowing might not be a transitory phenomenon, since those indicators suggest that German industrial production is now contracting and that German investor confidence has now slumped to end-2012 levels.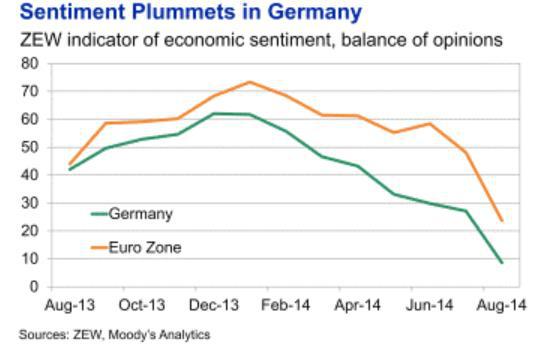 In his recent press conference following the ECB's last policy meeting, Mario Draghi did recognize that geopolitical uncertainty was weighing heavily on the European economy and that such uncertainty constituted an important risk to the European economic recovery. However, he stopped short of considering that those geopolitical risks were all too likely to persist over the next several months. This is to be regretted considering that all the clues seem to be pointing in the direction of a deepening and a prolongation of the Ukraine-Russia crisis as well as of a continued deterioration in the Middle-East situation. Sadly, those crises are all too likely to weigh heavily on German investor confidence in the months immediately ahead. And they will see at the very time that a highly export dependent German economy will be confronted with an economic slowdown in a number of its key Asian and emerging market export markets.
A stuttering in the German economic recovery would be a major setback for the eurozone economy. For the rest of the eurozone is very dependent on a buoyant German economy to support its economic recovery, especially at a time that the European economic periphery is still engaged in budget austerity and is still experiencing a domestic credit crunch. A slowing German economy will all too likely lead to yet a further widening of the German current account surplus from its already very high level of 7 ½% of GDP. In so doing, it would delay the much needed rebalancing of the eurozone economy, and it would heighten the chances that the highly indebted European periphery gets stuck in a deflationary debt trap.
Even before the heightening of geopolitical risks, a strong case could be made for a more aggressive ECB. After all, European inflation had declined to around one quarter of the ECB's below but close to 2% target, while the large labor and output gaps, which continue to characterize the European economy and which are all too likely to persist, must be expected to exert further downward pressure on prices and wages. With the German economy now running out of steam and with every prospect that geopolitical uncertainties will persist, it is difficult to understand what Mario Draghi is waiting for before he emulates the Federal Reserve by adopting an aggressive round of quantitative easing to weaken the euro and to boost Europe's economic growth prospects. For the longer he waits, the more difficult will it be for Europe to dig itself out of the hole in which it now finds itself.