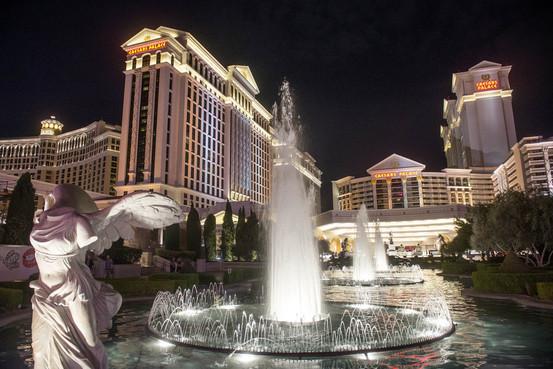 Picture: Caesars Palace Hotel & Casino. Source: wsj.com
Caesars Entertainment Corporation (NASDAQ:CZR) announced Q2 earnings yesterday. Revenue of $2.19 billion was shy of Wall Street estimates of $2.22 billion. Losses doubled to $466 million versus $212 million a year ago. The company recorded losses per share of $3.24. Analysts were expecting losses per share of $1.19. Strong results in Las Vegas were offset by weakness in Atlantic City and regional operations.
Casino revenue declined 4% annually, but was offset by a 7% increase in other revenue, including the mobile and social gaming business of Caesars Interactive Entertainment, Inc. ("CIE"). In my previous article, I described how the company was saddled with $21 billion in debt after a 2008 LBO; that said, $654 million of interest expense during the quarter did not help matters. The stock was down 5% in after-hours trading. Below are the historical operating results of the company.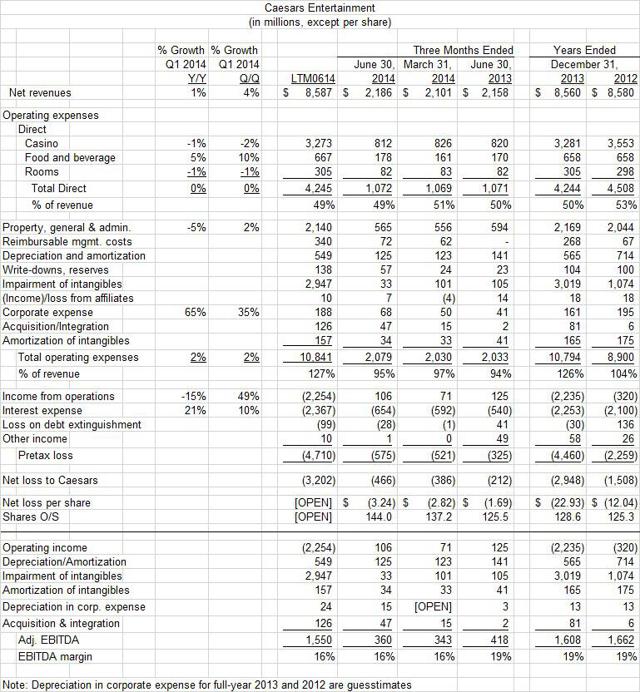 Revenue
Revenue of $2.19 billion increased 1% annually and 4% sequentially.
Casino revenue (63% of revenue) was down 4% annually and up 1% sequentially. The upside surprise came from "other revenue" (14% of total revenue) which increased 7% annually and 20% sequentially. Other revenue includes the company's mobile and social gaming business.
Earnings
Direct costs declined to 49% of revenue versus 50% a year ago and 51% last quarter.
Casino costs declined 1% annually and 2% sequentially. Food and beverage increased 5% annually and 10% sequentially, despite revenue declines over those same periods.
Property, general and administrative expenses declined 5% annually, and increased 2% sequentially.
Interest expense increased to $654 million, versus $540 million in Q2 2013 and $592 million in Q1 2014. The increase was primarily due to higher rates as a result of Caesars Entertainment Resort Properties' ("CERP") October 2013 8% and 11% senior secured notes offerings, the proceeds of which were used to repay a portion of lower interest rate term loans of Caesars Entertainment's commercial mortgage-backed securities ("CMBS"), as well as interest costs resulting from bridge financing and term loan obtained by CGP LLC associated with a sale of four properties and $1.8 billion in term loans obtained by Caesars Entertainment Operating Company ("CEOC").
Net loss of $466 million was more than twice the $212 million loss suffered in Q2 2013. Losses per share of $3.24 compared unfavorably to the losses per share of $1.69 and $2.82 in Q2 2013 and Q1 2014, respectively.
Valuation
The company's adjusted EBITDA through last 12 months ended June 30, 2014 ("LTM0614") was $1.55 billion. Its equity market capitalization as of yesterday's close was $1.97 billion. Including long-term debt of $24.2 billion, Caesars has an enterprise value of $26.2 billion, which equates to 17x adjusted EBITDA. Given the company's mounting operating losses, the company is overvalued. Caesars is a strong sell.
Disclosure: The author is short CZR. The author wrote this article themselves, and it expresses their own opinions. The author is not receiving compensation for it (other than from Seeking Alpha). The author has no business relationship with any company whose stock is mentioned in this article.