One of my favorite investing situations is catching a company at an inflection point where revenues are starting to overcome expenses followed by huge bottom line improvements as operating leverage takes over. In the ideal world its also nice to have some degree of confidence in the sales trends and even better if the market as a whole seems to be oblivious to the change in prospects.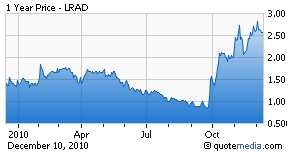 LRAD seems to be one of these companies that has hit that inflection point. There is reason to be confident in their results over the coming months and as far as I can tell, nobody knows the company exists (yet).
LRAD is a manufacturer of acoustic hailing devices The layman's way to describe an AHD is a very high tech bullhorn. Their products are used in the military to deter threats, to warn off wild life from energy installations and on ships to deter would be pirates. They can also be used for crowd control in order to functionally disable rioters with concentrated sound.
The company's long term growth trajectory has been impressive racking up a compound annual sales growth rate of 17% over the past 6 years a period that included the infamous economic massacre of 2008/2009.
Revenues in thousands
| | |
| --- | --- |
| 2010 | 16,536 |
| 2009 | 14,902 |
| 2008 | 10,648 |
| 2007 | 9,424 |
| 2006 | 8,607 |
| 2005 | 10,013 |
| 2004 | 5,582 |
The company finally broke through to profitability in 2010, and it looks like 2011 is going to be substantially better than 2010. In August and September of this year alone the company generated 30 million dollars in new orders. 12 million dollars of that from a large 17 million dollar foreign order is expected to be filled in the first half of this fiscal year. Assuming they continue to fill some of their regular orders sales in the first half of 2011 should match sales for all of 2010. That fairly bullish outlook was corroborated by the company on their fourth quarter conference call where they predicted they will see annual revenue growth exclusive of that 12 million dollars to be filled in the first half. That implies they should see revenues somewhere in the 30 million dollar plus range for 2011 or almost 100% over 2010 revenues. Given their very high gross margins that have been running north of 50%, a ton of that additional revenue should flow to the bottom line. My back of the envelope calculations suggest we should see earnings come in at .10 to .18 a share over the first 6 months of the fiscal year depending on how strong margins are and how well expenses are controlled. Assuming that is correct, the market should recognize LRAD as a frighteningly cheap stock trading in the 2.50 range with a 6 year history of almost 20% revenue growth.
Furthermore, there are additional potential catalysts out there in the form of new orders. The big kahuna of potential orders was referenced during the last conference call. The company is currently competing for a US government contract that would exceed 100 million dollars. Should they land this one, and there seems to be at least a reasonable chance they will, it would be a complete game changer for LRAD.
The balance sheet is solid as well, with no long term debt and 5 million dollars in cash on the books and a current ratio of over 4 to 1, which should give them the financial flexibility they need to fill those large orders if they come to fruition.
In the end, LRAD looks like a great short term play on what should almost certainly be hugely improved earnings with possible catalysts for further appreciation as their business and markets develop.
Disclosure: Long LRAD. I am not compensated to write about any specific stock sector or theme.