The global smartphone industry has grown at a blistering pace over the recent years, but it is on the verge of slowing down. In fact, last week only, analysts at UBS slashed their mobile-related revenue growth estimates for 2014-16, citing that high-end smartphone and tablet markets are maturing in developed countries.
The best days may not be over for Apple (NASDAQ: AAPL) though. The Cupertino-based giant has been making efforts to grow in the BRIC nations as well - comprising Brazil, Russia, India and China - with an aim to mitigate or offset the negative impact of this expected slowdown over the longer run.
Potential of BRICs
It's worth noting that India, Brazil, Russia and China are some of the fastest growing mature economies around the globe. These developing countries are collectively populated by 2.9 billion people, accounting for 40% of the world's overall population. Interestingly, their per-capita income has been rising swiftly over recent years. These factors have contributed to the recent surge of smartphone shipments in the BRIC countries.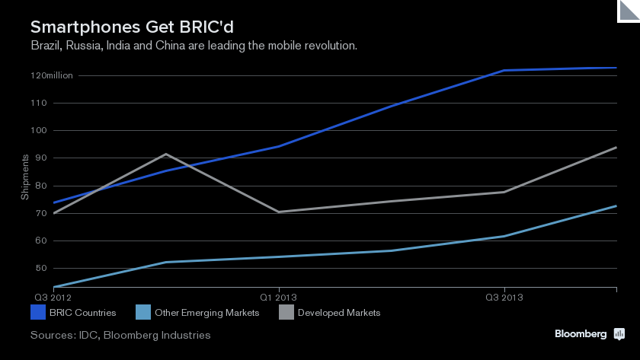 (Source: Bloomberg)
As illustrated in the chart above, BRIC countries garner more smartphone sales than all emerging markets combined. Plus, smartphone shipments in these markets are growing at a scorching rate, outpacing the global average growth rate of all other developed or developing markets. And this growth momentum is far from slowing down.
The coverage of wireless telecom services is still limited in the BRICs - high-speed 3G and 4G services are available in only a handful of their metropolitan cities. In order to connect and profit from this massive prospective user-base, several telecom companies are making large investments in the aforementioned countries each year. These capital expenditures, in turn, are driving the smartphone penetration rate higher in all of the BRIC nations.
Smartphone penetration rate

India

Brazil

China

Russia

U.S

2010

3%

6.50%

13%

11%

20.20%

2011

8%

19%

19%

15%

29.80%

2012

16%

29%

27%

25%

38.70%

2013

21%

36.50%

33%

35%

44.30%

2014

23%

46%

37%

47%

50.10%

2015

25%

55%

40%

55%

55.40%

2016

26%

61%

43%

63%

59.80%
(Source: Statista)
A report published by ABI Research, last year, suggests that BRIC nations will grow to command about 33% of the global smartphone market by 2018. The research firm also estimates that China, Brazil and India will feature among the top-four smartphone markets by 2018. These estimates and factors, altogether, suggest that smartphone vendors operating in the aforementioned countries will continue to thrive over the coming years.
Apple's BRIC strategy
Apple is known for its premium and highly-priced offerings around the globe, but BRIC nations are mostly resided by middle-income individuals. Understanding that this pricing disparity can be detrimental to its growth, Apple has begun introducing low-cost offerings in India to boost its affordability factor.
The premium consumer goods giant restarted the production of its iPhone 4 earlier this year, bundling it with a $400 price tag, in a bid to attract value-driven and budget-conscious consumers. It was only in May that Apple decided to finally discontinue its iPhone 4. Its iPhone 4s is currently available for about $350 in India.
As a combined result of this product and pricing strategy, the average price of an iPhone is about $450 in India, in comparison to $700 in the U.S, according to Singapore-based Canalys. These low-end models are, in turn, supporting Apple's overall top-line growth.
Shedding light on Apple's growth strategy for emerging markets, Ken Hyers of Strategy Analytics recently noted,
"(Once Apple has fully proven this business model in India) you will see Apple bringing back more of its older models in more markets globally… Particularly Brazil, Russia, Indonesia, the other large emerging markets where they want to gain market share… It's a great way to build mind-share and bring them into their ecosystem, and kind of make those customers who have bought these perhaps lower-end Apple devices want to upgrade to the next generation when they can."
Also, Apple has unveiled buyback and financing offers in India to further boost the affordability of its high-priced iPhones. These offers not only attract new buyers, but also support the resale value of its used iPhones and iPads - something that's a deciding factor for budget and value-driven consumers.
Corroborating that higher resale value is a big competitive advantage for Apple. Tim Cook recently noted,
"I think the great thing is that our products command a much higher resale value than others do. And so that leads to a larger trade-in and from my perspective, that being the larger ecosystem, more people who wind up getting on iPhone, and as you know from following us for quite some time, if we get somebody to try an Apple product and then buy an Apple product, the likelihood that they begin buying other Apple products that may be in different categories or upgrading to one in that category and the future is very high. And so net-net, I view it to be positive."
Final thoughts
BRIC nations have become lucrative markets for smartphone vendors, but Apple still generates only a fraction of its revenues from these countries. In order to truly benefit from the growth of these smartphone markets over the longer run, Apple will have to re-launch discounted previous-generation iPhones in Brazil, Russia and China as well. And the Cupertino-based giant will have to act quickly if it intends to mitigate the negative impact of the ongoing global smartphone slowdown.
Disclosure: The author has no positions in any stocks mentioned, and no plans to initiate any positions within the next 72 hours. The author wrote this article themselves, and it expresses their own opinions. The author is not receiving compensation for it (other than from Seeking Alpha). The author has no business relationship with any company whose stock is mentioned in this article.