This is a company that had a "below-the-radar" IPO back in May of 2013. Since then, it has traded very quietly, before going ballistic so far in 2014. We're digging in to this little story...
For investors familiar with the UK-based Autonomy (OTC:AUTNF), bought by HP (NYSE:HPQ) at the scandalous price of $10B in 2011, the UBIC Inc. (UBIC) story will be easy to get. UBIC provides services and technology to process unstructured digital information rooted in Asian languages, which present some processing challenges for other solutions.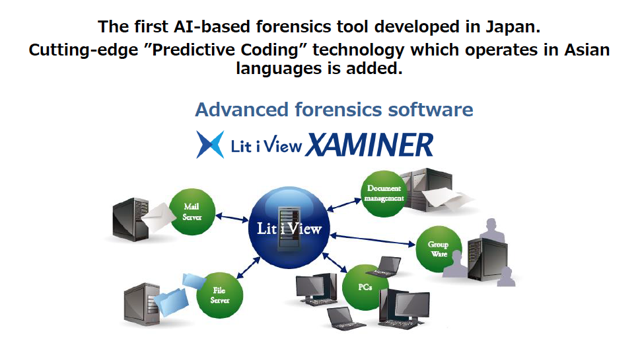 We like the story for two simple reasons 1) legal and compliance continue to be mandatory costs of doing business, and are increasingly digital in nature, just like advertising and content and 2) strong growth in Asian economies, especially China and South Korea, combined with an already large Japan means that this "blind spot" is too big to ignore for Western companies.
About the Stock
UBIC has been listed on the Tokyo exchange small cap market since 2007, and recently did a kind of US "IPO" with a few small underwriters (Maxim & Benchmark) on May 16th, 2013 at $8.38/ADS. This was in the middle of the filing range, but based on where the shares were already trading at in Tokyo.
The deal size was 1.1M ADS, with a 5-to-1 ratio of ADS/common share. There was a small green show of 44K ADS that we expect was exercised. The total amount of outstanding common shares was rather small at 3.4M, or the equivalent of about 17M ADS. Management and insiders owned about 41% of the outstanding share capital, with the founder and CEO having the largest share, at 20%.
Trading in the US-listed ADS shares has been light, and limited supply has helped push the price up to $21. The 180-day lockup expired in mid-November 2013, so some of the tightly held shares may begin to make their way into the market, given the higher prices.
The company did a 10-for-1 stock split on the common stock (which changed the ADS ratio from 5 ADS to 1 common to 1 ADS to 2 common shares. As of March 31, 2014, the company had a total of 34,411,360 ordinary shares outstanding, or the equivalent of 17,205,680 ADS. Every two shares of the company's common stock represents one ADS.
Based on the recent price of $21/ADS, that puts the total capitalization at about $360M. The stock price has been very volatile. It has spiked up to $33 and then halted for a bit, before opening again at $22. The thin nature of trading makes knowing the "real market price" a challenge. (If you invest in this stock, please remember to use limit orders!)
To make matters even more confusing, Google Finance has incorrect information (by a mile) on UBIC, putting the market capitalization at just $39M, and EPS for some reason at $5.12/share. There's no way to know if this wrong data may be driving incorrect trading, either by man or machine, but if and when this information gets fixed, the shares may seem some downside pressure.
Fundamentals
For a small company, this is actually a pretty complex story. As a "first stop" on the trip to understand UBIC, the most recent investor presentation (PDF) has 30 pages of technology and product features, market strategy, and financial results.
Here are some of the highlights as we see them:
The most recent fiscal year (March 2014) was flat YoY, with a small loss (versus an 11% profit in FY 2013) due to a shift away from more manual service-focused offerings to automated solutions. In other words, new products helped to eliminate an older part of the UBIC business, since now what took "two months of work can now be done in two or three days with AI technology."
Its product strategy is moving it "up the stack", from some basic case management and "legal cloud" hosting to its core "Lit i View" email analysis software to its new "Virtual Data Scientist", which really brings AI analysis features into its overall approach.
UBIC is also developing some vertical market solutions in legal, healthcare, and IP protection, while also exploring licensing options for OEM use of its core technology.
Guidance for the March FY 2015 calls for 44% growth in revenues to $59M, and a 10% net income level.
Much of the growth is being driven by a concerted effort to increase its penetration of the US market and, along with that, becoming a much more visible company among both US customers and US investors. As it stands now, there is no US stock coverage of the company.
More on Positioning & Management
One big question on positioning is whether or not UBIC is a technology company like Autonomy or Guidance Software (NASDAQ:GUID), or more of a services and consulting company like EPIQ Systems (NASDAQ:EPIQ) or FTI Consulting (NYSE:FCN). The answer means a 4x difference in terms of valuation. Software providers generate much higher operating margins and tend to trade at 4x or more times revenues versus the 1x for services providers.
In the past few years, the company has been striving to move from manual and labor-intensive services to more automated methods. Clear evidence of its past services-based approach is clear from its headcount in 2012, which was dominated by professional services (55), with only a handful in R&D (6) out of a total of 142 employees. The rest were sales, marketing, and administration.
The CEO, Masahiro Morimoto, founded the company in 2003 after a career in the Japan Maritime Self-Defense Force and eight years at Applied Materials (NASDAQ:AMAT) Japan. Quite a few other members of the management team are ex-AMAT.
Recently, Paul Starrett has been elevated to a Corporate Officer, and continues in his role as the Chief Global Risk Officer for UBIC North America. He has an extensive legal and forensic background, with a demonstrated familiarity with technology areas like information security, electronic discovery, and data science.
Preliminary Conclusion
The shares of UBIC have already had an extraordinary run since their US "IPO" listing in May of 2013. Most of that rise has been in 2014, with shares up a stunning 275% YTD.
The company is on the right strategy, and appears to be well-positioned in what we see as a very hot market in the coming years. However, there's definitely something being "lost in translation" on this one, as the shares have spiked on very low volume and little-to-no US research coverage. Some of this move might be attributable to incorrect information on sites like Google Finance.
The company reported solid fiscal Q1 results today, which showed some YoY growth of 6%, and management reiterated its existing fiscal year guidance. An acceleration of top line growth in Q2 will be a key indicator of management progress and future stock momentum.
Until we have built a full intrinsic valuation (IV) model on UBIC and have seen a few FY 2015 (ending March) quarters come out, we'll be cautiously bullish on this name as an emerging US player that investors will want to get more exposure to as it builds its franchise.
Disclosure: The author has no positions in any stocks mentioned, and no plans to initiate any positions within the next 72 hours. The author wrote this article themselves, and it expresses their own opinions. The author is not receiving compensation for it (other than from Seeking Alpha). The author has no business relationship with any company whose stock is mentioned in this article.