Microsoft (NASDAQ:MSFT), headquartered in Redmond, Washington, develops, manufactures, licenses, supports and sells computer software, consumer electronics, personal computers and services.
Its two best known products, Windows OS and Microsoft Office, are used by 1.5 billion people and 1.1 billion people respectively.
In the last twelve months the company reported sales of $86.83 billion and earnings of $22.07 billion.
Microsoft's profitability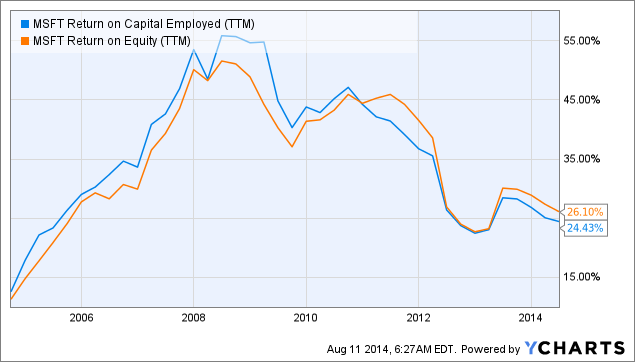 MSFT Return on Capital Employed (TTM) data by YCharts
In this panel you can see how the company's return on capital employed (ROCE) and return on equity (ROE) changed over the last 10 years.
Although below their peak level of more than 50% in 2008, both metrics still offer an incredible 25% in 2014.
Every dollar employed in Microsoft's business turns in $0.24 of earnings each year if return levels stay flat - every dollar of shareholder's equity turns in $0.26 of earnings each year.
Those are very impressive numbers - the market average is clearly below those numbers: The SPY's ROE is 15.68%.
Microsoft also offers great margins on its sales: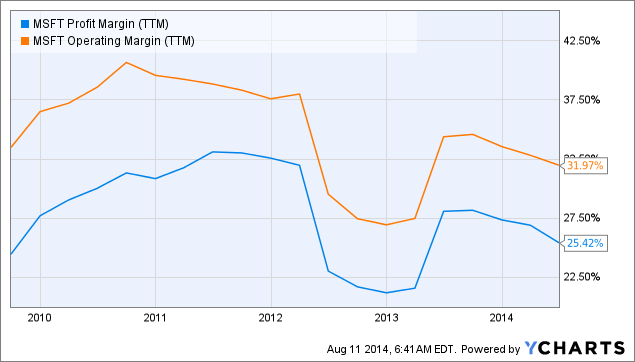 MSFT Profit Margin (TTM) data by YCharts
With an operating margin of 32% and a profit margin of 25% the company turns in much higher earnings on its sales compared to the market: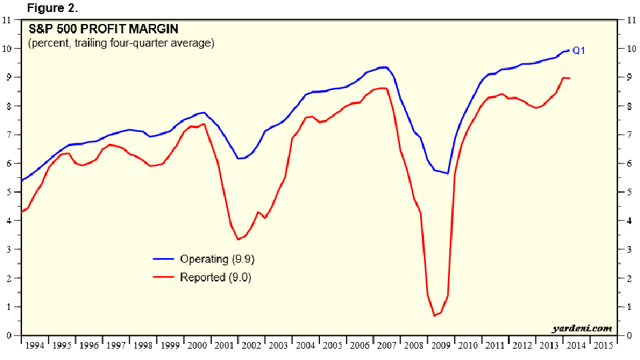 (Source: here)
Both the company's profit margin as well as the operating margin are about thrice the market's level.
The decline in Microsoft's economic profitability, measured by ROE and ROCE (from great levels to still very good levels), can be explained by the company's expansion into new markets since 2008. Microsoft started a tablet business and bought Nokia's device segment (called Nokia Devices and Services (NDS)).
Both of these expansions increased the denominator (capital employed) without adding a lot to net profits so far - NDS even had to report operating losses of $692 million in the last quarter.
However these losses are not very surprising since it will take some time until the integration of NDS into the company is completed. Microsoft's CEO Satya Nadella plans to lay off 18,000 employees (most of them in NDS) in order to increase profitability.
Growth prospects
Satya Nadella pushes the company to new businesses which offer great growth opportunities such as the cloud, where Microsoft recently reported annualized revenues of more than $4 billion - twice the amount of one year ago. Microsoft could also expand the revenues generated by its search engine Bing by 40%, Bing now has a U.S. market share of 20%. Nadella says the search engine business, which has never reported profits so far, will turn profitable in Microsoft's 2016 fiscal year.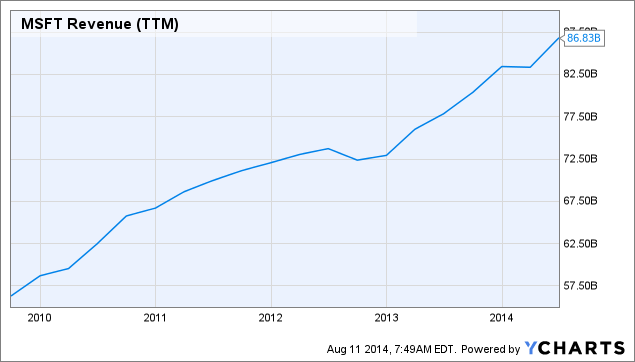 MSFT Revenue (TTM) data by YCharts
The company's growth in revenue in recent years is astonishing for a company of Microsoft's size, and with the full integration of NDS and the growth opportunities in Azure, Office365 and other services this trend will likely continue.
Microsoft's valuation
Share prices are up 17% year to date and up 35% over the last twelve months. Still, the company offers a lot of value at current prizes.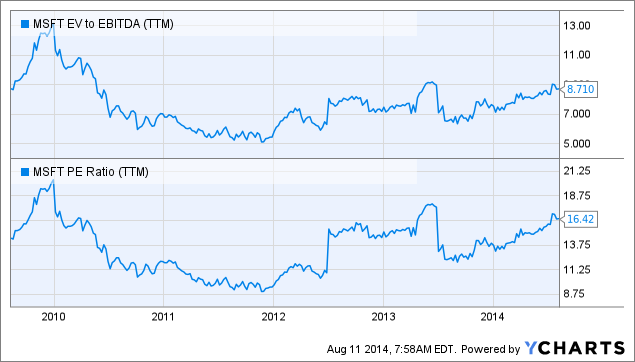 MSFT EV to EBITDA (TTM) data by YCharts
Both EV/EBITDA as well as P/E are higher than two or three years ago but resemble valuation multiples relatively low compared to the broad market.
The S&P 500 offers a P/E multiple of 19.15 compared to Microsoft's 16.42 and an EV/EBITDA multiple of 13.01 compared to Microsoft's 8.71.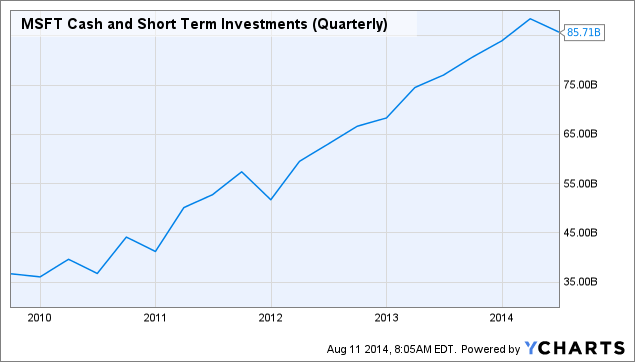 MSFT Cash and Short Term Investments (Quarterly) data by YCharts
Since Microsoft possesses a huge amount of cash, equivalents and short-term investments (mainly in low yielding government bonds), the P/E should be adjusted for these positions.
If we apply a 2% interest rate generated by cash and short term investments, $86 billion generates net profits of $1.2 billion (assuming a tax rate of 30%).
The adjusted P/E multiple thus is ($355.96 billion - $85.71 billion) / ($22.07 billion - $1.20 billion) = 12.95.
Bottom line
The cash adjusted P/E of ~ 13, the EV/EBITDA multiple of below 9, a dividend yield of 2.6% and a stellar balance sheet which grants the company a AAA rating offer a nice value opportunity for investors. The expected EPS growth rate of 7.5% over the next five years and the dividend alone would be enough to provide investors a total return of more than 10% annually even without multiple expansion.
Disclosure: The author has no positions in any stocks mentioned, but may initiate a long position in MSFT over the next 72 hours. The author wrote this article themselves, and it expresses their own opinions. The author is not receiving compensation for it (other than from Seeking Alpha). The author has no business relationship with any company whose stock is mentioned in this article.