MetLife (NYSE: MET) is America's largest life insurer and operates in 64 countries globally. The company is in the midst of a five-year plan launched in 2012 to "turn ship" by increasing free cash flow, return-on-equity, and returning capital to shareholders. The company has refocused itself primarily to increase profitability with less risk. In short, the company continues to transform its business post-financial crisis, and its current CEO is a great captain to steer the ship that is MetLife through challenging economic and regulatory headwinds.
From CIO to CEO
Steven Kandarian served as MetLife's Chief Investment Officer from 2005 to 2011 before becoming the company's CEO. Reading through the company's 2013 annual report, or more specifically Kandarian's letter to shareholders, gives some insight into his thinking.
Kandarian explains that he views MetLife as a business from a long-term perspective; unwilling to put the long-term business at risk for short-term boosts to earnings. He talks about limiting risk even if returns look attractive, noting "that a number of our shareholders are frustrated with our cautious approach to returning cash during this period of regulatory uncertainty. We share your frustration."
The majority of this mutual frustration comes from regulatory uncertainty and the possibility of MetLife being designated a SIFI. Still, amidst the caution, the company recently increased its dividend by an impressive 27%, while also announcing a $1 billion buyback plan in June.
More on the buyback and company goals
During the 2Q conference call on July 31, Kandarian revealed that MetLife purchased $135 million worth of shares at a price of around $55.46 on average during the quarter. He also acknowledged that this was "insignificant" due to the program not starting until late June, however.
More was revealed during the Q&A session as well, when Randy Binner of FBR Capital Markets & Co. pointed out that the current $1 billion buyback primarily offset equity dilution. He asked whether or not the company would be able to actually "operate a buyback program kind of beyond just offsetting equity unit dilution" if regulatory uncertainty continued to linger.
MetLife's CEO responded by once again pointing out the company's cautious stance due to regulatory uncertainty, but also assured him that returning capital to shareholders was a high priority. While a bigger buyback would be nice, the large dividend increase seems to be a testament to this. In his 2013 letter to shareholders, Kandarian wrote that:
...my goal [as CIO] was to maximize investment returns within well-defined risk limits. Achieving that goal required an attractive portfolio of securities. Now, as CEO, my job is to develop and manage an attractive portfolio of businesses.
The portfolio of businesses has changed significantly since he took over, and a few strategic divestitures and acquisitions further showcase the CEO's long-term vision of the company.
The shedding of non-core businesses
MetLife announced it would be divorcing itself from its banking business back in December 2011, after the Fed denied it from increasing its dividend in October of that year. Selling its depository business to GE Capital (NYSE: GE) in an attempt to escape the designation of "bank holding company" was a major step towards becoming more of a pure insurance company.
Previously, the company agreed to sell its mortgage-servicing business to JPMorgan (NYSE: JPM) in November of 2012, issuing a statement saying:
"Given MetLife's strategic focus as a global insurance and employee-benefits leader, the company decided in 2011 that a bank holding company structure was no longer appropriate."
The company has continued on the path of transformation since, and as noted in the 2013 annual report, recently shed its pension risk-transfer subsidiary in the U.K. and exited the market for universal life with secondary guarantees. This was due to the inability of these businesses to earn their long-term cost of capital, therefore carrying the potential to destroy shareholder's wealth.
Strategic acquisitions to enhance the business portfolio
MetLife hasn't just shed its unproductive businesses, it's also bought some to increase growth in a strategically-focused way. With the purchase of Alico from AIG (NYSE: AIG) in 2010, it entrenched itself into Japan, the second largest insurance market globally. MetLife paid $15.5 billion, gaining immediate access to 90 million customers in 60 different countries - including countries in Latin America, Europe, the Middle East, and the Asia Pacific region. This acquisition tripled the size of the company's international segment overnight.
More recently, the company further involved itself in emerging markets when it paid $2 billion in cash for ProVida, Chile's largest private pension fund administrator. The deal closed in October of 2013, "at a compelling valuation of 10 times projected earnings", according to CEO Kandarian in the 2013 annual letter. He also noted that:
Because it earns fees on salaries as opposed to assets under management, ProVida is not heavily dependent on the capital markets. This is exactly what we want: low capital intensity to help balance MetLife's risk profile and strong free cash flow to provide greater capital management flexibility in the future.
At an initial glance, the company's transformation and re-envisioning appear to be coming along quite well under the helm of Steven Kandarian.
Fundamentals and valuations
Taking a look at MetLife post-crisis, it looks relatively healthy.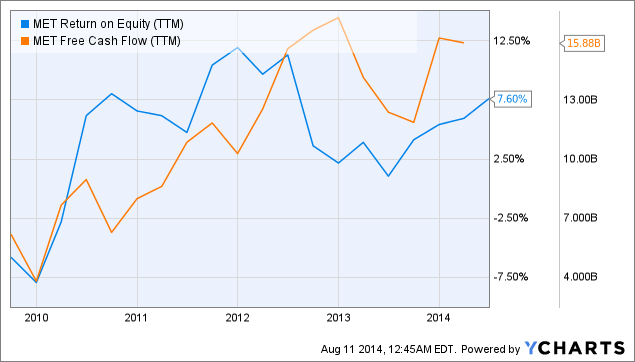 MET Return on Equity (TTM) data by YCharts
Kandarian has noted that regulatory uncertainty and de-risking have taken somewhat of a toll on return on equity as well as the amount returned to shareholders.
He's also explained that the five-year plan to "turn ship" started in 2012. Taking this into consideration, if there's any credibility to the company's growth story, shares look incredibly cheap, trading at the lower end of their historic price-to-book values.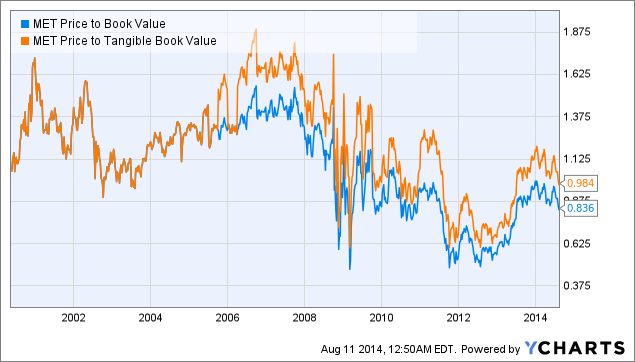 MET Price to Book Value data by YCharts
The risks holding shares back are also offset by an increasing dividend, yielding 2.7%. The company currently trades at roughly 16 times earnings and only around 8.5 times forward earnings as well.
Risks/challenges to business
Geopolitical risks: most notably around $1 billion in investments in Russia and Ukraine. The company also has $652 million in Argentinean investments, a country that recently defaulted.
Loss in equity market returns.
Continued low interest rate environment.
Retaining the designation as a SIFI, as well as the uncertainty surrounding it.
The bottom line
While MetLife certainly does face some real risks both now and potentially down the road (especially in Russia), shares are cheap and the company is becoming increasingly shareholder friendly. When the uncertainty around the SIFI designation inevitably evaporates, the company will be able to better forecast shareholder returns, and there's also the possibility that the market will assign more value to shares too.
MetLife and other insurers continue to argue that bank-related capital rules shouldn't apply to them. There may even be a loophole, according to The Wall Street Journal, but as of now, the uncertainty remains.
Management is solid with a clear (albeit cautious) vision for the future of the company, while also keeping the shareholder in mind. De-risking of the company and narrowing its vision will likely pay off in the end, and rising rates along with an improving economy will also be good for MetLife's business.
As of now, shares look very cheap. A dividend yielding 2.7% is also appealing, although a larger buyback would be preferable while shares are still trading below book value. I will continue to monitor the company and consider adding some to my portfolio soon.
Disclosure: The author is long GE, JPM. The author wrote this article themselves, and it expresses their own opinions. The author is not receiving compensation for it (other than from Seeking Alpha). The author has no business relationship with any company whose stock is mentioned in this article.
Additional disclosure: I may initiate a long position in MET over the next 72 hours. Articles I write for Seeking Alpha represent my own personal opinion and should not be taken as professional investment advice. I am not a registered financial adviser. Due diligence and/or consultation with your investment adviser should be undertaken before making any financial decisions, as these decisions are an individual's personal responsibility