F5 Networks Inc. (NASDAQ:FFIV) operates in the networking products space, specifically in developing products to optimize network applications, servers and storage systems. The company's shares over the past 10 years have outperformed its industry and major indices mainly due to the explosive growth experienced between 2009 and 2010 (Exhibit 1). FFIV has traded with significant volatility and is 27% lower than its highs set back in early 2011. However, shares have recently experienced significant strength for good reason.
Exhibit 1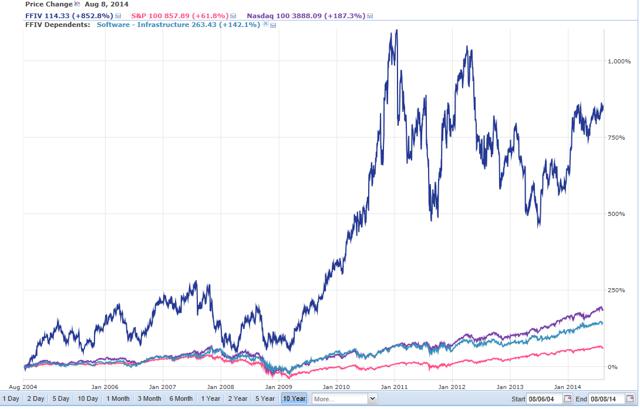 Source: Stock Rover
Fundamentals
Company fundamentals are strong on a historical basis. Operating margins are near the highest levels in 10 years (Exhibit 2). Free cash flows also continue to be strong (Exhibit 3). Additionally, the company continues to add value through an annualized increase in research spending of 27% which has contributed to an increase in sales of 27% and equity growth of 16% (Exhibit 4).
Exhibit 2

Source: Stock Rover
Exhibit 3

Source: Stock Rover
Exhibit 4

Source: Stock Rover
Valuation
Industry analysts have been increasing their opinions on the equity with an average target price of $123.82 (Exhibits 5 and 6). Also, price to earnings and price to sales are at historically low levels in addition to an earnings yield that remains within its historical range (Exhibit 7).
Exhibit 5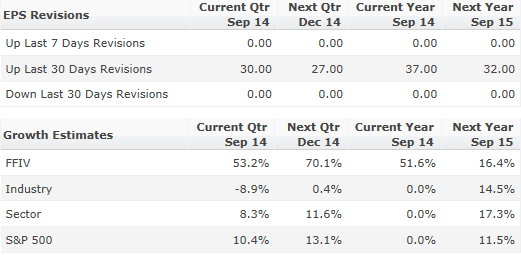 Source: Stock Rover
Exhibit 6

Exhibit 7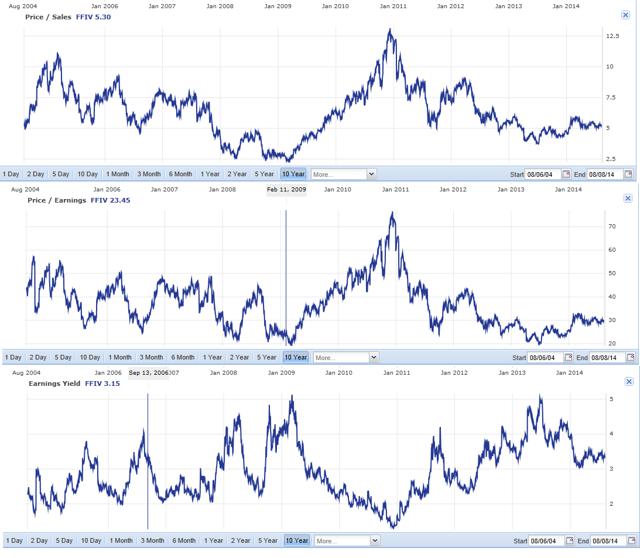 Source: Stock Rover
Using a discounted cash flow analysis supported by comparable multiples valuation puts the estimated equity value per share at $128.64 or 13% above current prices. Additionally in respect to its industry, FFIV is undervalued according to EV/EBITDA and price to sales but slightly overvalued according to price to earnings and earnings yield.
Technicals in Brief
As seen in Exhibit 8, FFIV broke out higher from weak resistance to trade to the next resistance level higher. It then tested the breakout before moving higher. It now rests on the secondary resistance level which indicates a high probability of breaking through to finish the measured move near the target area indicated by the red line which forms significant long-term resistance. This longer-term resistance level corresponds with the previously mentioned valuation metrics.
Exhibit 8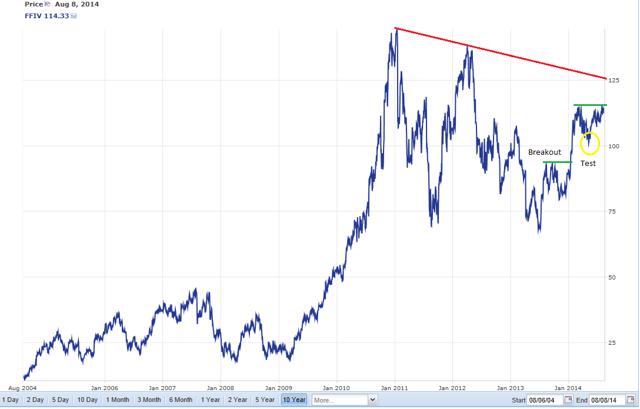 Source: Stock Rover
Investment Opinion
FFIV will have challenges if Europe continues in economic stagnation as well as if global economic conditions weaken. If so, companies will reduce technology expenditures therefore putting pressure on FFIV equity prices. However, as demand remains strong for networking services, companies will continue to seek solutions to integrate and optimize. As a leader in the area, FFIV is positioned to benefit through high margins and strong sales growth which should translate into equity growth. Solid fundamentals, interesting valuation metrics and attractive price multiples indicate an investment at current prices is acceptable.
Disclaimer: Michael Lee is an investment strategist at Long Street Capital Management, LLC ("LSCM"). This article is prepared by Mr. Lee as an outside business activity. As such, LSCM does not review or approve materials presented herein. The opinions and any recommendations expressed in this article are those of the author and do not reflect the opinions or recommendations of LSCM.
None of the information or opinions expressed in this article constitutes a solicitation for the purchase or sale of any security or other instrument. Nothing in this article constitutes investment advice and any recommendations that may be contained herein have not been based upon a consideration of the investment objectives, financial situation or particular needs of any specific recipient. Any purchase or sale activity in any securities or other instrument should be based upon your own analysis and conclusions. Past performance is not indicative of future results. Either LSCM or Mr. Lee may hold or control long or short positions in the securities or instruments mentioned.
Disclosure: The author has no positions in any stocks mentioned, but may initiate a long position in FFIV over the next 72 hours. The author wrote this article themselves, and it expresses their own opinions. The author is not receiving compensation for it (other than from Seeking Alpha). The author has no business relationship with any company whose stock is mentioned in this article.