Economically, these are tough times for many Americans. Here are three attractive investment ideas …companies profiting on Wall Street from the pain on Main Street.
We screened our data base of 5000 stocks looking for companies with a very bullish rating, a price earnings to growth ratio < 2, which consistently beat analyst earnings estimates and showing strong short and intermediate term price patterns.
In short, profiting from pain.
Our rating is based on a 20-factor model incorporating financial metrics, earnings performance, price/volume activity and expert opinions to determine a stock's potential over the next 3-6 months.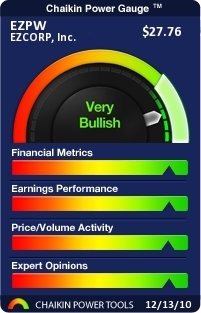 EzCorp Inc (NASDAQ:EZPW): 27.76
High profit margins, an attractive price/sales ratio and a very bullish ROE make EzCorp Inc a very attractive investment.
Strong, consistent earnings growth contributes to a very bullish earnings performance metric. Analysts are very optimistic about the company and have raised their earnings estimates for 2011, thus contributing to very bullish expert opinions.
Favorable price strength vs. the broader market and vs. its industry and a bullish price trend contribute to bullish price/volume activity.
EZPW continues to make new highs and we believe this trend will continue in the first half of 2011 as the company assists cash-strapped families with much needed short-term loans in exchange for a collaterized high interest rate.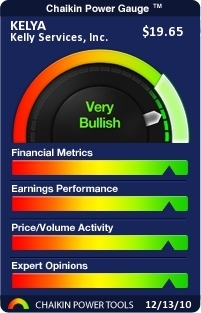 Kelly Services Inc (NASDAQ:KELYA): 19.65
Kelly Services continues to benefit from business' reluctance to add permanent workers to their payrolls. By providing temporary jobs they help workers find valuable short-term opportunities while satisfying large and small business needs alike.
The company operates in multiple industries and is paid by the employers that partner with Kelly for their services. The company has had consistent earnings growth and upward EPS revisions by bullish analysts.
A very strong ROE, an attractive price/sales ratio, favorable price strength vs. the broader market and vs. its industry, a bullish price trend and a bullish volume trend together contribute to a very bullish rating.
We believe that Kelly Services will continue to do well in 2011 and expect the stock to outperform the market making higher highs along the way. Kelly Services stands to benefit from the current climate of economic uncertainty as the slow upturn in the economy continues to create the need for temporary hiring.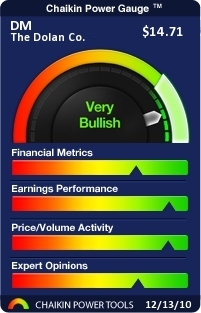 The Dolan Company (NYSE:DM): 14.61
Boasting high profit margins, a positive business value* and a strong ROE, DM continues to reach new highs. Dolan provides professional and business information services to its clients in the legal, financial and real estate sectors.
Fueled by big demand for support in these sectors due to the struggling economy and overwhelming foreclosure rates, demand for the company's services has grown, in turn driving accelerating earnings growth.
A low projected P/E ratio on 2011 earnings suggests further upside potential while favorable price strength vs. the broader market and vs. its industry, a very bullish price trendand bullish money flow add up to bullish price/volume activity.
Recent insider buying and plans for stock repurchase authorized by the company reflect management confidence in the company's prospects heading into 2011.
* Business Value is the most heavily weighted factor in our 20 factor rating. It measures free cash flow per share on a relative basis vs. 3000 stocks. It is similar to EV/FCF.
Disclosure: I have no positions in any stocks mentioned, and no plans to initiate any positions within the next 72 hours.