Value Line research recently issued an updated report for Wal-Mart (NYSE:WMT). You can download that report here. They left their 2017-2019 price target range at $110 to $135, unchanged from their report of 5/2/14.
Value Line awards Wal-Mart a safety rank of 1. This means that the total risk of the stock relative to the approximately 1,700 other stocks covered by them in The Value Line Investment Survey®, is low.
They award the stock a timeliness rank of 3. This means that the probable price performance of the stock relative to the approximately 1,700 other stocks covered by The Value Line Investment Survey® during the next six to twelve months can be expected to be in-line.
They also assign the stock a top financial strength rating of A++. Value Line classifies 1,700 companies' Financial Strength ratings from A++ to C, in nine steps. The lowest grade is reserved for companies experiencing serious financial difficulty. Balance sheet leverage, business risk, the level and direction of profits, cash flow, earned returns, cash, corporate size, and stock price, all contribute to a company's relative position on the scale. The amount of cash on hand, net of debt, is also an important consideration.
The technical rank for Wal-Mart was 3, which implies that the technical prospects are no better or worse than the broad market. Interestingly, the technical rank was downgraded in the August report.
With Wal-Mart we are looking at a company with low risk and high financial strength, with an expectation of inline performance over the coming six to twelve months, with a slight recent deterioration in the technical condition.
Value
I like Wal-Mart the company and think it is a great pick for the consumer staple sector for long-term investors. And in my view it is presently very well valued. Indeed, if Value Line's price targets are achieved by 12/31/2017, we can look for a total three year annualized return including dividends of between 14.68% and 21.67% from Wal-Mart. This places Wal-Mart at the number three (behind Visa and Verizon) amongst Dow stocks in terms of return expectation, and at number two (behind Verizon) in terms of risk adjusted return expectations.
Value asides, I there is much to like about Wal-Mart.
Earnings Growth
But for the recent dip in earnings, long-term earnings growth at Wal-Mart has been pretty solid over the past ten years. In recent times, I am impressed with how Walmart.com is growing. And I like their plans to invest in the small convenience store format. Finally, I like their international growth opportunity. I hope these amongst other factors will return the company to its normalized path of earnings growth.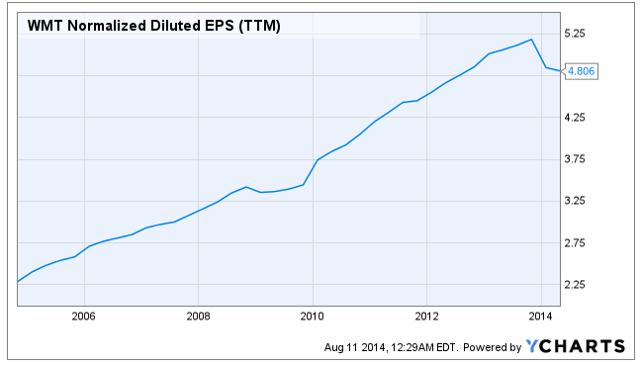 Value Returned to Shareholders
I like their dividend and dividend growth over the past ten years.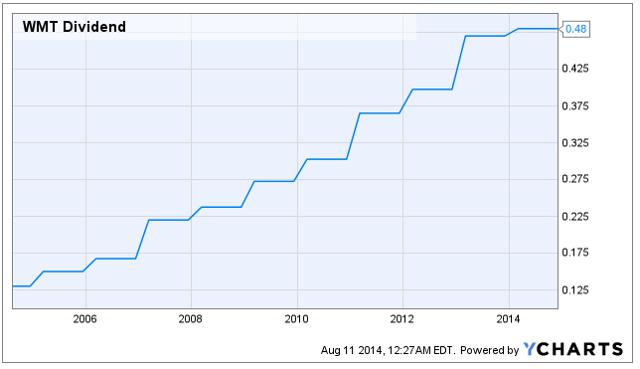 The 2.57% dividend yield is a healthy premium to the dividend yield offered by the S&P 500 or the Dow Jones Industry Average. But there is more. The company runs a buyback program too - and it is a program that has worked in that it has actually resulted in a return of value to continuing shareholders. The company has lowered average diluted shares outstanding - over the past decade, average diluted shares outstanding have declined 23.6%: that is an annualized rate of 2.14%. The dividend plus buyback yield of 4.71% is generous.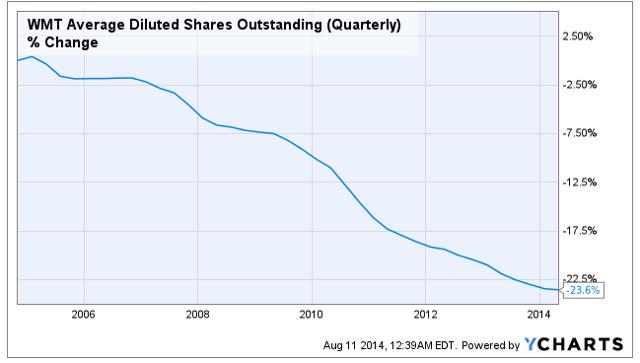 Low Beta, Low Volatility, Low Market Risk and the Market Cycle
I like the fact that Wal-Mart has low beta, low volatility and relatively low co-efficient of determination with the market.
Value Line computes a beta for Wal-Mart of 0.60. I calculate the raw beta based on the five-year regression of weekly closing prices of the stock, relative to weekly closing prices of the S&P 500 at 0.44, and I adjust it to 0.63 on account of the beta's tendency to converge towards one. A low beta adds great defensive characteristics to a stock.
The coefficient of determination for Wal-Mart is 21.76%. This suggests that 21.76% of the price movement in Wal-Mart is explained by movements in the market prices: the residual price movement is based on company-specific factors. This low level of market correlation is quite attractive at the present time - when market risk is perceived as high, a stock with a low coefficient of determination lowers the portfolio market risk.
Also attractive at the present time is the low volatility seen at Wal-Mart. The standard deviation in weekly price over the five-year period has been 1.98%. This compares with 2.09% for the S&P 500. Thus Wal-Mart has displayed lower price volatility compared with the market. Low volatility is a very desirable characteristic during periods when market participants might be well served in reaching for defensive characteristics.
Over the past five years, the average weekly price change on Wal-Mart has been 0.18% (median 0.27%). This compares with 0.27% (median 0.31%) for the S&P 500. During bull markets such as the one we have seen since April 2009, low beta tends to under-perform. However, what is seen as a bane in a bull markets is a blessing late in economic cycle and during the recession phase of the economic cycle.
High Return Potential
While the low coefficient of determination, low beta, and low volatility, reduce market related risks, high return potential lowers company specific risk. This combination of low market and stock specific risk, together with Wal-Mart being amongst the top selections for the defensive consumer staples sector, makes it an attractive candidate for a portfolio.
Wal-Mart recently traded at $74.67. Value Line has a 2017 to 2019 price target range on the stock of $110 to $135. If the stock hits the mid-point of their targets by 12/31/2017, investors will have earned an annualized return of about 15.73%. This together with the present dividend yield of 2.57% implies a total annualized return expectation of 18.3%.
I estimate the cyclically adjusted equity risk premium at 4.67%, and the long-term risk free rate at 3.23%. Thus my market total return expectation is 7.9% (4.67% plus 3.23%). This is somewhat lower than the customary 9% to which investors are accustomed over the very long-term. And it is also below the 10.25% which I see as a reasonable potential target very long-term return expectation.
Today, with the S&P 500 at 1,931.59, my long-term return expectation for the market is 7.9%, while my return expectation for Wal-Mart is 18.3%. A higher reward expectation with a lower level of market risk motivates me as a buyer. For Wal-Mart, a Value-Line beta of 0.60 implies that investors should target return expectation of 6.03% (0.6*4.67% Plus 3.23%) for it to be worth as much as the S&P 500 on a risk adjusted basis. Thus, as priced, Wal-Mart offers 12.27% (18.3% less 6.03%) of alpha.
I would not get hugely excited about the alpha calculation - a low co-efficient of determination makes alpha and beta fairly unreliable measures for risk estimation. Nonetheless, a potential three-year total return expectation of 18.3% is attractive: even very attractive.
In my view Wal-Mart offers a great defensive opportunity for patient long-term money.
Disclosure: The author is long WMT. The author wrote this article themselves, and it expresses their own opinions. The author is not receiving compensation for it (other than from Seeking Alpha). The author has no business relationship with any company whose stock is mentioned in this article.