Background
On June 15, 2014, Medtronic Inc. (NYSE:MDT) announced that it had agreed to buy Covidien PLC (COV) for $42.9 billion in cash and stock. While COV shares initially traded at an approximately 5% discount to the implied deal price, the spread has widened to above 10% as the U.S. government has publicly discussed a desire to "curb moves by some U.S. firms to incorporate overseas in a way that allows them to avoid U.S. taxes."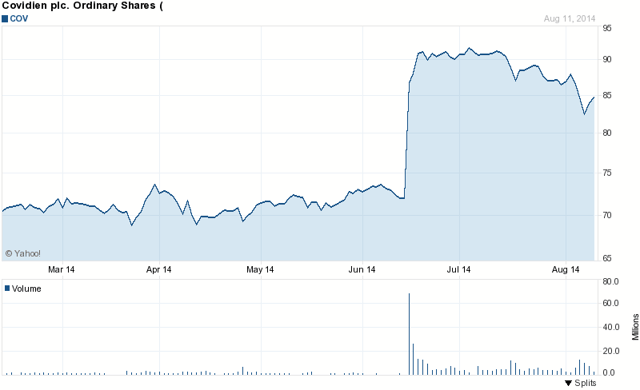 Business Description
COV is a global healthcare products company, which develops, manufactures and sells a diverse range of industry-leading medical device and supply products. The Company had sales of $10.235 billion and adjusted earnings of $3.72 per share in fiscal year 2013. The business is based in Dublin, Ireland.
MDT is the world's largest independent medical technology company. Based in Minneapolis, Minnesota, the Company develops therapeutic and diagnostic medical products. The Company generated $17.0 billion in sales and adjusted earnings of $3.82 per share in fiscal year 2013.
Merger Details
According to documents released by the companies, MDT originally held discussions with COV management about a potential merger in April 2014. Over the ensuing months, terms were agreed upon and the announcement was made public on June 15, 2014.
The deal is structured to include both cash and stock. COV shareholders are entitled to receive $35.19 in cash and 0.956 of an ordinary share of MDT for every share of COV that they own at the time of closing. Based on closing prices for COV and MDT on August 11, 2014 the deal is valued at $94.53 per share as shown below:
| | |
| --- | --- |
| Component | Value |
| Medtronic Share Exchange | 0.956 |
| Medtronic Share Price | $62.07 |
| Medtronic Implied Value | $59.34 |
| Cash | $35.19 |
| Total Value (Cash & Stock) | $94.53 |
In addition to standard deal approvals and conditions (e.g. regulatory approval, shareholder approval, listing of the new company's shares, etc.), the proposed merger stipulates that there can be no law or IRS interpretation or guidance that would cause "New Medtronic" to be treated as a U.S. corporation for federal income tax purposes. This clause highlights the significant importance of inversion, which has become a seemingly daily topic of conversation across all media outlets.
Inversion
Inversion is the act of "re-incorporating a company overseas in order to reduce the tax burden on income earned abroad." While mergers that include relocation of the acquiring company for tax purposes is not new, it has become a hot button issue as there has recently been a large wave of deals (e.g. Walgreens Company (WAG)/Alliance Boots (Private), Shire PLC (NASDAQ:SHPG)/AbbVie Inc. (NYSE:ABBV), and Chiquita Brands (NYSE:CQB)/ Fyffes Plc (OTCPK:FYFFF)), which have drawn the attention of both politicians and the media.
Though the reason for inversions is clear enough (the U.S. has one of the world's highest corporate tax rates at 35%) and is probably best addressed with well-conceived tax reform, politicians (primarily Democrats) have taken this recent spate of deals as an opportunity to paint Corporate America in an unflattering image, going as far as claiming that companies that do not use inversions are, "proud to pay their fair share."
President Barack Obama has already pledged swift action, stating that the U.S. Treasury Department would work "as quickly as possible" to stop firms from incorporating overseas. While legislation on the matter is unlikely this year and what actions the Treasury could take are still unclear, companies are certainly aware of the political climate as WAG decided to complete its takeover of Alliance Boots but will maintain its U.S. tax domicile. WAG shares fell 14.3% on the news, indicating the significant financial benefits that come with inverting.
MDT and COV are clearly prepared for the current political climate as well, as New Medtronic has promised $10 billion in additional technology investments in the U.S. if the deal goes through. Additionally, the companies have received public support for the deal from local politicians, including Minnesota Governor Mark Dayton (Democrat) who said "this is a good deal for the people of our state."
Opportunity - 11.6% upside in six months (23.2% annualized)
With the deal expected to close by the end of 2014 or early 2015, I have somewhat conservatively assumed that the deal will close in six months. Using closing prices as of August 11, 2014, there is ~11.6% upside for COV shareholders:
Current Price - $84.71
Deal Price - $94.53
Upside - 11.6%
In terms of the downside, I have market-adjusted the pre-announcement price of COV using the S&P 500 Health Care Index, which has a strong correlation with the daily price change of COV. Since the deal was announced, the Index is up 1.7%, which would result in a current price of $73.39 for COV (downside of 13.4%).
At current levels, the market is pricing the deal with approximately a 50% chance of falling through, which seems excessive. At a current discount of 10.4% to the deal price, investors are well-compensated for the risk, especially as the stock traded as low as at a 5.0% discount on July 11, 2014.
Risks
The primary risk here is that the U.S. government takes action against inversions and includes currently pending deals as part of the regulations. My belief is that while the government may ultimately put an end to inversions, the effective date of these new rules will not derail the COV/MDT merger.
Secondly, there is timing risk as the deal may not close in the timeframe originally put forth by the Company. The Federal Trade Commission has already made a second request for additional information and documentary material, which could delay the close and reduce investor's annualized return.
Lastly, like all deals, there is general market risk (e.g. deals terminated during the financial crisis of 2008) and non-systemic risk, which can arise if there is deterioration in the target company's business. While both seem unlikely at the current time, neither should be ignored.
Conclusion
While risk arbitrage situations have become little more than higher risk money-market alternatives, there are some situations that still provide investors with attractive returns. Given the significant deal size and associated investments that New Medtronic is promising; this deal should pass regulatory scrutiny. Certainly there is greater risk here than usual, but the risk-reward is very attractive at current levels.
Disclosure: The author is long COV. The author wrote this article themselves, and it expresses their own opinions. The author is not receiving compensation for it. The author has no business relationship with any company whose stock is mentioned in this article.
Additional disclosure: I am long COV and short MDT in order to lock in the deal spread. I may change or exit my position (buy or sell shares) without updating this article and without informing the Seeking Alpha community.