New York Mortgage Trust Inc. (NASDAQ:NYMT) is an internally managed REIT. It invests in multi-family CMBS, mezzanine loans and preferred equity investments to owners of multi-family properties, distressed residential mortgage loans, Agency RMBS, and Agency IOs and IIOs (inverse interest only). It employs consultants such as RiverBanc LLC, The Midway Group LP, and Headlands Asset Management LLC to provide specialty investment management services for certain targeted asset classes.
NYMT has been a "hot" company for the last year at least. It pays a great 13%+ dividend; and the stock price has gone nearly straight up for the last year (see one-year chart below).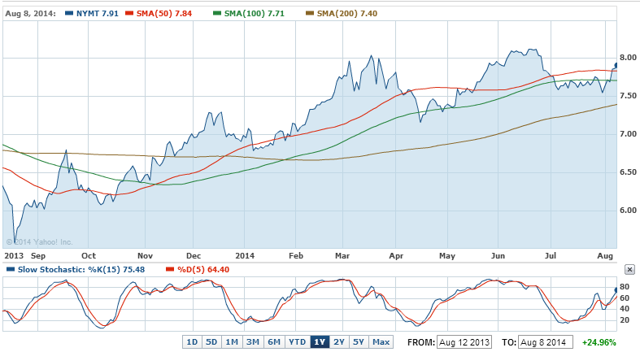 Click to enlarge
The most recent upsurge in price has come from NYMT's Q2 earnings report on August 5, 2014. NYMT reported net income of $30.3 million ($0.34 per share). It had net interest income of $19.9 million and net interest margin of 460 bps per common share compared to 439 bps the previous quarter. It grew book value +$0.35 per common share from $6.48 on March 31, 2014 to $ 6.83 on June 30, 2014. It declared a $0.27 per common share dividend for Q2 2014 (13.65% annualized). Between the book value gain and the dividend, it had a total economic return for Q2 2014 alone of +0.62 or +7.8% (31.3% annualized). It is hard to fault these numbers. In fact many investors would jump at the chance to get such a great gain, especially when a good chunk of it is coming in the form of a dividend -- "steady income." The dividend has been $0.27 for nine consecutive quarters now. The stock price has run up almost 25% in the last year.
What has fueled this great performance? It appears the change in the portfolio capital allocation strategy from the end of 2011 until the end of 2013 has had a lot to do with it. The charts below depict those changes.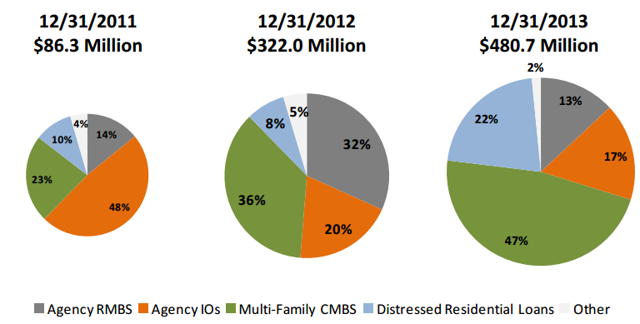 Click to enlarge
NYMT has gone from 48% Agency IOs at the end of 2011 to 17% Agency IOs at the end of 2013. During the same time, NYMT has grown its Multi-Family CMBS allocation from 23% to 47%. This section has been tremendously successful as many who have lost their homes have moved into apartments. NYMT has also in the last year increased its allocation for distressed residential loans from 8% to 22%. Simultaneously, it has decreased its 32% allocation to Agency RMBS at the end of 2012 to 13% by the end of 2013. These have been successful moves.
How successful have these moves been? NYMT's book value went from $6.25 per common share as of June 30, 2013 to $6.32 September 30, 2013 to $6.33 December 31, 2013 to $6.48 March 31, 2014 to $6.83 June 30, 2014. This occurred at a time when many other mortgage REITs were losing book value, especially in 2H 2013. This more than anything demonstrates the good management that NYMT managers showed for that period. It makes one want to invest in the stock.
The only "gotcha" that I can see is the stock price of $7.91 as of the close on August 8, 2014. This is a +15.8% premium to the book value as of June 30, 2014 ($6.83 per common share). Of course, the book value rose +9.28% from June 30, 2013 to June 30, 2014. Hence investors might be inclined to think the book value will catch up with the valuation. However, if history is an indicator, that might take roughly two years; and there is no guarantee that the book value would always be going in the right direction. Considering that most other mortgage REITs are selling at a discount to book value, it is probably smart to be hesitant about buying NYMT at its current valuation. When one considers that NYMT was an early mover into the multi-family market and the distressed residential loan market, one has to wonder if it will be as successful going forward. More people have entered these markets after NYMT. With more competition, the profits are likely to be thinner. Growth may be slower.
In sum, NYMT has performed tremendously during a very tough time for mortgage REITs. Investors should give management credit for that, and NYMT is internally managed. However, NYMT is probably a HOLD at the current time. There are too many other mortgage REIT companies that are selling near book value or even at discounts of -10% to -15% to book value.
If you want to look at some of these, the articles below may provide good starting analyses of some of the more interesting companies:
"Western Asset Mortgage Capital Turned In A Huge Total Economic Return For Q2. Any Problems?"
" A Great Book Value Gain In Q2 2014 By Annaly Capital May Put It In Line For Stock Gains."
"14%+ Dividend Payer ARMOUR Residential REIT May Be A Bargain"
"10%+ Dividend Payer Capstead Mortgage Corp. Is Just Loping Along to Profits."
"American Capital Agency Had A Tremendous Q2 2014, But Was It A Flash In the Pan?"
NOTE: Some of the above fundamental fiscal data is from Yahoo Finance.
Good Luck Trading.
Disclosure: The author has no positions in any stocks mentioned, and no plans to initiate any positions within the next 72 hours. The author wrote this article themselves, and it expresses their own opinions. The author is not receiving compensation for it (other than from Seeking Alpha). The author has no business relationship with any company whose stock is mentioned in this article.