NuVasive's (NASDAQ:NUVA) bid to escape a $30 million trademark infringement loss to NeuroVision Medical Products has been cancelled by a California federal judge. The judge granted NeuroVision's motions for a permanent injunction, canceling NuVasive's rights to the NeuroVision trade name in the process. NeuroVision first sued NuVasive in 2009, alleging infringement of its namesake trademark. The news is expected to act as a negative catalyst for NuVasive's stock, but I feel any weakness in the stock should be utilized to buy it, especially after NUVA posted excellent second quarter results.
In October 2010, it was found that NuVasive infringed the NeuroVision trademark with some of its neuromonitoring products. In last April, NuVasive was asked to pay NeuroVision $30 million in damages, according to court documents. NuVasive tried to escape the $30 million trademark infringement loss, but failed to succeed, according to the recent news. Currently the stock is trading around $36, and I believe the news could spark a short-term correction in the stock.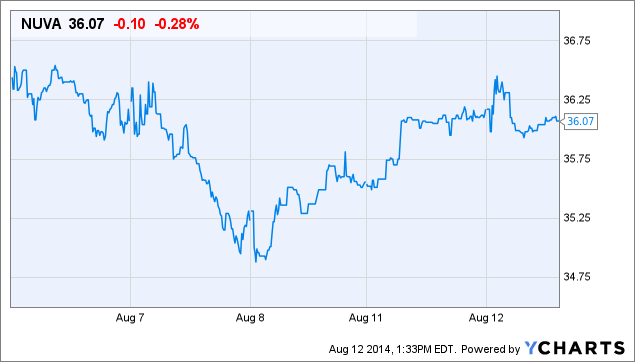 NUVA Price data by YCharts
The company posted stellar earnings few days ago. Its total revenue increased 15.1% to $190.7 million, moving NuVasive into the no. 3 spot in the global spine market. In my original article, I projected that the share price of the company is heading toward $52.25. The company generated $685 million in revenue in 2013, and I expect its revenue to cross $1 billion by 2016. After the second quarter earnings, I'm confident about the company's revenue growth. I'd recommend buying the stock in significant dips. For more information, read my original analysis.
Disclosure: The author has no positions in any stocks mentioned, and no plans to initiate any positions within the next 72 hours. The author wrote this article themselves, and it expresses their own opinions. The author is not receiving compensation for it (other than from Seeking Alpha). The author has no business relationship with any company whose stock is mentioned in this article.