By Chris McKhann
Shares of Ariad Pharmaceuticals (NASDAQ:ARIA) are back near multi-year closing highs, but today's option activity is focused on the puts.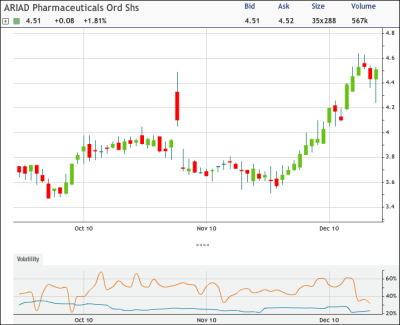 ARIA is up 1.81 percent on the day to $4.51, just under Thursday's close at $4.53, which was its highest level since 2007. It recovered from this morning's lows, which had the stock down to $4.25 just after the open.
The average option volume is 1,700 contracts a day, so the 5,000 that traded at the May 3 strike caught our attention. A trader sold those in one transaction for $0.33 against previous open interest was 922 contracts, so this is a newly opened position.
These puts weren't traded against any stock that we see today, but the analysis is muddied by another transaction about 20 minutes later. Two blocks of 3,000 of the May 2.50 puts traded for $0.15 and $0.20, against open interest of 16,332. So this may be a roll up from the lower to the higher strike, or it could be a new credit spread.
Either way the trade is designed to profit as long as ARIA stays above $3.

Disclosure: No position