This summer, when it was reported that Google (NASDAQ: GOOG) (NASDAQ: GOOGL) Chromebook's sales had grown by 250% year-over-year, many executives of consumer electronics companies probably felt a chill on their back and thought: "Oh, no, Google. Not again!" Their fear is totally understandable because the memory of Android phones pushing their major competitors Nokia (NYSE: NOK) and BlackBerry (NASDAQ: BBRY) over the cliff is still fresh in their mind (see figure below for the rise of Android's market share and the drop of competitors' market shares).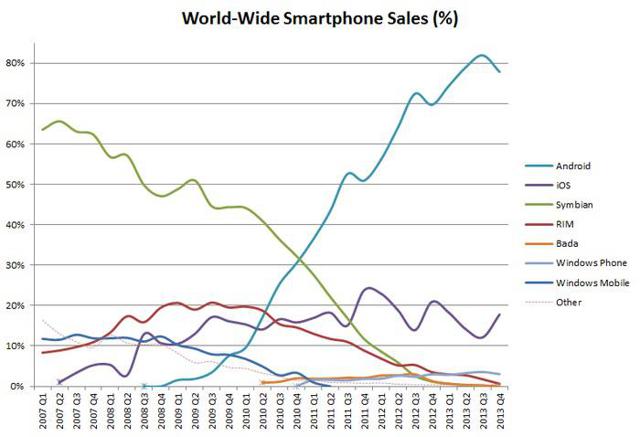 Source: Wikipedia - Mobile Operating System
Just when most consumer electronics makers are putting the turmoil brought about by Android behind them, another storm created by Google is hitting the shore so fast it has caught many companies off guard. Chromebook powered by Chrome OS, Google's tablet product introduced just three years ago, saw its market share balloon to 21% last year and then to 35% in the first six month of this year. Why are consumers suddenly abandoning Windows and Apple (NASDAQ:AAPL) computers - when they have been loyal to these brands for two decades - and jumping into Google's camp? Two critical factors are behind the switch.
First, just as Android did, Chromebook has surpassed its main rivals in terms of usability. Chromebook's web-based applications have become increasingly appealing to many people as they prefer to carry light-weight computing devices when traveling. These web-based applications can probably accomplish more than 90% of the tasks traditional Windows or Mac applications can do but consume much less system resources and have higher portability. In addition, Chromebook users who want to have the full power of traditional desktop/laptop applications can access Windows and Mac applications through the cloud computing platform such as Sphere3D's Glassware that is integrated into Chromebook. Because Sphere3D's (NASDAQ: OTC:ANY) cloud computing solutions were designed for light-weight use and maximum flexibility - any application running on any hardware with any operating system - it matches particularly well with Google's open-source, web-based operating systems and devices (see The Register's article and Brian Madden's podcast for details of Sphere3D's cloud technologies). There are many other cloud computing products that can run in a Google Chromebook.
Secondly, Chromebook decisively trumps Windows and Apple mobile computing devices in terms of affordability and bang for buck. The hardware specifications of an entry-level Chromebook now match the hardware specifications of an average Windows or Mac ultra-light notebook, yet an entry-level Chromebook sells for only $199, less than half of the price of most Windows or Mac ultra-light notebooks. This unbeatable affordability combined with its satisfactory usability make Chromebook a no-brainer choice for beginners, young people, and mobile device users who are not tech savvy. That's why the demand for Dell's Chromebooks is sky-high in schools now.
So, are Microsoft (NASDAQ: MSFT) and Apple going to succumb to Google's power and follow Nokia and Blackberry's miserable path to collapse? Only time will tell, but so far hard numbers and trends are pointing in that direction. History is clearly on Google's side now. The trend of Chromebook's market share over the first four years after introduction is shockingly similar to that of Android phone (see table below).
Years Since Inception

1st Year

2nd Year

3rd Year

4th Year

Android Phone

0%

Low Single Digits

20% - 25%

about 40%

Chromebook

0%

Low Single Digits

21%

35% - ??%

(for Chromebook, 4th year has not ended yet)
What does this mean to investors? Wise investors learn from history. Here again we can look into the history of Google's stock price and Android phone market share as guidance. As we can see in the table below, Google's stock price started a strong upward movement in the fourth year after Android's inception and once Android's market share broke the 40% level.
| | | | | | |
| --- | --- | --- | --- | --- | --- |
| Years Since Android Inception | 2nd Year (2009) | 3rd Year (2010) | 4th Year (2011) | 5th Year (2012) | 6th Year (2013) |
| Android Phone Market Share | Low Single Digits | 20% - 25% | about 40% | about 70% | about 80% |
| Google Stock Price (Year End) | 550 | 550 | 600 | 700 | 1100 |
With the growth of Google's search engine business slowing at the beginning of this decade, Android phones have injected a new stream of revenue into the company and have taken over the responsibility of carrying Google stock's momentum. As the growth of Android revenue started to slow down last year, Chromebook sales started to soar just in time to carry forward the company's revenue growth. If history repeats itself, Google's stock will ride Chromebook's wave and enjoy a new period of fast appreciation starting from this year - the fourth year of Chromebook and the year its market share breaks the 40% threshold. As such, now may be once again a golden time to invest in Google shares.
Disclosure: The author is long GOOG, ANY. The author wrote this article themselves, and it expresses their own opinions. The author is not receiving compensation for it (other than from Seeking Alpha). The author has no business relationship with any company whose stock is mentioned in this article.
Additional disclosure: No content published as part of this article constitutes a recommendation that any particular investment, security, portfolio of securities, transaction or investment strategy is suitable for any specific person. I am not an investment adviser, and the content contained herein is not an endorsement to buy or sell any securities. Your investment decisions are made entirely at your discretion. By reading my article, you acknowledge that I am in no way liable for losses or gains arising out of commentary, analysis, and or data in this article.