By Karen Schwartz
Despite continuing concerns over potential mortgage-buybacks as a result of the foreclosure mess, analysts are positive on the outlook for JPMorgan Chase (NYSE:JPM) over the next year.
Set to announce fourth quarter 2010 results on 14 Jan, the bank is expected to up its dividend and buy back stock next year. This comes in the wake of a Federal Reserve announcement that makes it possible, assuming it passes a capital plan review.
Portales Partners' Jennifer Thompson expects higher dividends. "You will see a number of the stronger banks increase their dividends in the first quarter," she said in comments last month. Rochdale Securities' Richard Bove also says it could happen as early as first quarter 2011.
"It now looks highly likely that the dividends for a number of banks will be increased," Bove reportedly said. "Do they have the capacity to dramatically increase their dividends? The answer is definitely yes. They have enormous capacity to increase their earnings from a balance sheet standpoint."
The stock buyback has already begun: "A single line of text buried in JPMorgan's third quarter financial statements shows that in the third quarter of 2010 JPMorgan spent $2.2 billion buying back 57 million of its own shares," writes Nathan Vardi at Forbes.
Of the 14 analysts tracked by Alacra Pulse, 13 have a positive rating on JPMorgan Chase and one is neutral. The median price target is $52, significantly higher than Friday's closing price of $41.43.
Click to enlarge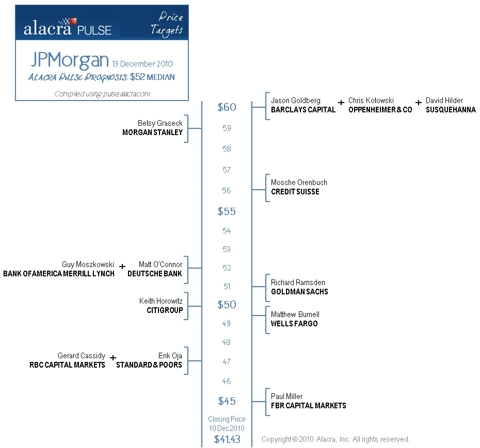 Deutsche Bank's Matt O'Connor reiterated a "buy" rating on the stock last week with a target of $52. He was quoted as saying that the company's "capital story" could be turning after a dividend increase that "never materialized" in 2010 and an inability to repurchase stock in 2010. "But this should change (mgmt believes in 1Q) when there's more clarity on capital and dividends and mgmt seems very eager to aggressively buy back stock at current levels."
And in October Oppenheimer's Chris Kotowski upped his price target on the company to $60 from $51.
Morgan Stanley's Betsy Graseck has a $59 price target and an Overweight rating, believing the company was "cheap" at 6.2x P/E multiple on 2013 normalized earnings, and forecast of 2013 EPS estimates of $5.09.
Sanford C. Bernstein's John McDonald has the stock at Outperform with a price target of $56.00, and Barclays Capital analyst Jason Goldberg has it at $60.00 with an an Overweight rating.
Still the possible impact of the foreclosure mes should not be ignored. JP Morgan's own analysts note that forced repurchases of soured U.S. mortgages may be the "biggest issue facing banks," Bloomberg reported. FBR Capital's Paul Miller, (a former examiner for the Philadelphia Federal Reserve Bank) who has a low $45 target, believes buybacks could cost big banks a combined total of $91 billion.
[Sources: Alacra Pulse, The Street, Benzinga, SmarTrend, American Banking News, Reuters, Clusterstock, Businessweek, Bloomberg.]