High Liner Foods (OTC:HLNFF) is the leading North American processor and marketer of value-added frozen seafood. Their retail branded products are sold throughout the United States, Canada and Mexico under the High Liner, Fisher Boy, Mirabel and Sea Cuisine labels, and are available in most grocery and club stores. High Liner also sell branded products under the High Liner, Icelandic Seafood, FPI, Viking, Mirabel, Samband of Iceland and American Pride Seafood labels to restaurants and institutions, and they are a major supplier of private label value-added frozen seafood products to North American food retailers and foodservice distributors.
Industry Drivers
The foodservice industry makes up approximately 70% of High Liner's revenues. Over the previous year, the U.S. restaurant industry displayed lackluster growth reflecting soft sales, which were heightened by the past harsh winter. The Nation's Restaurant News has reported improved trends in same-store sales and traffic for April and May of this year, which boosts the outlook for restaurant operators across the country. Also reported was that the monthly Restaurant Performance Index (NYSEMKT:RPI) had experienced its third consecutive monthly increase to 102.1 (0.4% increase in May).
There has been an increase in full-service restaurant sales of 14.5% from January to May of this year, compared with a total overall increase of 11.6% over 2013. Although sales dropped slightly in June, the trend may suggest a current turnaround in the full-service restaurant sales over the medium term. The past sluggishness in growth may be due to the continued cautiousness in consumers; however, given a strengthening consumer south of the border, sales could quickly turn for the better with a positive change in sentiment.
American Pride Acquisition
A large growth lever of High Liner is in acquiring other frozen seafood businesses. Since acquiring American Pride in October 2013, there have not been substantial changes in its operations. However, there are plans to begin integration begun in the second quarter of this year with expectations of synergies to be realized into 2015. For the first quarter of 2014 alone, American Pride increased overall sales by more than 13%. Management expects an overall increase of $100 million in sales (an increase of over 10%) by 2016, which puts the target EBITDA expectation set by management to $150 million, approximately double the 2013 running figure. Furthermore, SG&A expenses dropped to 9.5% as a percentage of sales in Q1 2014 from 9.9% from the previous year due to the higher sales related to American Pride and the synergies achieved since its acquisition.
Organic Growth and Efficiency Improvements
There is a focus on increasing overall demand for frozen seafood products and growing market share through offering a wider range of seafood products, via continued product expansion with the inclusion of new species and formats. Given seafood is typically viewed as difficult to prepare and serve in the fast casual restaurant segment, there is currently a cross-country campaign through the Sea Cuisine brand to promote fish as taco meat in the form of crisps and fingers; this segment currently uses little seafood and has large potential growth opportunities to increase sales. There various other new products in the pipeline which will be launched between September and the end of this year.
Currently there is also a strong focus on expanding distribution of previously released premium products such as the Salmon Burgers and Guinness Barbeque-Glazed Salmon; this ongoing focus has increased the amount of US stores selling High Liner products to increase from 66% in 2012 to 86% in 2013; retail sales make up approximately 30% of High Liner's revenues. High Liner's U.S. subsidiary is a consolidation of seven different businesses; four were purchased by High Liner and some were already consolidated before being purchased. Strategic goals into 2014 include improving supply chain excellence in these larger scale businesses. Given this, there is still much room for standardization and efficiencies that can translate into savings. Currently, management is aiming for a decrease in annual costs from the current supply chain of $20 to $25 million annually.
Comparable Analysis
From a relative perspective, High Liner sells at a significant discount relative to peers from a trailing LTM perspective:
Table 1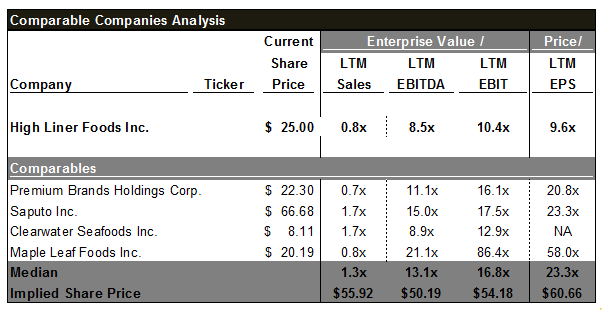 Source: Data presented in tables generated during internship training program with Quadrant Skew Capital Investment Club (Toronto).
At the current share price of $25, the implied share price based on the median value for all comparable multiples suggests current undervaluation.
Discounted Cash Flow Analysis
Table 2

Source: Data presented in tables generated during internship training program with Quadrant Skew Capital Investment Club (Toronto).
DCF Assumptions
Sales growth rates: 5.28% for next two years to account for Management's $100m planned increase in sales over the period and 2% from then on.
Management expects capex to be between $15 and $20 million for 2014, used average assuming $20m in 2014.
Management expects cost saving of $20-$25m in supply chain by 2015, therefore a decrease of $20m in COGS by 2015 gets COGS to 76.9% (as percentage of sales) based on current figures.
Effective tax rate was 27.6% (lower because of acquisitions which are expected to continue).
Three year historical average used for SG&A and depreciation and amortization.
Implied share price under a discounted cash flow indicates upside potential of 20%.
Capital Structure
Currently, High Liner maintains a debt-to-total-capitalization ratio of 64%. The high debt weighting in the capital structure results positively on the WACC given the current low interest rate environment. In the future, a large upside move in rates could reflect negatively on High Liner's value. Currently, High Liner's debt-to-EBITDA ratio is 4.0x (with a peer median of 3.5); however, managements goal over the next year is to bring it down to 3.0x, well below the industry average.
Outlook and Risks
Less cautious consumers resulting from a strengthening economy in the U.S. should give way for a boost in sales via the restaurant industry. High Liner's success in meeting stated efficiency-improving objectives by management is subject to the ability to realize further synergies expected from the American Pride acquisition, as well as further standardization in previously purchased businesses. Future growth in retail sales is dependent on consumers welcoming the newer premium products.
As an Investment
As increased efficiencies and synergies are realized moving forward from previously acquired businesses, and as an improving economy reflects positively on consumer sentiment and thus restaurant sales. That, in turn, should create a boost in sales, and High Liner does pay investors to wait with an annual dividend yielding 1.7%, which is sound given the free cash flow generation. High Liner's ability to generate free cash flow has been proven over the past few years. An excellent illustration of the significant growth in free cash flow, as well as confidence in its continued growth, has been the dividend increases by the board over the past five years. Moving forward, this should continue with management's goal of $150 million in EBITDA by 2016.
Disclosure: The author has no positions in any stocks mentioned, but may initiate a long position in HLNFF over the next 72 hours. The author wrote this article themselves, and it expresses their own opinions. The author is not receiving compensation for it (other than from Seeking Alpha). The author has no business relationship with any company whose stock is mentioned in this article.
Editor's Note: This article discusses one or more securities that do not trade on a major U.S. exchange. Please be aware of the risks associated with these stocks.