Barnes & Noble (NYSE:BKS) made two announcements this year that may imply a change the company is about to go through in order to place its business on the path to profitability. The first announcement, made in June, was about the company's intent to spin off its Nook Media division, including the college bookstore business, and separate it from the book retail business, creating a stand-alone company. The second announcement, made in August, was about the company's partnership with Google (NASDAQ:GOOG) on a same-day book-delivery service. These two announcements present a change in the mindset of the company's executives, and a real attempt to point their ship toward a different destination.
Nook Spin-off
Barnes & Noble introduced Nook in 2009 as an effort to compete with Amazon (NASDAQ:AMZN) in the e-books market. Amazon introduced the first generation of its e-reader, Kindle, in 2007 to enable users to read books, magazines, and newspapers in their digital version on an easy-to-use mobile device. Launching the Kindle was a logical move for Amazon, and a natural evolution of its book-selling business. However, the launch of the Apple (NASDAQ:AAPL) iPad in 2010 and the evolving tablet market, reduced the need to consume e-books on a designated e-reader. A Kindle or Nook app on an iPad or Samsung (OTC:SSNGY) Galaxy tablet can provide a user experience similar to reading a book on dedicated e-readers, and both Amazon and Barnes & Noble released new devices that are more tablets than e-readers. While Amazon expanded its business over the years from an online book store to an online e-commerce platform and web services provider, Barnes & Noble remained a bookseller. Amazon expanded its portfolio to include tablets and phones in order to support their other operational segments. For Barnes & Noble, the e-book segment was supposed to be their bread and butter and central area for growth.
Five years after the introduction of the first Nook, Barnes & Noble lost more than $1.3 billion from the Nook segment. As shown in chart 1 below, Nook sales have declined from a peak in 2012 and have represented an operating loss since the Nook was launched.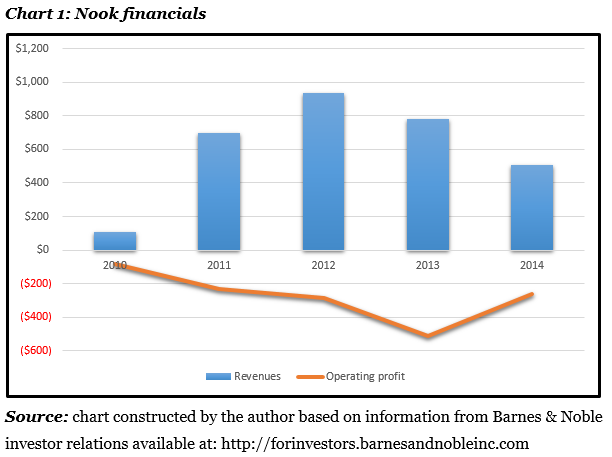 As part of the process to spin-off the Nook and focus on its strengths, Barnes & Noble announced a new partnership with Samsung to introduce the next generation of Nook e-readers as the Galaxy Tab 4 Nook. The on-going loss from Barnes & Noble's Nook business pushed the company's executives to realize that in today's tablet market, the Nook has little added value, and Barnes & Noble should let a hardware company lead that effort. The Nook spin-off that is supposed to take place at the beginning of 2015 will enable Barnes & Noble to focus on its core book retail business and look for new-emerging revenue streams. Without the burden of the Nook business, Barnes & Noble should try to increase revenue for its core business. The recently-announced partnership with Google is the first step in that direction.
Barnes & Noble-Google Partnership
As mentioned in an earlier article, Google has collaborated with the largest retailers in order to introduce a same-day delivery service called Google Shopping Express. Google presents a new business model through this new service. Unlike Amazon, whose warehouses and fulfillment centers compete with brick-and-mortar local retailers, Google Shopping Express cooperates with local retailers to deliver products to the end customers. The first service that Amazon provided was online book-selling, where books are delivered to the customer in a very short time. In the new partnership, Barnes & Noble uses Google's technological strengths, strong brand, and online presence to offer same-day delivery for its books. Traditional bookstores are the core business of Barnes & Noble, and accounted for 67% of the company's revenue in 2014. Barnes & Noble joins other giant retailers such as Walmart (NYSE:WMT), Walgreens (WAG), Costco (NASDAQ:COST) and more, that are already part of the new service. The Barnes & Noble-Google partnership directly competes with Amazon and helps Barnes & Noble to re-focus on its bread-and-butter business. As shown in chart 2 below, Barnes & Noble's retail business maintains a constant level of operating profit while its revenues decline each year. Partnership with Google is expected to increase Barnes & Noble's online customers through the Google Shopping Express platform, on top of the online customers it already has through its bn.com website.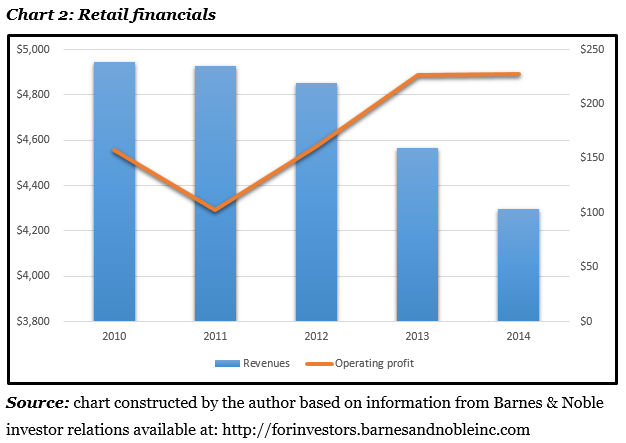 Conclusions
After years of declining revenue and negative net profit, Barnes & Noble has made a few drastic decisions in order to develop its business and turn to profitability. The first decision was to spin off Nook Media and to deliver the hardware ownership on the Nook device to Samsung. This action will shed the failing Nook business from Barnes & Noble and reduce the company's investment in the declining e-reader/tablet initiative. The second decision was to partner with Google in Google Shopping Express in order to offer same-day book-delivery service. This partnership is intended to increase Barnes & Noble's online presence and attract new customers through the Google Shopping Express, on top of the customers from the bn.com website. Barnes & Noble seems to be on the right track to resurrection. However, once the Barnes & Noble split is done, the company's executives will feel increased pressure to improve business results and deliver better financials. These decisions should only be the beginning of Barnes & Noble's recovery, and the company's management should announce how they plan to achieve these goals. Investors should wait for Barnes & Noble's core business recovery plan and see the outcome of the spin-off before leaping in.
Disclosure: The author has no positions in any stocks mentioned, and no plans to initiate any positions within the next 72 hours. The author wrote this article themselves, and it expresses their own opinions. The author is not receiving compensation for it (other than from Seeking Alpha). The author has no business relationship with any company whose stock is mentioned in this article.
Additional disclosure: Information provided in this article is for informational purposes only and should not be regarded as investment advice or a recommendation regarding any particular security or course of action. This information is the writer's personal opinion about the companies mentioned in the article. Investors should conduct their own due diligence and consult with a registered financial adviser before making any investment decision. Lior Ronen and Finro Financial Consulting and Analysis are not registered financial advisers and shall not have any liability for any damages of any kind whatsoever relating to this material. By accepting this material, you acknowledge, understand and accept the foregoing.