Dollar bulls have been struggling to defend the 80 level on the U.S. Dollar Index; USDX is at the 79.60 support level at the time of this writing. With that in mind, I wanted to take a look at the USDX weekly chart.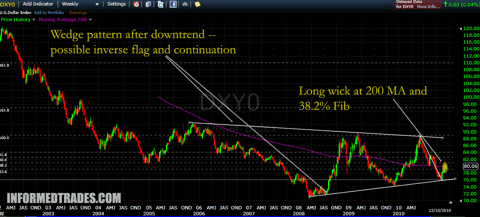 Click to enlarge
Factors I thought were noteworthy in that chart include:
Pin bar off the 200 moving average on a recent candle.
38.2% Fibonacci level from the recent bear move in the U.S. dollar is holding
If we go back to 2002, a case can be made that we're in an inverted flag pattern, and that the past two years have been a consolidation period of sorts. Those who believe this may believe another extended down move, like what we saw from 2002 until the first half of 2008, is in the cards.
In terms of fundamentals, money supply indicators currently support an inflationary/USD weakness view, as

we recently discussed

. Dollar bears may wish to continue looking at money supply, as a decline in money supply may help thwart further dollar declines. The Federal Reserve has announced its plans to purchase an additional $105 billion in Treasury bonds, which may help increase the money supply.


Disclosure: I am long UDN.