National Semiconductor Corporation's (NSM) earnings for the second quarter ended November 2010 came in 2 cents over the Zacks Consensus estimate of 32 cents.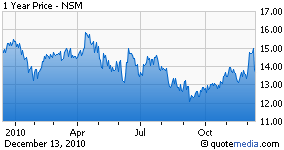 National Semi's revenues clearly disappointed, with a corresponding negative impact on the gross and operating margin lines. However, the tax rate was lower, helping the company deliver numbers slightly ahead of consensus expectations.
While National Semi's surprise history has not really been spectacular, the 5.9% positive surprise in the last quarter was one of the lowest it has been in recent times. Weak results coupled with weak orders resulted in a 4.81% decline in National Semi's share prices in after-market trading yesterday.
Revenue
National Semi generated revenue of $390.4 million in the fiscal second quarter, a sequential decline of 5.2%, a year-over-year increase of 13.3% and just barely making it to the low end of management's guided range of $390-415 million.
Revenue was 2.2% shy of the Zacks Consensus Estimate of $399 million. We expected somewhat better results from National Semi, given the fact that Texas Instruments (NYSE:TXN) reiterated its guidance earlier this week.
National Semi attributed the decline to 2 factors – the first being the purposeful depletion of distributor inventories and the second being a softer than seasonal mobile phone business.
Revenue by End Market
Industrial, mobile phone, and communications and networking were the largest contributors to National Semi's revenue in the last quarter.
The industrial market, which generated 45% of total revenue, was down slightly on a sequential basis, as National Semi took some distributor inventory rebalancing measures. Most of the industrial business comes through distributors.
This could be a wise decision for 2 reasons. The last few months of the year are seasonally slower for the industrial sector. And second, the industrial market has grown significantly this year, mostly due to satisfaction of pent-up demand. Therefore, we should it is time we saw some normal seasonality.
The mobile phone segment made up 25% of revenue. Segment revenue was down around 5% sequentially. Additionally, order rates indicate further softness in the next quarter. National offered a couple of explanations, the first being display shortages and the second, weaker demand.
The communications and networking market grew 6% to 13% of National Semi's quarterly revenue, the only major market displaying an increase from the previous quarter. The strength in the last quarter was driven by European and Chinese customers shipping to base station demand in China, India and North America.
Orders
National Semi said that orders declined 24% sequentially, for the second time in as many quarters. It was also the first year-over-year decline since the August 2009 quarter. As a result, the book-to-bill ratio fell below unity for the first time in 6 quarters.
Operating Performance
National Semi reported second quarter gross margin of 68.9%, down 200 bps sequentially and up 358 bps from the year-ago quarter. The sequential decline was on account of unfavorable mix, as well as low utilization rates. With utilization expected to drop below 60%, National Semi now expects third quarter gross margins to range between 65% and 67%.
Operating expenses of $145.4 million increased 3.8% sequentially and 3.3% from the November quarter of 2009. As a result, National Semi's operating margin shrunk 254 bps sequentially, while expanding 996 bps from the year-ago quarter. All expenses increased as a percentage of sales, although the increase in cost of sales was the most significant.
Net Income
National Semi's pro forma net income in the last quarter was $83.5 million (21.4% of sales) compared to $88.8 million (21.6%) in the preceding quarter and $47.7 million (13.8% of sales in the year-ago quarter.
As there were no special items in the last quarter, the GAAP net income was same as the pro forma income of $83.5 million ($0.34 per share), which compares to income of $88.8 million ($0.36 per share) in the previous quarter and $47.7 million ($0.20 per share) in the year-ago period.
Balance Sheet
National Semi ended the quarter with cash and short term investments of $878.8 million, up $100.1 million during the quarter. However, National Semi has a huge debt balance, which brings the net debt (total debt as reduced by cash) at quarter-end to $165.6 million, an improvement from the end of the first quarter. The debt-to-total capital ratio is very high at 64.0%, although it is an improvement from the 67.7% at the beginning of the quarter.
National Semi generated $120.9 million of cash from operations and spent $23.5 million on capex, taking the free cash flow at quarter-end to $97.4 million. The company also raised unsecured senior notes and paid off short term obligations. National Semi paid $24 million in dividends, but did not repurchase any shares during the quarter.
Guidance
National Semi expects third quarter revenue of $344-359 million (an 8-12% sequential decline). This is below National's five-year average sequential decline of 9 percent, due primarily to adjustments in the supply chain.
Our Recommendation
National Semi has a Zacks #4 Rank, which translates to a short-term Sell recommendation. We see a number of negatives, such as weak demand, continued market share losses and margin pressures impacting National Semi's business in the immediate future.
Although cautious, we are more favorably disposed toward peer companies, such as Fairchild Semiconductor (FCS), Analog Devices (NYSE:ADI) and Microchip Technologies (NASDAQ:MCHP), all of which currently have a Zacks #3 Rank of (short term Hold recommendation).