By David Russell
Calls are active on education company Apollo Group (NASDAQ:APOL) as shares briefly hit their highest level in months.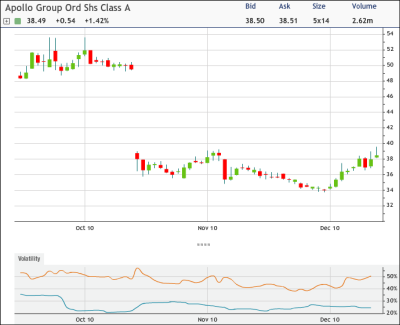 APOL is trading at $38.49, up 1.42 percent on the day. The for-profit education company has climbed as high as $39.58 early in the session, which was the highest level for shares since they gapped down from $50 to $38 on the November earnings announcement.
Option volume is about 5 times APOL's average, led by action at the January 40 call strike. One block of 10,000 traded for $2.08 against open interest of 5,480 contracts. At the exact same time, 5,000 January 36 calls went for $4.48, at less than open interest at that strike.
Given how far those 36 calls are in the money, this could be a roll or a bullish call position from in-the-money to out-of-the-money contracts while doubling the position for higher exposure. It is also possible that this is a ratio spread, which would take its greatest profit if APOL is around that $40 level come expiration.

Disclosure: No position